Books
CL Book Club: September 2022 Releases
Books
CL Book Club: September 2022 Releases
It's that time again! We're ready to harvest the best reads in the cornucopia of books hitting the shelves at summer's end.
SEPTEMBER 2022 RELEASES
Sacred Nature
NONFICTION (ALFRED A. KNOPF CANADA) BY KAREN ARMSTRONG, $33
SEPTEMBER 13
Equating nature with the divine, and recounting the hazards of losing sight of this sacred bond, is the underpinning of this slim volume by renowned writer Karen Armstrong. By looking at the history of religion, Armstrong explores why and how we've moved so far away from our spiritual traditions, and the repercussions to the Earth and its peoples. She then offers a path to restoring our connections with the natural world, and how, in the process, we can reinvigorate ourselves as well.
📖
People Person
FICTION (SCOUT PRESS) BY CANDICE CARTY-WILLIAMS, $37
SEPTEMBER 13
If you read 2019's Queenie, you know the brilliance that is Candice Carty-Williams—and no doubt you've been waiting impatiently to see what she does next. Well, the wait is over, as People Person drops this month. Carty- Williams brings her signature style to this fun new novel featuring the unforgettable Dimple Pennington, a 30ish wannabe influencer who's thrown back into the chaotic world of her childhood, where she'll finally have to learn to live with her unreliable father and four estranged half-siblings.
📖
One Hundred Saturdays
NONFICTION (AVID READER PRESS) BY MICHAEL FRANK, $37
SEPTEMBER 6
Over the course of six years, author Michael Frank sits with nonagenarian Stella Levi and teases out the story of her life, listening intently as she tells the tale of coming of age in the Juderia, a long-established Jewish neighbourhood on the Greek island of Rhodes. The result is this luminous book, which reveals Stella's childhood on the halcyon island, her deportation to a concentration camp during the Second World War and her journey of survival afterward. Stella's moving depictions of the past—and present—are a testament to a life well lived.
📖
Is There Bacon in Heaven?
MEMOIR (SIMON & SCHUSTER CANADA) BY ALI HASSAN, $25
SEPTEMBER 27
Multi-hyphenate funny man Ali Hassan releases his first memoir this month, and it's exactly as charming as the author himself. Chock-full of warm, heartfelt anecdotes about his family, friends, work, parenting and learning to embrace his cultural heritage while being true to himself, this book covers those cringe-worthy moments of life everyone can relate to, delivered with deadpan humour and wry insight. Even if it turns out there's no bacon in heaven (gasp!), we're pretty sure this book belongs there.
📖
Lessons
FICTION (ALFRED A. KNOPF CANADA) BY IAN MCEWAN, $37
SEPTEMBER 13
No one writes quite like Ian McEwan, that's just a fact. But reading the powerful prose is just one of the joys of his new novel. The scope of this book is another. Here, we follow the life of Roland Baines through both small domestic events and large global ones, as he takes stock of his restless past and tries to understand how his experiences have shaped him. Set against a backdrop that ranges from the Second World War and Chernobyl to the Cuban Missile Crisis and COVID-19, this is an epic novel of one man's existence from the extraordinary mind of a masterful storyteller.
📖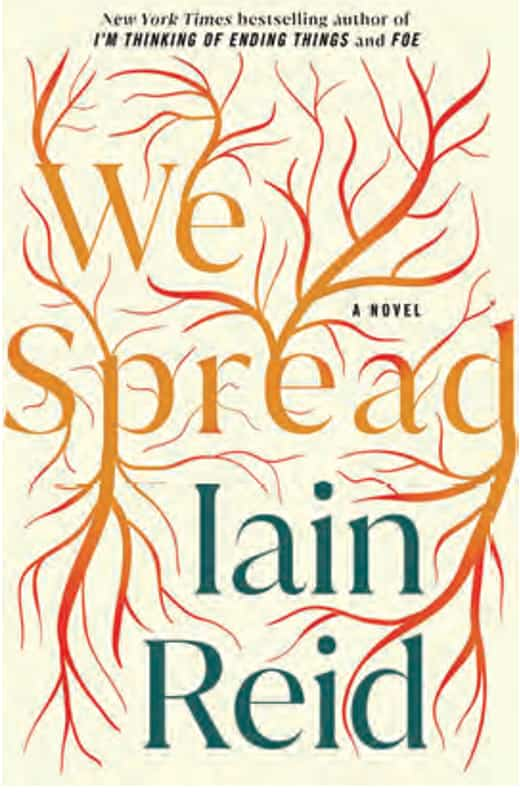 We Spread
FICTION (SCOUT PRESS) BY IAIN REID, $36
SEPTEMBER 27
Insidious, unsettling, creepy, tense—they're all words that can describe this genre-defying novel. At its heart, The Spread asks the question, What happens to our minds when we approach death? This query is wrapped in the story of Penny, who begins to suffer the vagaries of old age and is moved into a long-term care residence, where her thoughts and actions begin to blur together (Is the staff sinister or not? Are her fellow residents real or only figments of her imagination?). As Penny struggles to separate fact from fiction, we're exposed to the uncomfortably raw experience of facing the fears we all share when contemplating the end of life.
📖
The Sea Between Two Shores
FICTION (MCCLELLAND & STEWART) BY TANIS RIDEOUT, $30
SEPTEMBER 13
This remarkable story is inspired by the real-life account of a 2009 reconciliation ceremony between the descendants of Indigenous people of the small Pacific archipelago of Vanuatu and those of two Canadian missionaries who had travelled there 200 years ago. In Rideout's novel, two families— the Toronto-based Stewarts, mourning the accidental death of their youngest son, and the Tabés, ni-Vanuatau from the island of Iparei, whose own child has been killed—confront the complex shared history of their respective ancestors and forge a fragile path that leads to redemption.
📖
Angelika Frankenstein Makes Her Match
FICTION (AVON) BY SALLY THORNE, $36
SEPTEMBER 6
A little bit of this, a little bit of that—you may guess from its title that this new rom-com from the talented Sally Thorne centres on how a young woman (Victor Frankenstein's little sister, in fact) attempts to design her very own perfect man. When Angelika Frankenstein runs out of suitable suitors, she takes matters literally into her own hands. But when her creation wants to uncover his past and his true identity, things go awry and hilarity ensues. In typical fashion, Thorne turns the romance trope on its head, instead giving us something original, unexpected and utterly amazing.
📖
Marple: Twelve New Mysteries
FICTION (WILLIAM MORROW) BY VARIOUS AUTHORS, $36
SEPTEMBER 13
You guys, get excited. Agatha Christie's beloved sleuth is alive and well in this brand new compilation of stories from all your favourite mystery writers. The tales are set in locations as diverse as a Broadway stage, a cruise ship in Hong Kong and the charmingly familiar St. Mary Mead, as well as other destinations across the globe. Written by such powerhouse authors as Kate Mosse, Ruth Ware, Lucy Foley, Val McDermid, Alyssa Cole, Elly Griffiths, Leigh Bardugo and more, these yarns are faithfully bringing (back) to life the wit, wonder and wisdom of this indomitable lady detective for new generations of delighted readers.