Style
Attention style keeners: 3 spring trends we're excited about
Style
Attention style keeners: 3 spring trends we're excited about
With spring only a few months away, it's time to get strategic about seasonal buys. I've rounded up the biggest and best fashion and beauty trends that are sure to make a successful transition from runway to reality. [caption id="attachment_11813" align="aligncenter" width="243"]
JOSEPH metallic-paneled twill pants $395, net-a-porter.com.[/caption]
HIGH SHINE
Mirror-shiny metallics, including silver, rose gold and gold, are making a major statement in both fashion and beauty this spring. Try out the trend with a gilded wash on your eyelids, or go all out with a metallic-treated leather dress.
[caption id="attachment_11814" align="aligncenter" width="257"]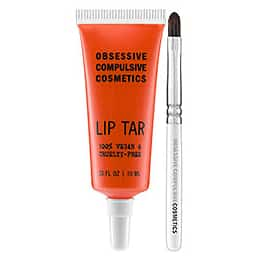 OCD Lip Tar in Beta, $22.[/caption]
ORANGE CRUSH
From electric orange lips at Rag & Bone to tangerine at DKNY, there were many jolts of vibrant orange on the spring runways – and they were almost always paired with otherwise stark makeup. [caption id="attachment_11815" align="aligncenter" width="239"]
Mother of Pearl floral jumpsuit, $895, shopbop.com.[/caption]
FLOWER POWER
Almost every spring season sees the return of the floral print. This year's blooming iteration of the trend showcases super sized bold blossoms in both black and white, and in vibrant hues that can be worn from head to toe.