Style
Canadian designers to watch: Rani Kim and Som Kong
Style
Canadian designers to watch: Rani Kim and Som Kong
Last Thursday, budding design stars Som Kong and Rani Kim made their World MasterCard Fashion Week debut, displaying maturity of talent beyond their years. Recent graduates of Ryerson University, Kong and Kim already boast impressive resumes: Kim is a former intern at Jeremy Laing and an outbound exchange student of Teko Design School in Denmark as well as a mentee of Astrid Anderson. Kong is a former intern at Greta Constantine, an outbound exchange student of Hong Kong Polytechnic University and the winner of the Danier Design Competition (2014). Both designers made their official Toronto fashion scene debut earlier this year at Toronto Men's Fashion Week. It's no surprise then that The Collections selected these two as their new labels to launch this year at WMCFW as part of new initiative to support and mentor two rising designers annually. What resulted from months of preparation were cohesive, distinct collections. While the two young designers are close-knit friends who share the same diligent work ethic and passion for design, their aesthetics could not be more different.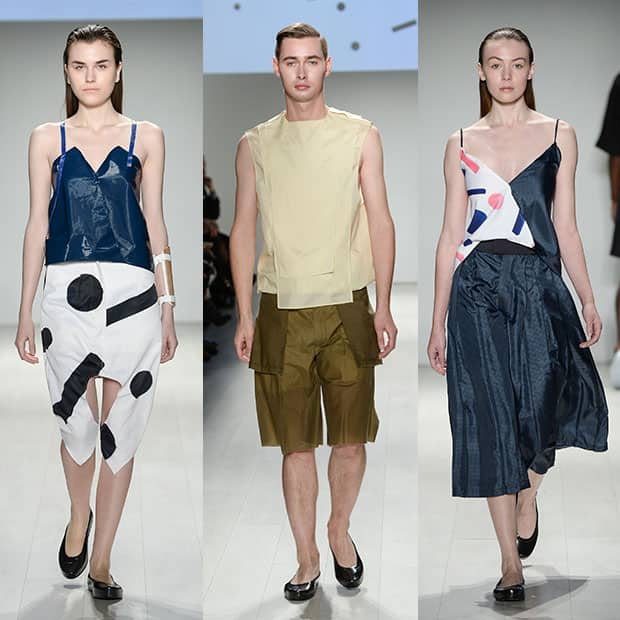 Rank by Rani Kim, Spring 2015. Photos by George Pimentel/Getty Images.
Rank by Rani Kim
created androgynous utilitarian wear with a minimalist approach—a by-product of Kim's Danish training. To open the show, she set the tone with an unexpected introduction: the first two male models to take to the runway burst into interpretive dance, a reflection of Kim's theme of movement. "I run around the city a lot, and when I was biking I found my clothing was really uncomfortable," she says. "I thought to make fashionable clothes that you could bike around in the city in." Staple wardrobe items were deconstructed and reinvented in boxier tailoring and slick fabrics such as silk, oilcloth and coated nylon. Kim's menswear maintained a sleek, trim silhouette of crop and drop-shoulder tops and roomy Bermuda shorts, while womenswear featured voluminous shapes such as a graphic color-block tank top tucked gingerly into wide-leg culottes. Kim also explored newer shapes with skirts and shorts, combining the two in what can only be described as a futuristic skort. Some of the models sported arm casts, which Kim built out of raw wood grain and leather to give the models the ability to move fluidly. Justin Somjen created a painterly motif of geometric shapes in pinks and blues, which Kim sprinkled onto several pieces. Sheer fabrics and slapped-on spaghetti straps brought a playful arts-and-crafts feel to an otherwise mature collection. Pops of stark white brought a fresh contrast to a palette of olive, cream and brown earthy tones and new neutrals in Prussian blue, black and silvery grey. Not forgetting her roots, Kim selected traditional Korean rubber shoes called 'gomushin,' which echoed the collection's theme of balancing of form and function.
Som Kong, Spring 2015. Photos by George Pimentel/Getty Images.
Som Kong
's spring 2015 collection evoked a feminine, youthful tone by playing with sheer chiffon, sculpted Dupioni silks and double knits. Kong departed from traditional formalwear by mixing tough Doc Martins with romantic, evening-worthy pieces. The collection began with dark greys and an intense scarlet red, fading gradually to garments draped in milky white suede to reflect the idea of heartbreak, "of a passionate love cooling," that Som notes inspired the collection. "You'll notice that on the red dress of the girl who opens the show, there's a patch placed on her chest symbolic of her heart." says Kong. "She reappears in the finale look with the exact same silhouette and design as the first dress, but in grey." Iridescent, sculpted high-low skirts with exaggerated trains and long, fluid column dresses elongated the already lofty figures walking down the runway. Shorts and high-waisted trousers with sharp gathered detailing contrasted with the innocent mood of the collection—adding that little bit of edge. Collar points peeked out from under knit tops that were treated with raised quilting techniques called 'trapunto.' Kong's has used the same technique in previous collections after being inspired by a stuffed dinosaur. Clever rompers and shirts boasted trompe l'oeil detailing, while fake sleeves tied at the waist referenced the popular grunge trend recently seen from the runways to the streets. For more fashion news, visit our
Style Desk blog
.