Style
Eco-friendly fashion picks
Style
Eco-friendly fashion picks
Gone are the days when going green meant looking frumpy. When it comes to
fashion
, you no longer have to sacrifice style to care about the environment. And we've got proof. We've rounded up a few of our favourite sophisticated brands just for you: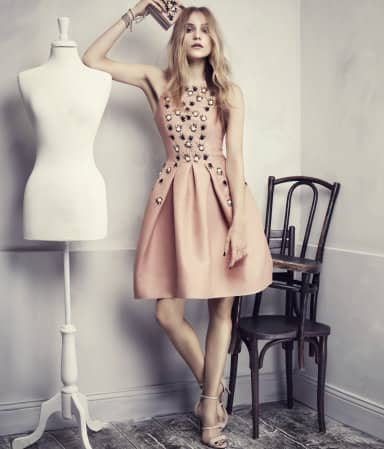 H&M Conscious Line:
Like this dress seen above (made with 85 percent organic cotton), the conscious line by the Swedish retailer has taken eco-fashion up about a million notches. They're the number one users of organic cotton worldwide and have a full sustainability report each year to let consumers know about their latest projects and impact on the environment (or lack thereof).
Nicole Bridger:
This Canadian clothing designer's eponymous line had us hooked before we even knew it was good for the planet. Made from ethically sourced materials and dyes, it's ninety percent manufactured in Vancouver (with the rest being outsourced to Fair Trade factories overseas).
Soop Soop:
This Toronto online vintage retailer sells reformed clothing and hand-picked previously loved items. Besides recycling and reusing by just wearing this brand, you'll also notice a recycled theme when it comes to their business cards, clothing tags and shipping in recycled, plastic-free packages.
Sustainable Style:
Founded by
Fashion Takes Action
, a Canadian non-profit organization that promotes sustainability in the fashion industry, this online fashion boutique launched in March. With great designers such as Ayla, Aime Luxury, EcoBling and Ferhn (pictured above) it's a great site to check out some independent talent and local green fashions.
Dear Frankie:
If you're looking for eco-friendly lingerie, Dear Frankie, created by Allicia Martin, is designed and manufactured in Canada using mainly eco-friendly fabrics like modal and bamboo. Nothing's sexier than going green right?
When it comes to accessories here's a few we recommend:
Mala Collective:
Made in Bali by Aum Rudraksha Designs and imported by a Vancouver-based company, this jewellery is made from rudraksha seeds. Fair traded and sustainably harvested, these beads, traditionally used in prayer help promote your inner zen.
Erin Templeton:
This line of recycled leather handbags are made from vintage leather finds by Erin herself, a Vancouverite with a great eye for style.
And don't forget these great eco-friendly clothing brands:
Miik
Lav & Kush
Edun
Stella McCartney
Mountain Equipment Co-op
Lole
What are your favourite eco-friendly fashion retailers? Are they vintage stores? Are they local or online? We'd love to hear from you!