Style
Editor tested: L'Oréal Professionnel Hairchalk
Style
Editor tested: L'Oréal Professionnel Hairchalk
Over the years my blond hair has teamed up with a rainbow bright variety of colours. Throughout high school I went steady with
Manic Panic in Pretty Flamingo
, a vivid orange toned fuchsia. In college, I had a few flings with blue and green, but nothing serious, just a streak or two.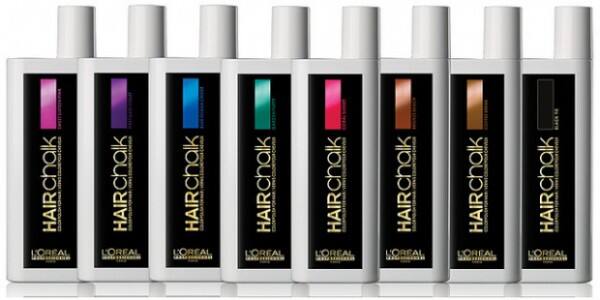 Skittish with my hair colour I am not. In recent years I investigated with many different brands of hair chalk, my results concluded that Kevin Murphy's Color Bug was the gold standard in the market place, until now. The outmoded solid chalk formulas are messy and difficult to deposit a meaningful amount of colour, but with L'Oréal Professionnel launch of HairChalk ($25 each) application and efficacy has never been so good. The range is available in five unnatural fantasy-like shades (purple, pink, blue, green and coral) and three natural hues designs to give the wearer a temporary ombré-esque effect.
The French beauty brand is likening this product to nail polish, "colour polish for hair." Depending on your base hair colour it will stick around for about two to five washes. Side note: The lighter and more porous your hair is (like mine) the longer the colour will adhere. [caption id="attachment_12714" align="aligncenter" width="600"]
My hair post application.[/caption] The reason why I favour this hair chalk over all others is because it's liquid, making it super easy to apply. The shot above is my hair post HairChalk treatment. I opted for the purple hue called First Date Violet and was thrilled with the results. On dry hair the product was tactically applied using a sponge to a selection of tendrils, then blow-dried to lock-in the colour. I experienced no colour transfer, which is kind of a big deal when you're dealing with chalk colourants. A few weeks have passed since the event and I'm on my third wash and my
My Little Pony
-like mane is still sticking around, just a little more subdued. If the thought of apply this at your bathroom sink is giving you anxiety there's a second option. Salons that carry the new HairChalk will offer an in-salon service and apply it for you along with a blowout. What do you think of kooky-colour hair? Yay or nay?
Available April 2014 across salons nationwide