Style
Shopping: Hot workout gear
Style
Shopping: Hot workout gear
The whole yoga-pant look and I have never really got along. One of my biggest pet peeves is seeing women sporting head-to-toe
Lululemon
when they have not been or are not planning on working out. It just looks silly -- and sloppy. And don't even get me started on the yoga pant and UGG boot combo (so gross). But I digress. For years I'd forgo the cute workout clothes in protest. I'd sport an old tee, use a bikini top rather than a proper sports bra (I'm a 34A and it seemed like a good idea at the time -- it wasn't), and throw on my
Nike
leggings and my trusted
Adidas
sneakers. [caption id="attachment_5936" align="aligncenter" width="283" caption="Photography by Alvaro Goveia."]
[/caption] But my aversion to gym apparel changed in early February when I got a membership to
The Yorkville Club
. I've since been hitting the gym four to five days a week and I've slowly developed a taste for modern workout gear. My interest in fitness clothing has been inspired by the trend-loving women who frequent my gym. Most of them have money, some of them have taste and a few (yes, more than one) actually bring their Hermes Birkin bag to the elliptical machine to store their energy drinks and iPhones. Insanity, I know. But regardless, I felt like I needed to step up my game in the wardrobe department. Don't get me wrong, I'm still against yoga pants in a non-workout context, but there's some really cute stuff out there, and it actually helps you perform better – go figure! [caption id="attachment_5923" align="aligncenter" width="299" caption="Isis Henna Day Bra, $45."]
[/caption]
Sports bra: I read somewhere that the perfect sports bra should perform like a good boyfriend. Meaning it should keep up with you when you're getting physical, hug you all over and give you unconditional support. So true. I was 25 years old before I purchased my first sports bra. I thought because I was petite in the breast department that I didn't need the extra support, but I was so wrong. Now I can't hit the gym without one. I recently found my perfect match with the Isis Henna Day Bra ($45). The seamless bra fits like a glove and the moisture-control band keeps me dry.
[caption id="attachment_5954" align="aligncenter" width="281" caption="Gap Fit Mesh Tank, $27."]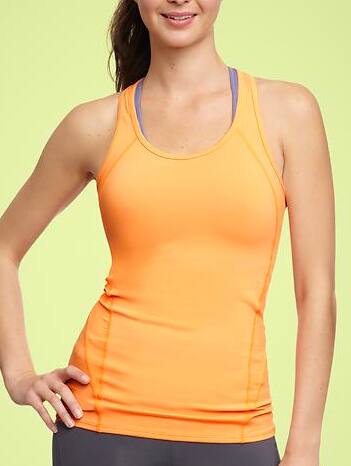 [/caption]
Tank top:
I don't like to spend a ton of cash on gym tops -- a good bra and sneakers are far more important. I just want something that looks cute, is lightweight and helps wick away sweat. And this nylon and spandex mesh tank from Gap ($27) fits the bill. I already have it in three colours, but I'm coveting this cantaloupe hue. [caption id="attachment_5957" align="aligncenter" width="273" caption="Nike Pro Core Compression Pants, $50."]
[/caption]
Perfect pants: Although these pants claim to be compression pants, they're not. But that's why I like them. Personally, I don't want to feel like I'm working out in a pair of Spanx. The Dri-FIT fabric is made up of 82 per cent polyester and 18 per cent spandex and it does an epic job at wicking away sweat. They always keep me dry and I never get any chafing. I also like the streamlined design: Clean and simple.
What's your favourite piece of activewear that helps you look great and perform like a pro at the gym?