Beauty
10 amazing YouTube videos for hair
Beauty
10 amazing YouTube videos for hair
With a Youtube video tutorial for almost everything imaginable, we understand that finding the right know-how can be overwhelming. Luckily, we've done all of the hard work to help you escape a hairdo rut. From wedding-worthy hairstyles to fixes for greasy hair, these 10 videos have you covered.
Lesson:
How to do a vuluminous messy ponytail
Why we love it:
In the midst of a summer heat wave, wearing your hair up helps ward off frizz and keeps you cool. This tutorial offers a twist on the classic ponytail by adding clip-in extensions and voluminous curls. From day to night, this pony will outlast humidity and keep you looking and feeling pulled together.
Lesson:
How to do a braided headband updo
Why we love it:
With wedding season in full swing, mastering an updo can feel daunting. But this tutorial is easy to follow with simple step-by-step instructions. Plus, the feminine braid adds romance to the traditional chignon.
Lesson:
Three ways to style medium-length hair
Why we love it:
The long bob is the hairstyle of the moment, and determining various ways to style it is all part of the fun! This tutorial offers not one, but three ways of switching up your long-bob hair routine. We're obsessing over the pulled-back waves!
Lesson:
How to do four braided headband styles
Why we love it:
Not everyone is an expert at braiding, and this tutorial gives an in-depth look at four different braid variations. Instead of pulling your hair back with a headscarf or clip, choosing a braid is a feminine way to refresh your day-to-day look.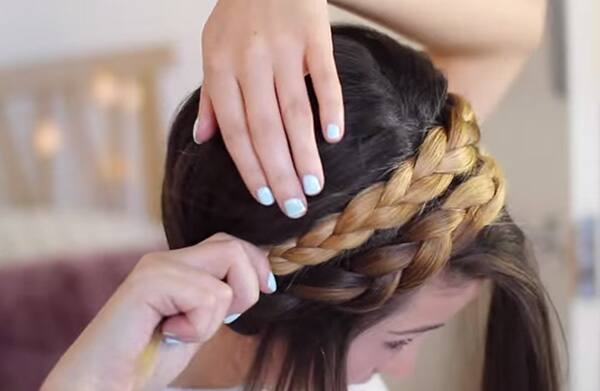 Lesson:
How to do a milkmaid braid updo
Why we love it:
YouTube is saturated with complicated milkmaid braid tutorials. This one, however, is one of the most straightforward and simple how-tos we've found. From a summer barbeque to a first date, the milkmaid braid is a versatile hairstyle that creates a fabulously flirty look.
Lesson:
How to hide greasy hair
Why we love it:
Sometimes dry shampoo and baby powder aren't enough to fight greasy hair. These styling tricks will you save you from having to endure another day of flat, lifeless locks.
Lesson:
How to style your hair when you're running late
Why we love it:
Pressing snooze on your alarm clock can put a damper on your morning beauty routine. To counteract the inevitable slide into slovenliness, this tutorial offers tips on how to beat the morning rush and still walk out the door looking polished.
Lesson:
How to do an updo that is way easier than it looks
Why we love it:
There are few things more sophisticated than an intricate updo. This tutorial proves that you don't need to be in your hairstylist's chair to achieve professional results.
Lesson:
Ten hair hacks that every woman should know


Why we love it:
Maintaining healthy hair is always on our to-do list and we love discovering easy styling tips. This tutorial offers ingenious hacks that can be easily added to your beauty regimen.
Lesson:
How to do heatless wavy hair
Why we love it:
Loose waves are great, but heat damage isn't. Getting curling-iron results without actually using one is a game changer. This is the perfect hairstyle for summer.

Read more:


Your guide to pastel hair colour

Video: How to do a messy French twist
Subscribe to Canadian Living today
and never miss an issue!