Beauty
21 best-tested body lotions
Beauty
21 best-tested body lotions
1. Neutrogena Summer Glow Daily Moisturizer SPF 20, $10.99

Tester says: "Sitting in a cubicle most days doesn't help keep my skin glowing, and I'm a bit too klutzy for proper self-tanner, so body lotions like this one fit the bill perfectly – especially when they double as a sunscreen. I did a scientific test and applied only to one leg, and the difference was marked enough that I didn't want to bare my legs until I'd evened it up. Best yet, unlike many self-tanning body lotions and sunscreens, this one had only a hint of a chemically scent, and it faded quickly."

Available at drugstores


2. Guerlain Shimmering Body Milk, $61

Tester says: "This body lotion came in a very pretty pink bottle with a flip top. It's pretty enough to leave sitting out on my vanity. It has a very thin consistency with a slight sheen to it; it's really more of a moisturizing milk than a body lotion. It spreads and absorbs really well – I love the way it feels on my skin. What I really liked was the slight sheen it has to it: it makes the skin have a slight glow but nothing that is too obviously sparkly."

Available at department stores across Canada and Guerlain boutiques


3. Burt's Bees Soothingly Sensitive Aloe & Buttermilk Body Lotion, $16.99

Tester says: "I love this nice, light body lotion for everyday – it absorbs quickly and goes on light enough for summer, but not too light for winter. Most of all, I love the company's commitment to natural ingredients and eco-friendly packaging – the bottle is made from recycled plastic and I can throw it in my blue box when it's empty. It's become my new favourite."

Available at major drug, grocery, health and gift stores across Canada; www.burtsbees.ca


4. Lush Dream Cream Body Lotion, $24.95

Tester says: "While I really like a lot of Lush products, I generally find their scents a bit too strong for me, so I was skeptical about this body lotion. But I was pleasantly surprised – while it does smell quite strong in the tub, I found the scent refreshing, and it faded quite quickly after application. As for its capabilities, it moisturized extremely well, and as an added bonus, I swear it even made my mosquito bites less itchy."

Available in Lush stores or at lush.ca; 1-888-733-LUSH


5. Crabtree & Evelyn Botanical Body Lotion, $19.95

Tester says: "This lotion comes in a pump bottle, and has a medium consistency – not too thick, not too runny. It has a nice, natural scent that is fairly strong. It spreads and absorbs very well, and goes on light – not much is required. This body lotion does very well on dry spots such as elbows."

Available at Crabtree & Evelyn stores across Canada; www.crabtree-evelyn.com


6. Upper Canada Hand & Body Lotion, $12

Tester says: "This lotion is quite thick, but comes out nicely from its pump bottle. It is not greasy at all and absorbs quickly. I love the refreshing scent, 'Wild Mint Lime' – it smells like a mojito! Best of all, it's paraben free, mineral oil free, synthetic dye free, SLS free and made in Canada."

Available at gift and department stores across Canada; uppercanadasoap.com


7. Aveda Replenishing Body Moisturizer, $31

Tester says: "This lotion spreads well and absorbs very quickly, and because of how well it spreads, you don't need to use a lot. It moisturizes very well, and does a great job replenishing dry skin. It does have a very distinctive, love-it-or-hate-it scent, so I recommend smelling before buying."

Available at Aveda Experience Centers; visit aveda.com for stores

Page 1 of 3 -- See how brands such as Aveeno, Dermatologica, Vaseline and Chanel measure up on page 2.

8. Aveeno Daily Moisturizing Lotion, $11.99

Tester says: "This lotion has medium consistency and comes in a large container with a pump. It spreads fairly well but I was most impressed with the quick absorption. It has a very mild smell, a tiny bit sweet, but it doesn't linger. The lotion smooths rough spots and is nonirritating."

Available at drugstores


9. Dr. Hauschka Rose Body Moisturizer, $40.95

Tester says: " This lotion is packaged in a beautiful glass pump bottle. It's rather runny, almost like milk, and spreads quickly and easily. It smells like roses, as promised, pleasant if you like floral scents and for going out in the evening. It's definitely a high-quality moisturizer – it really lasts and smooths out rough spots."

Available at health food stores and certified estheticians across Canada; 1-800-663-6226


10. L'Occitane Ultra Rich Body Cream, $48

Tester says: "I tried the sample size of this cream, which is in a little tube that fits nicely in my travel cosmetics case. It's quite thick, probably due to the 25 per cent shea butter, which means it's better for drier weather and drier skin. In fact, it works best on rough spots, and even as a foot cream. Best of all is the smell – I love the scent of L'Occitane products and the shea butter smells delicious!"

Available at L'Occitane boutiques across Canada; visit loccitane.ca for store locator


11. Dermalogica Body Hydrating Cream, $68

Tester says: "I love the packaging (a pump bottle) – I find it so much easier to use than a tub. The consistency of this lotion was the best part – it was creamy, with a very smooth application that left a nice sheen on my skin afterward, but no residue. The bottle is huge, but I'm a bit obsessed with moisturizing, so I used it up in a month – it would probably last longer if you were less liberal with application. The smell was not overpowering, which I loved – a very fresh, clean scent with not a lot of heavy fragrance. My skin felt soft and hydrated – this lotion is a keeper in my routine."

Available at select retailers; www.dermalogica.ca


12. Chanel Précision Body Excellence Firming Moisture Milk, $61

Tester says: "This lotion comes in a pump bottle and is on the runny side of creamy. It spreads easily, covers a large area and absorbs quickly – you only need a small amount, and it's going to last a long time, maybe three or four months. It's a good, light lotion but better for summer as it doesn't have the deep moisturizing powers that I need in the winter. It smells fabulous and flowery and the scent stays on my body for quite a while."

Available at Chanel beauty counters


13. Vaseline Intensive Rescue Extra Strength Lotion, $5.88

Tester says: "This lotion is really smooth, very much like a cream. I hate when lotion is too runny or too thick, and this was neither. It absorbed really well – it wasn't greasy, so after I worked it into my skin, I could go on with my day without gooping up my keyboard or leaving a mark on everything else I touched. This is one of the best moisturizers I've used in a while – it's helped keep my skin consistently smooth. I would definitely buy it."

Available at drugstores


14. Kiss My Face Almost Butter Rosemary Melon Moisturizer, $14.99

Tester says: " This is a fabulously rich body cream with a wonderful scent – the tube promises melon and rosemary, but I found it more along the lines of generically fruity in a citrusy way, almost like a creamsicle – a good thing as I don't like melon! It's thick, so it doesn't absorb as quickly as a lighter lotion, but the moisturizing benefits are worth the extra effort."

Available at select Loblaws, Whole Foods and natural health retailers across Canada; visit kissmyface.com for store locator

Page 2 of 3 -- Find out if body lotions by Origins, Green Beaver, Neutogena and Burt's Bees could be right for you on page 3.

15. Origins Ginger Souffle Whipped Body Cream, $34.50

Tester says: " I adore the scent of this cream – slightly spicy, very gingery and as refreshing as a cocktail on the beach. It absorbs well and keeps my skin soft, and the smell fades after application until you can only smell it if you hold your skin right to your nose – perfect if, like me, you don't want everyone else on the subway to be able to smell you. And I love that it comes in a tub as I can get out every last bit."

Available at select The Bay locations and at origins.com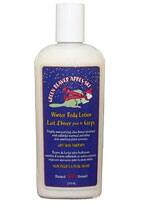 16. Green Beaver Winter Body Lotion, $9.99

Tester says: "This is a great winter lotion. It's medium-thick, probably from the shea butter, and takes a bit of effort to rub in properly, but once it's absorbed there's no greasiness at all. It helped my skin stay hydrated even through the extremely rough winter we had this year – no scales in sight!"

Available at health and natural foods stores across Canada


17. Neutrogena Norwegian Formula Body Moisturizer, $9.99

Tester says: " This lotion soaked right into my skin while keeping a layer of protection – my legs are slick in the shower 24 hours after application. It's unscented, so my husband liked it for his dry skin, too; we'll probably go through the bottle in three months. I even used it on my face when I ran out of day cream and it worked really well."

Available at drugstores


18. Burt's Bees Radiance Body Lotion with Royal Jelly, $24.99

Tester says: "This lotion comes in a tube with a handy flip-top cap. It's a bit runnier than most lotions I've tried but leaves my skin feeling smooth, not greasy. It absorbs easily and it takes little effort to rub it into my skin. The smell is subtle and slightly floral. Because of the light consistency, I find this is best as a daily lotion. It's infused with 'natural mica to enhance skin tone' and it lives up to its claim – it leaves a subtle, flattering shimmer on my skin."

Available at major drug, grocery, health and gift stores across Canada; www.burtsbees.ca


19. Crabtree & Evelyn La Source Relaxing Body Lotion, $19.95

Tester says: "This is a creamy lotion, not too runny or too thick, that comes in a pump bottle. It spreads easily and absorbs very well. You only need a small amount to moisturize – it'll last a while. I like the light scent, which lingers, but not unpleasantly. Since it's a relaxing formula, I've been using it in the evening, and I have to say it did deliver – between the scent and the soothing moisture, it helped me relax a bit at bedtime."

Available at Crabtree & Evelyn stores across Canada; www.crabtree-evelyn.com


20. RoC Retinol Multi-Correxion Body, $45

Tester says: "This product is light and creamy; it absorbs almost immediately and isn't greasy. It moisturizes really well – I used it at night and when I woke up in the morning, my skin still felt silky soft. The smell lingers but it's a light, soft fragrance that's very nice – it smells fresh, almost like soap."

Available at select retailers across Canada; rocskincare.ca


21. Yes to Carrots C is Smooth Body Moisturizing Lotion, $9.99

Tester says: "This is my new go-to summer lotion – it's nice and light with a soft scent, and absorbs quickly without feeling greasy, even when it's humid. I love that it's paraben free and the price is right for the amount you get – I think it's going to last me a while."

Available at Shoppers Drug Mart
Read more:
• 6 tips on choosing eco-friendly beauty products
• Beauty testing: 14 best body scrubs
• The homemade spa

Page 3 of 3