Beauty
Wedding day beauty products to bring along
Beauty
Wedding day beauty products to bring along
Every bride deserves to look flawless on her big day. We've narrowed it down to five essentials you need for your big day.
Wedding season is in full swing, and for those women in the spotlight—we're looking at you brides, mothers of the bride/groom, bridesmaids and master of ceremonies—you want to look and feel you best. From magical body lotion to lip hugging colours, here are the top five items to have on standby for the big day.
Glow getter
A favourite among celebrity makeup artist—we've seen its skin transforming powers in action during Canadian Living photo shoots, it works—this is a special occasion must-have. Available in five glowing shades, from light to dark, this moisturizer is formulated with micro light-reflecting particles that help to camouflage imperfections (like dry patches, varicose veins and stretch marks) while delivering a dose anti-inflammatory and antioxidant Ingredients. It gives skin a subtle lit-from-within glow for your big day—and for you photos! Bonus: It uses 92 percent natural ingredients.
Prtty Peaushun Skin Tight Body Lotion, $45, 889yoga.com.

Frizz fighter
A beauty hack that hair professionals occasionally whip out to tame frizz—often caused by static—is dryer sheets. No need to raid the laundry room—and smell like detergent— especially on your big day, because French beauty brand Kerastase is offering their own take on the hair taming sheets. When patted or whipped on dull frizzy hair it tames flyaways and leaves behind a dreamy scent of patchouli, grapefruit and rose.
Kerastase Paris Carre Lissant $46, amazon.ca.
Set it and forget it
From the ceremony to the after party, keep your makeup looking fresh with M.A.C Cosmetics cult beauty product, Fix+. Spritz on post makeup application and throughout the day and night with this handy portable version. Infused with hydrating and anti-inflammatory ingredients such as green tea, chamomile and cucumber, this light mist adds radiance to the skin.
M.A.C Sized To Go Fix+, $12, maccosmetics.ca.

Oil change
Blotting papers are an oily skinned girl's best friend—especially at a summertime wedding. Each Sephora pack comes with 100 bamboo charcoal blotting papers. Charcoal has a high degree of absorbency and these sheets are powder free, which means there's no risk of disturbing your makeup.
Sephora Collection Bamboo Charcoal Blotting Papers, $10, sephora.com.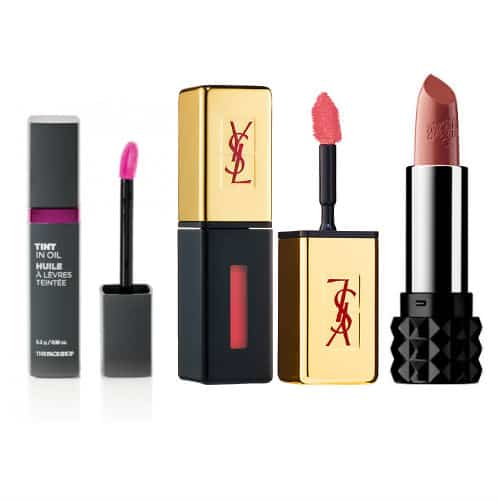 Long lasting lippy
Whether you're team lip gloss or team lipstick one thing is for sure, you need to stick with a long wear formula on your big day. Better yet, one that doesn't transfer colour onto your soon to be hubby. However, if you are going the gloss route, it's impossible to pick one that won't transfer, such is the natural of lip gloss.
The Faceshop Tint In Oil, $15, thefaceshop.ca. Yves Saint Laurent Vernis À Lèvres Glossy Stain, $40, sephora.ca. Kat Von D Studded Kiss Lipstick, $26, sephora.ca.