Beauty
Bright like a diamond: 5 ways to get whiter teeth
Beauty
Bright like a diamond: 5 ways to get whiter teeth
A smile is the first thing you notice about someone, so of course the prospect of achieving whiter, brighter teeth is appealing. Here's what you can do at your bathroom sink—or in your dentist's chair—to help get you a brilliant smile.
Go Electric
We all know that proper brushing is key to oral health, which in turn is important to achieving whiter teeth. For years manual toothbrushes have been the weapon of choice, but is it as effective as an electric brush? Probably not, says Dr. Roger Avila, a dentist at Islington Bloor Dentist in Toronto. "The purpose of a toothbrush is to remove plaque and stimulate gums to help prevent tooth decay. Electric toothbrushes are exceptional at doing both jobs." With the constant advancements in technology our toothbrushes are working stronger, faster and better. But along with the advancements comes a steep price tag: The Philips Sonicare Diamond Clean Electric Rechargeable Toothbrush, widely considered the Rolls-Royce of toothbrushes, will cost you about $225. If that gives you sticker shock, try Oral-B Precision 1000 Electric Rechargeable Power Toothbrush, which will cost you around $60. But real talk: Even a $10 battery-powered spin brush can give your teeth a polishing effect.
Use Whitening Toothpaste
This seems like a no brainer, but whitening toothpaste really can help your toothbrush remove surface stains caused by beverages, such as red wine or coffee. Most whitening toothpastes on the market include both abrasive and chemical ingredients that clean teeth and remove stains, but only at the top level. If you have sensitive teeth try Sensodyne True White Mint toothpaste ($19), it helps relieve tooth sensitivity while giving whitening results with a low abrasive formula. But if you want something that will give you instant results we suggest Luster Premium White NOW! Instant White Toothpaste ($65). This toothpaste deposits a bluing agent that temporarily clings to teeth, which masks yellowness.
Try an At-Home Whitening Kit
The dentist chair isn't your only option; at-home systems and strips have come a long way since they first appeared on the market. Products that claim speedy results (within a few hours) often contain a high percentage of peroxide (a chemical that changes to hydrogen peroxide once it hits your teeth), which can irritate sensitive teeth and gums. If you fall into the sensitive teeth camp, Dr. Avila says to look for whitening systems or strips that use 10 percent (or less) of peroxide. He warns that with some teeth, at-home or professional systems simply won't help you reach a whiter and brighter smile. "Some teeth don't change as much as others and that is because of the colour of the dentin, which is the layer that lies under the enamel." Bad news, there's nothing you can do to increase you dentin; the amount of dentin you have comes down to genetics, says Dr. Avila. If your dentin game is strong, always make sure your teeth are as clean and as dry as possible to increase efficacy; this helps the peroxide adhere to your teeth. Try: Crest 3D White Whitestrips Advanced Vivid, $46, walmart.ca.
Avoid Foods and Drinks That Stain Teeth
Basically, anything that brings you joy in the food and drink department—and can also stain your white button down—can stain your teeth. Some of the worst culprits are red wine, coffee, barbecue sauce and blueberry pie. "If you are a coffee drinker, tea drinker or love red wine, whatever kind of teeth whitening you use, it's not going to be effective or work to its fullest strength," says Elmira Amirpour, a dental hygienist at Islington Bloor Dentist. She suggests using a straw whenever you can to avoid contact from teeth and to chase that glass of red wine with some water.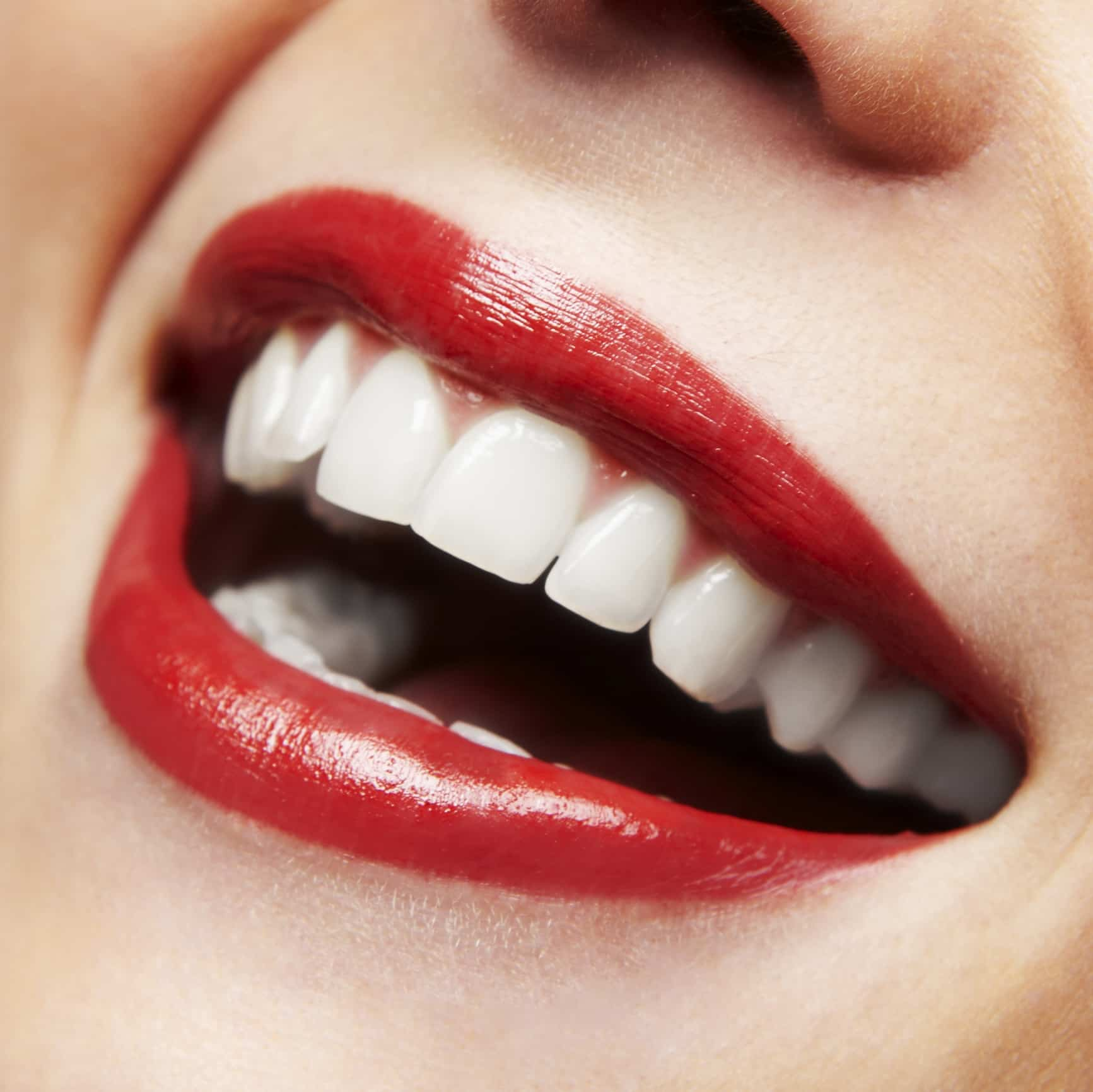 Consult a Pro
If money isn't an issue and you're looking for major results, fast, head to your dentist. A great entry point into in-office whitening is Philips Zoom! QuickPro. This whitening process doesn't use LED, instead a 20% hydrogen peroxide is applied to teeth followed by a sealant that helps lock in the hydrogen peroxide layer. It should take 5-10 minutes, 30 minutes later patients brush away the varnish leaving teeth that are up to four shades lighter for around $150- $200. The treatment is also touted to be the best option if you experience sensitivity—we tried it and it lifted our teeth up to six shades lighter, shattering its four shade claim. Amirpour suggests trying the treatment one to two weeks after a cleaning and to ban foods that can stain (beets, coffee, toffee) for 72 hours post treatment. If you want to step up your whitening, try Philips Zoom! Whitespeed or Sapphire Whitening, "Zoom is very intense but results wise it's the best," says Dr. Avila. With its combination of peroxide and LED light Philips Zoom! Whitespeed costs around $500-$650 and can whiten up to eight shades. It works in a similar way to the QuickPro procedure however you receive three cycles (each lasting 15 minutes) of LED light that activates the whitening gel. The light used in Philips Zoom! Whitespeed also gives you the option of going to high, medium or low, depending on patients teeth sensitivity.