Beauty
Embrace your Grey Hair : Products & Tips to Make the Transition
Beauty
Embrace your Grey Hair : Products & Tips to Make the Transition
Covering silver strands and hiding regrowth can be frustrating, exhausting and costly—that's why we're loving that more and more women are embracing their greys. Read on for pro tips on approaching the transition and products to maintain your natural shade.
Three approaches
According to Alexandre Sénécal, co-owner of hair salon Espace K in St-Jean-sur-Richelieu, Que., no matter what your natural colour is, you'll have to go through a transition period before arriving at your desired result. The main goal? Go grey without compromising hair health.
1. Let it show
The pandemic (and the closure of hair salons) didn't give us much of a choice in letting the greys grow and show. The downside, for some, was dealing with regrowth over a period of several months. A great way to reduce the drastic look of this option is to update your cut and chop off the dyed ends every few months.
"Without going very short, a little punchy cut will help eliminate a good part of the coloured lengths," says Sénécal. Determine the cut that's best for you according to the shape of your face and the texture of your hair. A short layered or angled bob, for example, gives the hair a lot of depth, he says.
2. Blend it out
For a smooth transition without too much chopping, gradually lightening the hair colour to blend it with your naturally greying roots is an option. Thanks to paper highlights (also called babylights), the salt and pepper regrowth can be merged with the rest of the hair. It takes two or three salon appointments to get the subtle effect, says Sénécal.
Another technique to consider is foilyage, a sort of hybrid between balayage and highlights, which brings depth and light to your colour while requiring little maintenance afterward. With this treatment, the focus is mainly on colouring the lengths, the ends and around the face.
3. Lighten it up
Say goodbye to the stark contrast between the greys and your natural colour by bleaching, which consists of making all of the hair as light as possible. This option should be spread over several months so as not to damage your hair too much. Sénécal recommends a break of at least three months between each bleaching session. This technique sometimes requires colour stripping
if you have been dying your hair a dark colour for many years, he says.
Instant glow: the salon treatment we need
Photography, iStockphoto
The ultimate way to enhance dull salt-and-pepper hair and neutralize yellow tones? A hair gloss treatment that can add a shine boost and deposit a little bit of pigment, leaving your hair looking fresh and revitalized. After an appointment that takes about 20 minutes, expect results to last up to six weeks.
Cost: around $50
Maintain your greys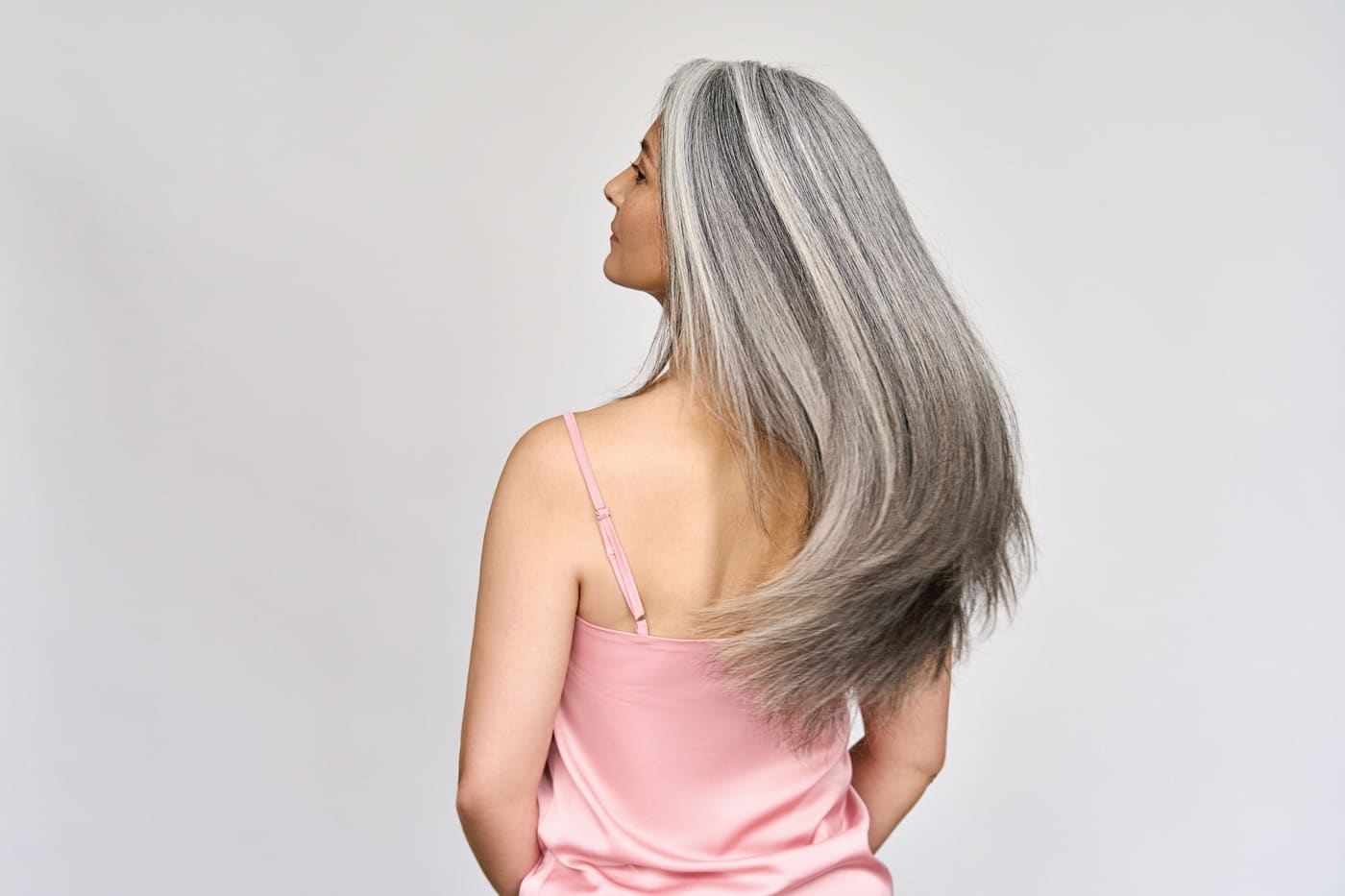 Photography, iStockphoto
Giving up colouring and regular in-salon follow-ups doesn't mean we're giving up on our hair-care routine. On the contrary! "White or grey hair is often drier, coarser and sometimes more, shall we say, rebellious than our former melanated hair," says Sénécal. "Therefore, make sure to nourish your coif with moisturizing masks that contain hyaluronic acid, and tame frizz with keratin-based products."
If your grey is prone to yellowing, use a purple shampoo and conditioner a few times a week to neutralize those unwanted yellow tones. Other good ways to prevent yellowing: Use thermal and UV protectors, which help to preserve hair from damage caused by heat styling and from the sun's UV rays.
Give your makeup bag a makeover
That's it, you've taken the leap and gone grey—and you may find that the makeup you used to wear looks too harsh or bold. Swap out your black and charcoal pencils and mascaras for softer shades like brown and taupe, suggests Canadian makeup artist and columnist
Virginie Vandelac.
Graceful greys we love
Like her fellow actor Sarah Jessica Parker in the Sex and the City sequel, cynthia nixon shines with her grey hair.
Once the face of L'Oréal's colour creams, Andie MacDowell's curly mane is now dotted with white strands that have earned her several accolades.
French novelist and journalist Sophie Fontanel, well known for her silver mane, documented her hair transition in the book Une apparition.
"#proud of my white hair" is what Salma Hayek said on Instagram in February 2019. Many women have followed her example since!
Jamie Lee Curtis's silver pixie cut, which she has been sporting for several years now, is one of a kind.
Colourist Jack Martin was behind Jane Fonda's hair transformation, just in time for the 2020 Academy Awards ceremony.
We love Meryl Streep's grey locks. Our favourite style on her is the sophisticated 'do of her character Miranda Priestley in the iconic movie The Devil Wears Prada.
Like more and more women of her generation, 43-year-old Katie Holmes doesn't mind showing off her salt-and-pepper roots.
Our product picks
Cannabis sativa seed oil and other moisturizing ingredients instantly add shine to even the dullest hair while nourishing strands and eliminating frizz.
DESIGN.ME Gloss.Me Travel Hair Serum, $14, designmehair.com.
An all-in-one styling tool to detangle, dry and volumize.
REVLON Salon One-Step Hair Dryer and Volumizer, $65, amazon.ca.
An at-home care regimen for neutralizing yellow tones.
L'ORÉAL PROFESSIONNEL Serie Expert Silver Violet Dyes + Magnesium Professional Shampoo, $28, matandmax.com.
Accessorize with a chic bow.
GIBOU The Hair Bun Accessory in Light Pink, $25, gibou.ca.
An essential for reducing shampooing frequency and adding volume.
REDKEN Deep Clean Dry Shampoo, $30, chatters.ca.
A hydrating anti-aging hair treatment enriched with hyaluronic acid and vitamin E.
KÉRASTASE Chronologiste Masque Intense Régénérant, $82, kerastase.ca.
Offer your hair ultimate protection from heat and UV rays to minimize unwanted brassiness and breakage.
MOROCCANOIL Color Complete Protect & Prevent Spray, $34, sephora.ca.
Bluish pigments in this conditioner preserve the cool tones of your grey or white locks.
KLORANE Anti-Yellowing Conditioner with Organic Centaury, $14, well.ca.
Gently detangle hair with a lightweight mist while protecting it from brushing and hot tools.
WELLA Elements Renewing Leave-In Spray, $24, chatters.ca.
A hairspray that protects against humidity, static and frizz.
JOICO Humidity Blocker+ Protective Finishing Spray, $25, chatters.ca.
A protein-rich smoothing shampoo that doesn't weigh down hair.
NEXXUS Ultralight Smooth Weightless Frizz Protection Shampoo, $15, walmart.ca.