Beauty
Expert Tips For Choosing Your Next Signature Scent
Photography, Shutterstock
Beauty
Expert Tips For Choosing Your Next Signature Scent
The perfect fragrance isn't always easy to choose, and with so many options, how can you narrow it down to just one? Here are some pro tips and exciting new arrivals you're sure to adore.
Smell of success
Walk down any department store perfume aisle and you'll find row after row of scents created by fashion designers, small niche companies and even the newest up-and-coming singer or influencer. There are so many options, and it's easy to become overwhelmed, but with these tips, you'll discover your signature scent in no time.
1. Narrow down your options by scent family. Most of us have one or two olfactory families that we gravitate to more than the others. The easiest way to reveal yours is to take a look at the scents you already own to see if they skew more fruity, woody, or something else. If you're just starting your perfume collection, consider the types of candles you love, or that particular shower gel scent you can't get enough of.
2. Choose a fragrance concentration based on how strong and long-lasting you like your scent. Do you prefer a stronger perfume with longevity or a lighter fragrance that's more subtle? Eau de parfum tends to have a concentration between 15 to 20 percent, with a staying power of up to eight hours. Eau de toilette fragrances have a lower concentration, about five to 15 percent, and tend to last from three to six hours.
3. Take your time while shopping. Choosing a perfume by the first sniff isn't always the best idea because you're only smelling the top notes, which start to fade after about 10 minutes. Instead, after you choose a few potential candidates, smell them on the tester, then let the scent develop for a few hours. This will allow the fragrance's heart and base notes to come through, giving you the scent's true aroma and revealing if it's truly for you.
4. Don't be afraid to ask for a sample to take home. Most retailers are happy to provide small tester bottles so you can be sure you're making the right decision. Fragrances tend to smell different on each person due to individual body chemistry, skin pH and skin type. Because perfumes tend to be more expensive than other cosmetics, testing one out on your skin for a few days allows you to see how the notes develop on you before you commit to purchasing a full bottle.
5. Avoid falling into the trap of trends. While fragrance trends are great for getting some inspiration, your own nose is the best tool you have to choose your next signature scent. A perfume may be labelled a "bestseller," but that doesn't necessarily mean that it'll be your new favourite. Keep an open mind: Just because a light fragrance is described as "summery" on the package doesn't mean it has to be reserved for only one season. The world of perfumery is subjective, so be sure to trust your instincts!
Everyday Classics
By opting for a fragrance created by one of these iconic European perfumers,
you can't go wrong!
Floral
A velvety bouquet of white flowers—jasmine, neroli and magnolia—that stands out thanks to its alcohol-free formulation and beautifully feminine scent.
Photography, © Bruno Petrozza
DIOR J'adore Parfum d'Eau, $142/50 ml, sephora.ca.
Fruity
This delicious fragrance combining notes of juicy mandarin with aromas of basil, vanilla and sandalwood is now available in an eau de parfum version for a deeper, more sustained trail. Bonus: The scent is housed in a gorgeous refillable bottle.
Photography, © Bruno Petrozza
GUERLAIN Aqua Allegoria Forte Mandarine Basilic Eau de Parfum, $144/75 ml, guerlain.com.
Heady
A captivating fragrance inspired by luxurious goods traded with Turkey, including spices, leathers and flowers. We expected nothing less than this evocative scent from Penhaligon's, a British institution founded more than 150 years ago!
Photography, © Bruno Petrozza
PENHALIGON'S Halfeti Eau de Parfum, $335/100 ml, etiket.ca.
Romance in a bottle
Delicate perfumes to seduce the wild at heart.
Fresh
The classic Daisy scent is reimagined for its 15th anniversary. Much fruitier and more vibrant than the original, this variation boasts notes of mango, pineapple and tangerine, enhanced by a blend of rose water and orange blossom.
Photography, © Bruno Petrozza
MARC JACOBS Daisy Ever So Fresh Eau de Parfum, $135/75 ml, shoppersdrugmart.ca.
Sensual
This irresistable fragrance based on jasmine grandiflorum which, when mixed with the essences of mandarin, magnolia,
sandalwood and black pepper, exudes a sweet sensuality.
Photography, © Bruno Petrozza
GUCCI Flora Gorgeous Jasmine Eau de Parfum, $139/50 ml, sephora.ca.
Gourmand
We all love receiving chocolate and flowers, and now we can gift it to ourselves in the form of perfume. Enjoy Valentine's Day in a bottle with this blend of cocoa, jasmine and green mandarin.
Photography, © Bruno Petrozza
CACHAREL Yes I Am Delicious Eau de Parfum, $89/50 ml, shoppersdrugmart.ca.
Your own nose is the best tool you have to choose your next signa­ture scent.…The world of perfumery is subjective, so be sure to trust your instincts!
Sparkling elixirs
Full of depth and life, these scents will perfectly complement your sparkling personality.
Natural
For this fresh scent, designer Issey Miyake captured the olfactory journey of a raindrop in a minimalist glass bottle shaped like a fallen droplet. A bouquet of lilac is combined with musky notes and an almond milk accord for a scent that celebrates the beauty of nature.
Photography, © Bruno Petrozza
ISSEY MIYAKE A Drop d'Issey Eau de Parfum, $115/50 ml, thebay.com.
Warm
Singer-songwriter Billie Eilish's very first fragrance exudes gourmet scents of cocoa, vanilla and comforting spices for an aroma that's warm, sensual and magnetic. Plus, the formulation is unisex, vegan and cruelty-free.
Photography, © Bruno Petrozza
BILLIE EILISH Eilish Eau de Parfum, $70/50 ml, shoppersdrugmart.ca.
Intense
From the first spritz of this newcomer to Burberry's Her family, you're enveloped by notes of strawberry and blackberry, which are enhanced by jasmine, vanilla, amber and sandalwood.
Photography, © Bruno Petrozza
BURBERRY Her Elixir de Parfum, $187/100 ml, burberry.ca.
Haute couture
Fashion designers have become masters in the art of creating their very own signature scents.
Feminine
This amber floral fragrance with notes of neroli bud, white amber and white musk is a new creation from the Milan-based fashion house Prada. Packaged in a triangular bottle reminiscent of the brand's logo, this eau de parfum exudes warmth and femininity.
Photography, © Bruno Petrozza
PRADA Paradoxe Eau de Parfum, $139/50 ml, prada.com.
Luxurious
The latest olfactory formula from the Dutch design duo Viktor Horsting and Rolf Snoeren combines fennel and gentian flower with jasmine and bourbon vanilla for a uniquely captivating aroma.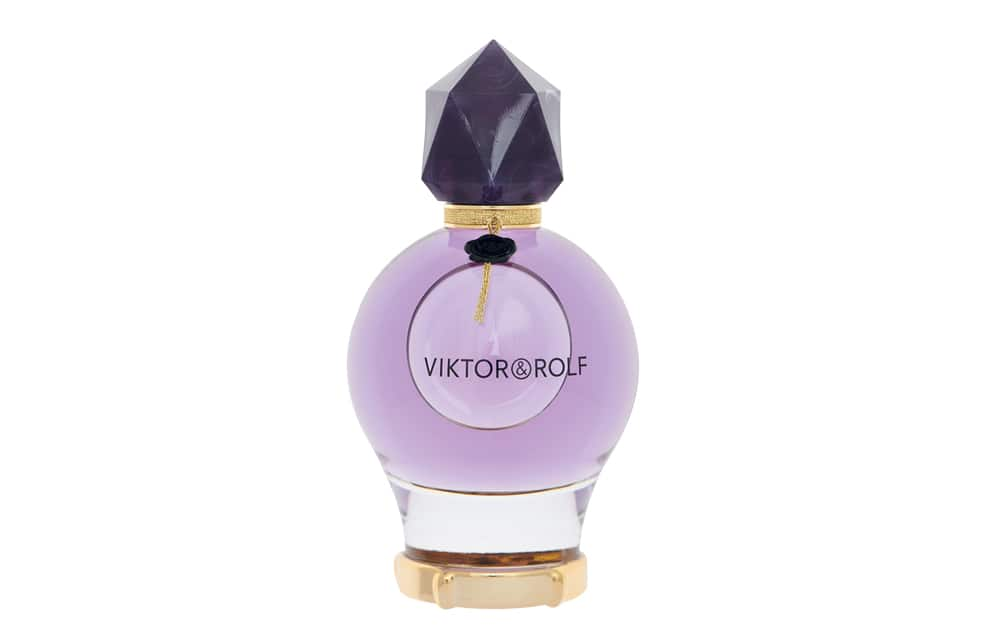 Photography, © Bruno Petrozza
VIKTOR&ROLF Good Fortune Eau de Parfum, $150/50 ml, sephora.ca.
Seductive
Bottles from unconvential brand Jean Paul Gaultier are works of art in themselves. Beneath the iconic leggy topper is a robust chypre scent blending salted caramel, jasmine and black vanilla bean with notes of wood and leather.
Photography, © Bruno Petrozza
JEAN PAUL GAULTIER Scandal Le Parfum Eau de Parfum Intense, $122/50 ml, thebay.com.
Unique creations
Scents made for lovers of unusual, out-of-the-box fragrances.
Intriguing
Perfumer Geza Schoen's nose is at the origin of a small revolution in the world of perfumery. His focus? Highlighting chemistry, science and technology in the creation of his scents. This blend consists of the Iso E Super molecule (described as a warm, velvety cedarwood) and iris pallida absolute.
Photography, © Bruno Petrozza
ESCENTRIC MOLECULES Molecule 01 + Iris Eau de Toilette, $195/100 ml, etiket.ca.
Peaceful
Each offering in the Replica collection takes you on a journey through a world of scent. With this eau de toilette, you're transported to Tokyo with a warm cup of matcha in hand. A sophisticated fragrance, it's soothing and fresh at the same time.
Photography, © Bruno Petrozza
MAISON MARGIELA Replica Matcha Meditation Eau de Toilette, $188/100 ml,
sephora.ca.
Niche
First marketed as Powder and Dust, this award-winning fragrance from Sven Pritzkoleit offers a contemporary take on the scents of yesteryear with ultra-powdery notes. Acacia, raspberry and rhubarb add a cheerful spin to this distinctive eau de parfum.
Photography, © Bruno Petrozza
ZOOLOGIST Cockatiel Eau de Parfum, $225/60 ml, zoologistperfumes.com.
For the undecided
Unable to commit to just one scent? Look for a box of miniatures rather than a large solo bottle. Several brands offer a selection of their bestsellers in a prepackaged set so that you can try them all and change your perfume with your mood.
The perfect way to discover the seven flagship fragrances of this Canadian brand, which sources its ingredients ethically from producers in Haiti, Rwanda, Afghanistan, Egypt, India and Madagascar.
Photography, © Bruno Petrozza
THE 7 VIRTUES Peace Discovery Set, $36/7 x 1.7 ml, the7virtues.com.
Two beautiful scents—Nomade and Chloé—are combined in a single box. We love the bottles that are miniature replicas of the full-size versions.
Photography, © Bruno Petrozza
CHLOÉ Les Minis Duo Set, $80/2 x 20 ml, sephora.ca.
An introduction to four of the six gender-neutral, elegant and complex blends in this popular collection, the dab-on minis are perfect when you're on the go.
Photography, © Bruno Petrozza
HERMÈS Mini Jardin Fragrance Discovery Set, $70/4 x 7.5 ml, sephora.ca.