Beauty
Give your body some TLC with powerful active ingredients
Photography, Shutterstock
Beauty
Give your body some TLC with powerful active ingredients
More and more brands are using active ingredients in their body treat­ments that we've traditionally seen in facial formulas. What's behind this elevation in body care formulations?
"Until four or five years ago, most body products had shea butter and fragrance as their main ingredients," says Randi Christiansen, co-founder and CEO of Nécessaire, a brand that specializes in body care and treatments. "My co-founder, Nick Axelrod, and I wanted to take some of the ingredients that we had studied and worked with for years and use them in body care at an effective concentration to address common concerns," she explains. This is how Nécessaire, one of the companies to pioneer this skin-care movement for the body, was born.
The recent "cocooning" trend—all about finding more comfort and pleasure in staying home—places more importance on self-care, including skin care. "Before the pandemic, body treatments were seen as a luxury, but since then they've been considered more of a necessity in our routines," says Christiansen.
Face skin vs. body skin
"The skin of the body has the same role as the skin of the face—to protect us from external elements, among other things, but depending on the area of the body, our skin has particular characteristics," says Christiansen. For example, the skin of the face and neck is thinner than that of the rest of the body, and the thickest skin is found on the scalp. "Often, when we have skin problems such as dryness, eczema or acne, they manifest themselves differently on our body than on our face," she says. This is why active ingredients, as well as their concentrations, textures and speed of absorption, may differ in body and face care. "Not only do you have to find the right concentration and the right ingredient for a body treatment to be effective, but formulas also have to spread more easily and absorb more quickly than a facial product to avoid getting onto clothes," says Christiansen.
Are body treatments interchangeable?
Some products can be used on multiple areas of ​​the body—you can easily use a moisturizing body lotion as a hand cream, for example—while others are designed specifically for a particular area. This means that the concentration, ingredients and scent might be different, and using it somewhere other than the intended area should be avoided. "There are needs in certain areas of the body that need to be addressed using an arsenal of specific ingredients," says Christiansen. For example, a body serum that includes hydrating hyaluronic acid might not meet the needs of the neck area, which could benefit from a serum that targets the signs of aging using a specific peptide. Typically, we're most familiar with body care that's meant to moisturize or exfoliate, but there's also a plethora of products designed to address specific body issues, such as targeting ingrown hairs or odours.
Our product picks
Enriched with minerals and euca­lyptus, tea tree and sunflower oils, this foot bath helps cleanse, hydrate
and soften the skin while eliminating unwanted odours.
CND PRO SKINCARE Mineral Bath for Feet, $53, matandmax.com.
Designed specifically to soothe the skin after waxing, this trio of hydrogel masks intended for the bikini area relies on the soothing powers of aloe and green tea, as well as the moisturi­zing benefits of hyaluronic acid.
BUSHBALM Hydrogel Vajacial Mask, $59, bushbalm.ca.
With salicylic and glycolic acids, this serum helps exfoliate the skin, reducing ingrown hairs and irritation. We also love its roll-on applicator for mess-free use.
TOPICALS Ingrown Tonic, $34, sephora.ca.
This soap, naturally scented with lemon, lavandin and tea tree essential oils, restores the skin's hydrolipidic film, which helps to combat the feeling of tightness that can plague dry skin.
PURESSENTIEL Purifying Extra-Rich Liquid Soap, $21, jeancoutu.com.
Serum, milk or cream?
Photography, Shutterstock
As with products intended for the face, body serums are thin-viscosity treatments with more concentrated active ingredients that target specific needs, while a milk or cream is typically used for its moisturizing benefits. Milks and lotions tend to be light and fluid, while creams and butters are thicker and more nourishing. All great options; it's up to you to choose what best suits your skin.
Key ingredients
It all depends on your individual skin concerns, but some ingredients found in body care formulas will likely ring a bell. Here are some that Christian-sen is especially fond of.
Hyaluronic acid
A hydration superstar that shines in formulas for the face and the body. "It's particularly interesting because you can play with different molecular weights," says Christiansen, which allows the ingredient
to penetrate to different depths in the skin.
Exfoliating acids (AHA, BHA and PHA)
These acids help to exfoliate the skin, evening out texture and tone. They're often found in treatments targeting acne or pigmentation.
Glycerin
A humectant that's found in many skin-care products, "glycerin is a basic moisturizing ingredient that I love," says Christiansen.
Peptides
Short chains of amino acids that can provide a variety of benefits depending on the type. Found in body lotions, neck care products and hand creams, peptides help repair the skin and promote firmness.
Retinol
With proven anti-aging benefits, this ingredient helps reduce the appearance of fine lines and wrinkles,
promotes collagen and elastin production and leaves the skin more radiant.
Our product picks
Perfect for sensitive, dry skin, this wash not only cleanses the body, but leaves it feeling nourished and soothed with its power trio of prebiotic oat, aloe and provitamin B5.
AVEENO Restorative Skin Therapy Soothing Body Wash, $10, aveeno.ca.
In addition to deeply hydrating the skin, this body serum helps improve skin firmness and elasticity with ingredients like tetrapeptide, niacinamide, bisabolol and gingerroot.
BOSCIA Peptide Youth-Restore Firming Body Serum, $55, thebay.com.
The goal of this specialized serum is to restore skin elasticity and softness to prevent and reduce the appearance of stretch marks caused by a multitude of factors.
KARINE JONCAS Total Stretch Marks Correction Serum, $45, karinejoncas.ca.
Say goodbye to dead skin and hello to smoothness with this exfoliating scrub that's packed with antioxidants and active ingredients from honey, grape water and grapeseed oil.
CAUDALIE Vinosculpt Crushed Cabernet Scrub, $45, caudalie.ca.

Essential oils combined with vitamins B and E provide a fast-absorbing, nongreasy moisturizing experience, with the bonus of being vegan and cruelty-free.
HEY HUMANS Apple Matcha Naturally Derived Body Lotion, $15, shoppersdrugmart.ca.
Fun and easy to apply, this spray-on lotion uses an effective blend of aloe juice, babassu oil and Australian plum extracts to provide hydrating, brightening and anti-aging benefits.
THE GRUFF STUFF The Spray On Body Lotion, $48, thegruffstuff.ca.
A weekly scrub that banishes dullness and uneven texture with bamboo charcoal, and softens and renews skin with glycolic, lactic and salicylic acids.
NÉCESSAIRE The Body Exfoliator, $38, sephora.ca.
Antioxidant-rich moringa oil and soothing aloe come together in this lightly scented lotion to pamper the body, plus 100 percent of the purchase price is donated to charity.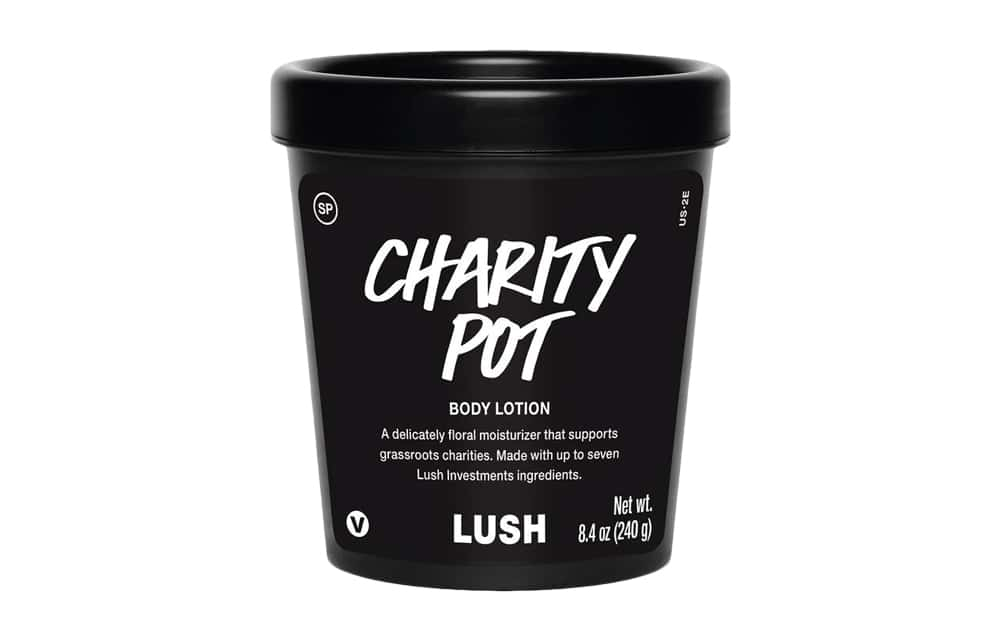 LUSH Charity Pot Body Lotion, $30, lush.ca.