Beauty
Home Spa Skin Care Treatments to Feel Good When You Go Outside [EXPERT TIPS]
Beauty
Home Spa Skin Care Treatments to Feel Good When You Go Outside [EXPERT TIPS]
Chilly weather outside means cocooning season is upon us. That means it's time to take advantage of all the skin-care treatments we can indulge in from the comfort of home.
We asked the pros for tips and tricks to have us emerge feeling—and looking—our very best.
SKIN DETOX
Although certain skin-care procedures, like blackhead extractions, should be saved for the professionals, there are several treatments that you can do at home. Here's how to keep skin in tip-top shape while enjoying a well-deserved moment of relaxation, all without leaving the bathroom.
Cleanse: "At Caudalie, we start from the principle that we must clean the skin before treating it," says Régine Berthelot, global manager of spa training for Caudalie America. So whether you're doing a body or facial treatment, always start with cleansing, she says, and make sure your shower gel and makeup remover don't contain sulphates that can strip the skin.
Exfoliate: Exfoliation is essential, according to Berthelot. "Once we've removed the dead cells we're able to give in-depth treatment to the skin," she says. If you usually exfoliate on wet skin, take a moment to read the product's label before applying your exfoliant to make sure that's the right way to go. "Certain ingredients—salt and sugar, for example—are more effective on dry skin, while others, which don't dissolve in water, can be applied to wet skin," she says. Exfoliate moving from the feet up to the shoulders, massaging toward the heart. "It helps with blood circulation and drainage," says Berthelot. For example, start at the foot, then go up toward the calf, thigh and buttocks, followed by the abdomen and arms and finishing with the neckline.
Treat: After rinsing off the exfoliant and patting skin mostly dry, it's time to apply moisturizer. Leaving skin slightly damp while moisturizing helps ensure better product absorption and seal in hydration.
Tip: Massage your cream from bottom to top (not back and forth!) in order to reap the benefits of lymphatic drainage. Since salt based scrubs can dehydrate the skin, always follow up by applying a rich, hydrating cream.
STIMULATE THE FIVE SENSES
SIGHT: Sit in a tidy room, dim the lights and light a few candles.
HEARING: Music can help to set a relaxing mood. Play your favourite soft tunes.
SMELL: Opt for products with a soothing scent (like lavender) or a stimulating fragrance (like peppermint), depending on your preference.
TOUCH: Take a moment to appreciate the texture of the products, or even the soft feeling of your clothing or chair.
TASTE: End the experience by enjoying your favourite herbal tea.
OUR PRODUCT PICKS
1. Use this gel to gently cleanse the skin with the power of botanical active ingredients.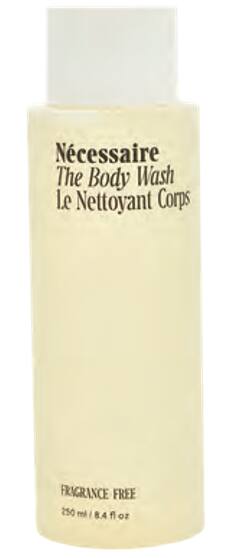 Photography: Bruno Petrozza
NÉCESSAIRE The Body Wash, $32, sephora.ca.
2. Including this peel in your nighttime routine two or three times a week means you'll wake up in the morning feeling radiant.
Photography: Bruno Petrozza
CLARINS Beauty Flash Peel, $55, clarins.ca.
3. You can put a few drops of this refreshing oil in the bath, or use it for an invigorating self-massage.
Photography: Bruno Petrozza
DR. HAUSCHKA Lemon Lemongrass Vitalising Body Oil, $33, drhauschka.ca.
4. This mix of amino acids and mineral-rich seawater is dull skin's new best friend.
Photography: Bruno Petrozza
SUMMER FRIDAYS Super Amino Gel Cleanser, $46, sephora.ca.
5. To clear and prevent breakouts, this treatment uses organic activated charcoal to draw out oil and bacteria, tea tree oil to purify and vitamin E to nourish.
Photography: Bruno Petrozza
CARBON THEORY Overnight Detox Serum, $28, shoppers drugmart.ca.
6. This convenient little sponge cleans, purifies and exfoliates the skin in a single step.
Photography: Bruno Petrozza
BKIND Green Tea Antioxidant Konjac Sponge, $10, bkind.com.
HAPPY FEET
To have soft skin all the way to the tips of your toes, apply a moisturizer daily and make sure to drink enough water. "Those are the basics," says Nathalie Godbout, a nurse specializing in foot care. Want to take it to the next level?
Here are the steps to follow.
Prepare a foot bath. Indulge in a foot soak, but not for more than 10 minutes, says Godbout. To relieve skin dryness, add a few drops of essential oil; tea tree oil, for example, is known for its antifungal properties. And there's nothing like adding a dash of Epsom salts to ease fatigue and reduce feet swelling.
Gently remove calluses. Walking barefoot exacerbates calluses by thickening the skin on the heels. To remedy this, exfoliate with a pumice stone, sending each stroke in the same direction. Why? "Friction from a back and forth motion increases hyperkeratosis, which is an increased thickness of the outer layer of the skin, better known as corns," explains Godbout. If you also suffer from fissures or cracks, follow up with urea cream, the most effective ingredient for combatting dehydrated skin.
NIGHT MASKS: SOFTEN YOUR FEET WHILE YOU SLEEP!
Regine Berthelot, global manager of spa training at Caudalie America always keeps her foot cream on her nightstand. "It reminds me to put it on every night before I go to sleep," she explains. If your feet are very dry, apply a thick layer of rich cream made with hydrating ingredients like sweet almond oil, grapeseed oil or shea butter, for example. Follow this up by putting on cotton socks and drifting off to sleep! Berthelot's pro tip? Layer this cream on top of a nourishing oil for a double dose of moisture. "You can do the same thing for our hands," adds the expert.
OUR PRODUCT PICKS
1. This treatment helps to soften dry callused heels in five minutes flat.
Photography: Bruno Petrozza
CND PRO SKINCARE Callus Smoother for Feet, $43, matandmax.com.
2. This urea balm softens cracked heels like magic!
Photography: Bruno Petrozza
FLEXITOL Heel Magic, $16, well.ca.
3. An ultra-hydrating treatment enriched with red vine leaf extract that reduces the "heavy legs" feeling.
Photography: Bruno Petrozza
CAUDALIE Vinotherapist Foot Beauty Cream, $20, caudalie.ca.
4. In this soak Himalayan pink salt helps relax muscles, while chia seed oil nourishes the skin.
Photography: Bruno Petrozza
GOOP BEAUTY "The Martini" Emotional Detox Bath Soak, $52, sephora.ca.
5. Exfoliating with a mix of sugar and fine sand combined with fruit enzymes makes for silky smooth skin.
Photography: Bruno Petrozza
FENTY SKIN Buff Ryder Exfoliating Body Scrub, $43, sephora.ca.
Facial Massage
For instantly brighter and plumped skin, Guerlain's North America education and events director, Maxime Poulin, swears by self-massage. "It's a technique based on science and on the understanding of the anchor muscles of the skin, as well as lymphatic and blood networks," he says. The massage, refined by the French house's institutes over more than 80 years, consists of a series of smoothing movements strong enough to reduce muscle contractions and promote drainage.
The result? An immediate lifting effect. Try the procedure every time you apply your creams and serums!
Smooth forehead wrinkles. Press your thumb between your eyebrows. Once you have found the anchor point, which is the place where you can feel a muscular relaxation upon pressure, smooth upward to the scalp five times, alternating hands. Do the same starting from the top of the eyebrows, then from the outer corners.
Work around the eyes. Here, use two fingers instead—the index and middle. Starting at the anchor point located in the inner corner of the eye, smooth by applying moderate pressure outward. Start from under your eye to the top of your ear, where the cheekbone muscle attaches, alternating hands. Then, repeat the same movement but sweep from above the eye along the browbone.
Soften the nasolabial folds. Place your left index finger on the right side of your jaw, with your thumb beside your nostril. Then slide your thumb towards your ear following the cheekbone five times.
ONLINE GUIDANCE FROM THE PROS
Because a picture (or video) is worth a thousand words, it pays to perfect your facial self massage technique by practicing alongside pros on social media. Check out the Instagramaccounts below for some self massage inspiration:
@luxceybeauty: Rose Gwet, founder of the Montreal brand Luxcey, teaches simple and intuitive beauty rituals and even offers workshops.
@katie_brindle: This traditional Chinese medicine expert demonstrates a host of self-massage techniques on her page.
@elainehuntzinger: Gua Sha holds no secrets for this Canadian-born acupuncturist now based in Paris.
@nicholajoss: Nichola Joss created the "Inner Facial," a sculpting massage technique that's been acclaimed by none other than Meghan Markle, the Duchess of Sussex.
GET INTO GUA SHA
To add to the self-massage experience, add a gua sha to your beauty kit. This flat stone can be found most often in the shape of an asymmetrical heart. The tool, traditionally used in Chinese medicine, replaces the fingers to relax your facial muscles and activate microcirculation.
How to use it: Take the same steps described at left, performing the series of upward movements five times each. To do this, tilt the gua sha at a 45-degree angle and hold the skin taut with your free hand. Don't forget to first apply a moisturizing mist, serum, oil or face cream to facilitate the massage and minimize friction between the tool and your skin. Skip this treatment for inflamed or injured skin, or if you take blood thinners.
Which tool to choose? Gua sha tools are often made of quartz, jade, obsidian or even porcelain. Determining the right one for you is primarily a matter of taste and beliefs. Some people attribute specific healing properties to certain semiprecious stones. While jade is considered the traditional choice, some may prefer the sturdiness of quartz. There's no right answer, so take the time to pick what works best for you.
OUR PRODUCT PICKS
1. Try this practical tool for getting started with facial self-massage.
Photography: Bruno Petrozza
OMY LABORATOIRES Personalized Gua Sha, $40, omycosmetics.com.
2. We not only love its hydrating effect, but also its aromatherapeutic fragrance with notes of lavender, geranium and cedar that bring about a sense of calm.
Photography: Bruno Petrozza
DETOX MODE Mineral Flora Facial Mist, $29, thedetoxmarket.ca.
3. Infused with real tea leaves, this mask helps firm the skin while protecting it from cellular aging.
Photography: Bruno Petrozza
TEAOLOGY SKINCARE Golden Matcha Firming Glowing Mask, $50, teaologyskincare.ca.
4. This luxurious concentrate combines honey and royal jelly for a treatment that repairs, plumps and illuminates the skin.
Photography: Bruno Petrozza
GUERLAIN Abeille Royale Advanced Youth Watery Oil, $70, guerlain.com.