Beauty
Homegrown Goodness
Image Courtesy of Éminence Organics
Beauty
Homegrown Goodness
These beauty companies have more than one thing in common: Not only do they all call Canada home, they also boast powerful mandates to manufacture products that lead to eco-friendly and sustainable living, personal wellness and loving the skin you're in.
Bite Beauty
TORONTO
Image Courtesy of Bite Beauty
Bite Beauty started off with one mission: to create better, healthy lip products that are powered by superfood ingredients. After all, have you heard how much of your lip product you actually eat? This company's products are so natural, they're even edible!
OUR PRODUCT PICK: BITE BEAUTY Outburst Longwear Lip Stain, $30 each, sephora.ca.
Éminence Organics
VANCOUVER
Image Courtesy of Éminence Organics
This company uses sustainable agriculture practices like biodynamic farming, to ensure every ingredient is all-natural, and each handcrafted product is expertly formulated to bring out the maximum skin-health benefits of each ingredient's properties.
OUR PRODUCT PICKS: ÉMINENCE ORGANICS Mangosteen Gel Moisturizer, $70, Body Lotion, $42, Replenishing Hand Cream, $38, Revitalizing Mist, $44, eminenceorganics.com.
Céla
TORONTO
Image Courtesy of Céla
Céla was created by the owner of the Hammam Spa in Toronto after she had trouble finding products to offer her clients. She wanted something that contained powerful herbal and botanical extracts—so she created her own. Many of the ingredients found in the line, like blueberries, elderberries, evening primrose, juniper berries, rosemary and lavender, hail from Canadian sources.
OUR PRODUCT PICKS: CÉLA Crème de la Crème, $37, Seed to Skin Scrub, $42, thisiscela.com.
Saje Natural Wellness
VANCOUVER
Image Courtesy of Saje Natural Wellness
Saje, founded in 1992 as an essential oil company, was born when co-founder Jean-Pierre LeBlanc was looking for natural alternatives to help him heal after a car accident. Since then, the brand has evolved and launched a host of facial, body care and wellness products formulated with essential oils and plant-derived ingredients. The company's bestsellers include Peppermint Halo Headache Remedy and Liquid Sunshine Diffuser Blend.
OUR PRODUCT PICKS: SAJE NATURAL WELLNESS 240ml Body Lotion, $28, 30ml Body Lotion, $8, saje.com.
The 7 Virtues
HALIFAX
Image Courtesy of The 7 Virtues
"Make perfumes not war" is the motto of Barb Stegemann, who started The 7 Virtues in 2010. Based in Halifax, the entrepreneur's mission is to support suppliers from countries rebuilding after war or strife, such as Afghanistan, Haiti and Rwanda. This is why she selects organic, fair-trade essential oils to formulate her scents—all of which are phthalate- and paraben-free, vegan and hypoallergenic.
OUR PRODUCT PICK: THE 7 VIRTUES Vanilla Woods Perfume, $97, the7virtues.com.
Veriphy
GUELPH, ONT.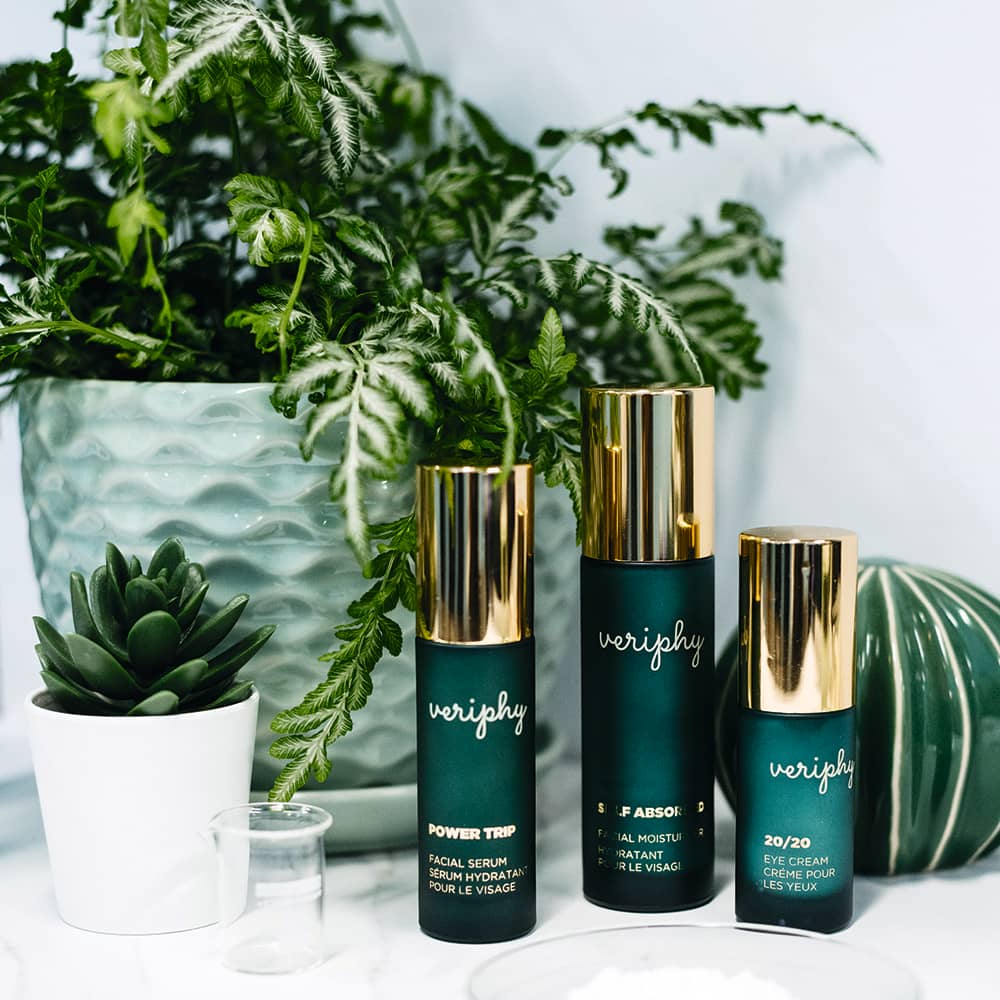 Image Courtesy of
This Guelph, Ontario-based company was founded just two years ago when owners Alison Crumblehulme and Jessica Kizovski decided to bet on PhytoSpherix—a phytoglycogen that energizes the skin and stimulates the production of collagen—to be the star ingredient of their new skin-care line. The Power Trip, a hydrating and exfoliating facial serum that combines lactic acid, calendula and arnica extracts along with PhytoSpherix, is a must-have for your skin-care routine!
OUR PRODUCT PICKS: VERIPHY Power Trip Facial Serum, $105, Self Absorbed Facial Moisturizer, $85, 20/20 Eye Cream, $82, veriphyskincare.com.
JB Skin Guru
MONTREAL
Image Courtesy of JB Skin Guru
Jennifer Brodeur has been in the world of esthetics for more than 25 years. Passionate about the skin and its mechanisms, she co-created the first LED light therapy device that uses polychromatic treatments and met Oprah Winfrey because of it. It was Oprah who encouraged Jennifer to develop her own range of products. The JB Skin Guru brand was born in 2016 and has had great success ever since.
OUR PRODUCT PICK: JB SKIN GURU Peoni La Crème, $195, jbskinguru.com.
Well Kept
VANCOUVER
Image Courtesy of Well Kept
Well Kept was established in Vancouver when Emilie Johnson and Natalie Farrell, wishing to reduce their ecological footprint, began to think of a solution to replace their disposable plastic razors. While men had several alternatives to razors with replaceable blades, Emilie and Natalie felt that women were rather limited to single-use models. This led them to develop a women's solid brass razor with interchangeable and recyclable blades and their company was born.
OUR PRODUCT PICK: WELL KEPT Safety Razor in Dusty Rose, $68, keepwellkept.com.
Province Apothecary
TORONTO
Image Courtesy of Province Apothecary
Julie Clark, founder of Province Apothecary, began her journey of formulating natural, organic beauty products in her kitchen. She wanted to find the perfect skin-care regimen with a holistic philosophy by experimenting with oils, waxes and herbs. Now, with a pledge to help customers feel good in their own skin, this Canadian company provides top-quality products made from raw materials and natural ingredients sourced from all over the country.
OUR PRODUCT PICK: PROVINCE APOTHECARY Rejuvenating + Hydrating Face Serum with Neroli and Frankincense, $76, provinceapothecary.com.
Voir Haircare
TORONTO
Image Courtesy of Voir Haircare
This luxury line for hair created, developed and manufactured in Canada is proud of its roots and of supporting local industries in the development of its products. Using the best ingredients, mainly from natural and renewable sources, each product comes in recyclable packaging and contains no silicones, parabens, phthalates, sulfates, TEA, artificial colours or mineral oils. The signature shampoo and conditioner and sumptuous hair oil are worth a purchase!
OUR PRODUCT PICK: VOIR HAIRCARE A Walk in the Sun Luxury Hair Oil, $42, voirhaircare.ca.
Maison Jacynthe
MONTREAL
Image Courtesy of Maison Jacynthe
This 100-percent pure, vegan, and cruelty-free beauty and wellness brand handcrafts products in Quebec. Launched by French-Canadian actress Jacynthe René, Maison Jacynthe's mission is to promote environmental sustainability and living a natural lifestyle with personal care and wellness products that contain reliably sourced active ingredients.
OUR PRODUCT PICK: MAISON JACYNTHE Exfopur Exfoliating Scrub, $38, maisonjacynthe.ca.
Rocky Mountain Soap Company
CANMORE, ALTA.
Image Courtesy of Rocky Mountain Soap Company
Creating products that are safe for you, your family and the environment is of utmost importance to the owners of Rocky Mountain Soap Company. Their focus on creating healthy skin, hair and body care goes above and beyond with their unwavering commitment to being 100 percent natural and toxin-free.
OUR PRODUCT PICK: ROCKY MOUNTAIN SOAP CO. Hydrating Outdoor Butter with Citrus and Mint, $15, rockymountainsoap.com.
Cocoon Apothecary
KITCHENER, ONT.
Image Courtesy of Cocoon Apothecary
Founder Jessica Burman has been formulating eco-friendly botanical products since 2003, focusing on addressing the signs of ageing with natural ingredients sourced ethically worldwide. Jessica started the line after a search for quality, natural skincare products came up short. Armed with an expanding knowledge of cosmetic chemistry, aromatherapy, and esthetics, she created the now best-selling facial cream Rosey Cheeks, and the rest is history.
OUR PRODUCT PICK: COCOON APOTHECARY Reflector SPF 30 Facial Sun Protection, $30, cocoonapothecary.ca.
The Green Beaver Company
HAWKESBURY, ONT.
Image Courtesy of The Green Beaver Company
Since 2002, Green Beaver has been on a mission to create natural, safe and healthy everyday bath and self-care products to provide alternative options for toxic chemical-filled ones. The owners learned from their experience in the pesticide and pharmaceutical industries just how harmful some chemicals can be to your body and the environment—it's what shaped their interest in natural goods and solidified their policy to use only ingredients that are certified organic and Canadian-grown whenever possible.
OUR PRODUCT PICKS: THE GREEN BEAVER COMPANY Lavender Natural Deodorant Stick, $8, Lavender Natural Deodorant Spray, $8, Everyday Body Lotion, $13, Volumizing Lavender Shampoo, $13, Volumizing Lavender Conditioner, $13, Foaming Hand Soap, $8, greenbeaver.com.