Beauty
Hot new beauty tools for skin and hair
Beauty
Hot new beauty tools for skin and hair
Technology progresses at a rapid pace, and it's almost impossible to keep up—especially when it comes to beauty tools. Worry not. We've sought out the latest beauty gadgets, talked to the experts and took the products for a test-drive—and here's what we found.
Deep clean
Clarisonic has become a household name in skin care—and for good reason. The ever-popular Clarisonic brush is a cleansing device that transforms skin in just 60 seconds a day. The newest addition, Clarisonic Smart Profile, has smart capabilities (it lets you know when to move from forehead to cheek and adjusts the pulses appropriately) and a turbo mode for those areas in need of special attention. It also comes with a body brush, which means your skin will thank you from head to toe. Use this cleansing device to remove makeup and dirt at the end of the day and to prepare skin to absorb all of the nutrients from moisturizers and serums. We found that, with continual use, the Smart Profile led to decongested pores and a clearer complexion without aggravating sensitive skin.
Clarisonic Smart Profile, $299, sephora.ca.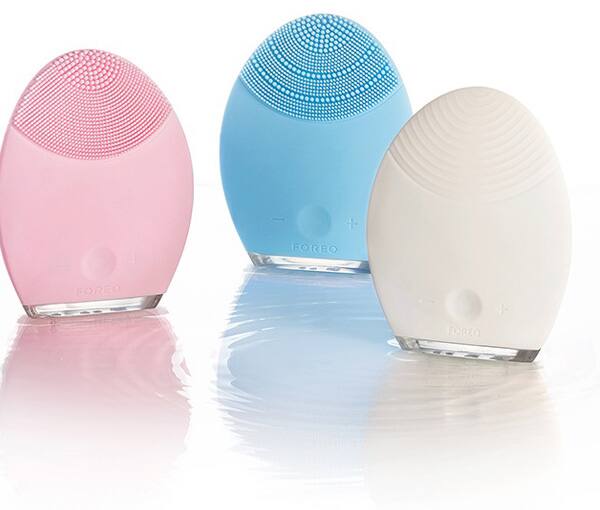 Bacteria blaster
Looking for something other than a brush? Foreo Luna is a silicone cleansing device that helps drive out dirt, oil and makeup residue, all while helping skin-care products absorb. With up to 8,000 transdermal pulses per minute, this device works hard but isn't hard on your skin. It's easy to use and clean, and the silicone helps prevent buildup of bacteria: The Luna is 35 times more hygienic than bristled brushes, which need to be replaced. This gadget is easy to use, easy to clean and leaves your skin feeling soft, smooth and supple. There are three variations for skin: sensitive/normal, combination and ultrasensitive.
Foreo Luna, $229, murale.ca.
Lip service
With so many lipsticks and glosses to choose from, it would be a shame for dry, chapped lips to ruin a fabulous pout. Bliss has recently introduced the Fabulips 'Pout'-o-Matic lip-exfoliating device. The device "uses gentle rotation and a custom-designed head with massaging nubs to softly yet effectively stimulate and exfoliate your lips," says Susan Grey, vice-president of Bliss Spa Operations. We found that lips felt smoother immediately after use and, after continued use, less dry and flaky—perfect for preparing to weather a Canadian winter.
Bliss Fabulips 'Pout'-o-Matic, $58, thebay.com.
Glow getter
We've spoken about
the benefits of face massage
before, and it's no surprise there's a device that works even better than your fingers. Racinne's newly released Lady S device is the gadget to try. Two different modes—spa mode and fit mode—make this multipurpose device a must-have. Spa mode focuses on anti-aging and wrinkle care, while fit mode promotes skin elasticity and lymphatic drainage (the flushing of toxins from the body, drainage of sinuses and reduction of fluid retention in the face). It's an at-home facial in two minutes. The device is intuitive to use and will automatically turn off, so you don't even have to keep track of time. After testing this product, we can confirm that skin looks brighter almost immediately; after prolonged use, skin seems firmer and less congested. Plus, it's always nice to end the day with a mini massage. Feel free to use the Lady S on your body, too; it can work wonders on areas that need extra attention, such as the décolletage.
Racinne Lady S, $200, racinne.ca.
Laser days
The first signs of aging happen around the eyes, so many women take special interest in targeting crow's-feet, dark circles and creases in that area. Tria's Eye Wrinkle Correcting Laser is a great at-home laser treatment to try. "The device sends targeted beams of light beneath the skin's surface into the dermis," says Lauren Henderson, global senior marketing director of Tria Beauty. "It creates microscopic zones of cellular disruption that target signs of aging." Then, the body's own healing process stimulates the production of new collagen and smooths fine lines and wrinkles. All it takes is one minute per eye, every night for eight weeks.
Tria Eye Wrinkle Correcting Laser, $285, triabeauty.ca.
Firm up
Kat Burki's Micro-Firming Wand is a nonlaser option for targeting fine lines and wrinkles. Small, easy to use and easy to manoeuvre, this device allows active ingredients to better penetrate skin using microcirculation.
Kat Burki Micro-Firming Wand, $94, murale.ca.
Frizz fighter
The Canadian climate doesn't just wreak havoc on our skin—our hair gets its share of damage, too. Luckily, Conair has released The Ultimate Brush, a brush that uses an ionic generator to combat frizz and humidity, making it a year-round must. The ionic generator produces a stream of conditioning ions, which act to neutralize the static charge that makes hair frizzy. After use, hair is notably frizz-free and super soft. This is a great tool for straight or wavy air that needs a little love.
Infiniti Pro by Conair The Ultimate Brush, $40, shoppersdrugmart.ca.
Read more:


How to get rid of your adult acne for good
How to make the switch to natural skin care and cosmetics