Beauty
How to get an edgy updo hairstyle inspired by Gwen Stefani
Photography by Carlyle Routh
Beauty
How to get an edgy updo hairstyle inspired by Gwen Stefani
Gwen Stefani, lead singer of No Doubt, has carved a place for herself in pop/rock's style Hall of Fame. Now, Stefani's hairstylist and longtime friend, Danilo, shows how to re-create one of her signature updo hairstyles.
Danilo created the below updo on Gwen Stefani for an episode of The Voice so Stefani's hair wouldn't catch on her elaborate top. Function before form! Follow along for his easy steps to create the look at home.
Gwen Stefani; Photo by Getty Images
Step 1:
Apply a cream heat protectant and a spritz of flexible-hold hairspray to wet hair, then blow-dry. Next, use a 1 1/2-inch-barrel curling iron to set your hair in medium-size rolls. "There are many ways to curl hair, but make sure all of it is going away from your face," says Danilo. Curl small sections, each for about five seconds, from front to back, then pin curls in place to cool.
Step 2:
Unpin each section and lightly tease with a brush. "The technique is called French lacing," says Danilo. "Instead of packing down the hair with a comb, gently tease with a brush to fluff." This style is all about wild, messy texture, so don't worry about making each section look perfect. And keep in mind that the hair on the sides should stay close to the head while the crown should be voluminous.
Step 3:
Style hair into a knot, French twist or ponytail. To create this edgy pony, separate your hair into top and bottom sections. Pull the bottom into a tight pony, smoothing the sides, and secure with an elastic. Next, loosely pull the top section back and secure to the first band with a second elastic. Wrap a strand of hair around the elastics and pin in place.
Step 4:
Run your fingers through your hair, rubbing strands between your thumb and index finger for added texture. For extra height, spritz hair at the crown with a dry shampoo or apply a powder volumizer, then push hair forward and up and pin in place. View the style from the front, sides and back to maximize the look from all angles.
The final look!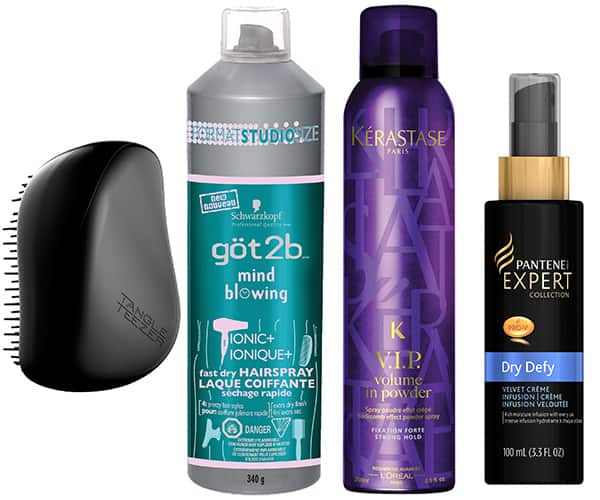 Tool kit:
Tangle Teezer Compact Styler, $25, sephora.ca. Göt2b Mind-Blowing Fast Dry Hairspray, $10, got2b.ca. Kérastase Paris Volume in Powder, $38, kerastase.ca. Pantene Expert Dry Defy Velvet Crème Infusion, $12, pantene.ca.


Follow us on our new Instagram account,
@CLxStyle
!
Read more:

How to perfect a braided crown
Bangs with benefits: Why we love bang hairstyles
This article originally appeared in the December 2015 issue of Canadian Living.

Subscribe to Canadian Living today and never miss an issue!