Beauty
Our selection of anti-stress products to add to your beauty and skin care rituals
Photo courtesy of Eden Roc Miami Beach Image by: Photo courtesy of Eden Roc Miami Beach
Beauty
Our selection of anti-stress products to add to your beauty and skin care rituals
When the stress of everyday life kicks in, it's important to incorporate some pick-me-ups into your daily routine. Make way for easy anti-stress additions to your beauty and skin-care rituals that add a pep in your step by appealing to the senses.
Dedicating time each day for self-care can easily fall to the bottom of the to-do list. But slowing down and indulging in a minute—or an hour!—of "me" time can make a big difference. "I feel our highest calling is to be of service to other people as well as the planet. The world needs helpers, but we can't pour from an empty cup," says Laura Whitaker, founder of Toronto-based natural wellness brand Wildcraft. "We need to look after ourselves before we can give back." This could mean adding a new self-care ritual to your schedule or tweaking your current regimen to maximize relaxation and mindfulness. Here are a few easy-to-implement techniques to add a dash of self-love to your everyday.
Candles
Lighting a candle can be a great way to transform doing a mundane task into something restorative and relaxing. "I believe in elevating life's little moments in order to create opportunities for mindfulness and self-care," says Whitaker. Scents can be designed to help awaken, focus or unwind, the three core pillars that take us through the day, she says. Elevate your morning makeup application by lighting up a lemongrass-based candle to energize you for the day ahead or reach for a relaxing lavender scent during your nightly routine. Because it's an easy addition to your established beauty rituals, it's a great way to add mindfulness without taking up extra time in your busy day.
Essential Oils
Essential oils are another great way to take advantage of the positive effects of aromatherapy. Many skin-care brands incorporate essential oils into their formulas, making it easier than ever for you to add them into your beauty routine—you can reap the product's skin-loving benefits, like hydration or radiance, while taking a moment to indulge your senses and find a moment of calm. "I love frankincense essential oil as it promotes feelings of peace and calm, which I think everyone could use more of in their day," says Whitaker. Bonus: Adding a few drops of essential oil to your bath makes it a truly sensorial pampering experience.
Mini massage
Enjoy a moment of self-love each day by treating yourself to a soothing face massage while applying your skin-care products. Using gentle but firm pressure, massage upward from your brow to the top of the forehead with your fingertips, then massage outward from the middle of the face, along your cheekbones toward your temples. Perform that same outward motion on the lower half of your face, starting at the sides of your mouth, moving along the jawline. Use vertical strokes from your collarbone up your neck, and finish by gently tapping your face with the pads of your fingers.
Inhale, exhale
Simple breathing techniques can help quell anxiety and add a calming je ne sais quoi to our beauty rituals. "It's a moment of anchoring that feels good and that we can easily do on a daily basis, whether at the beginning or at the end of the day," says Alexandra Picard-Sioui, founder of Yawinonh, a company that offers wellness products based around traditional Indigenous knowledge and practices. Try mindful breathing during your morning shower or while putting on your moisturizer. Picard-Sioui suggests inhaling for four beats, and then exhaling for four beats. Visualizing the breath as a circle during this process can also help to relax your mind and bring a sense of peace.
Our product picks
From left to right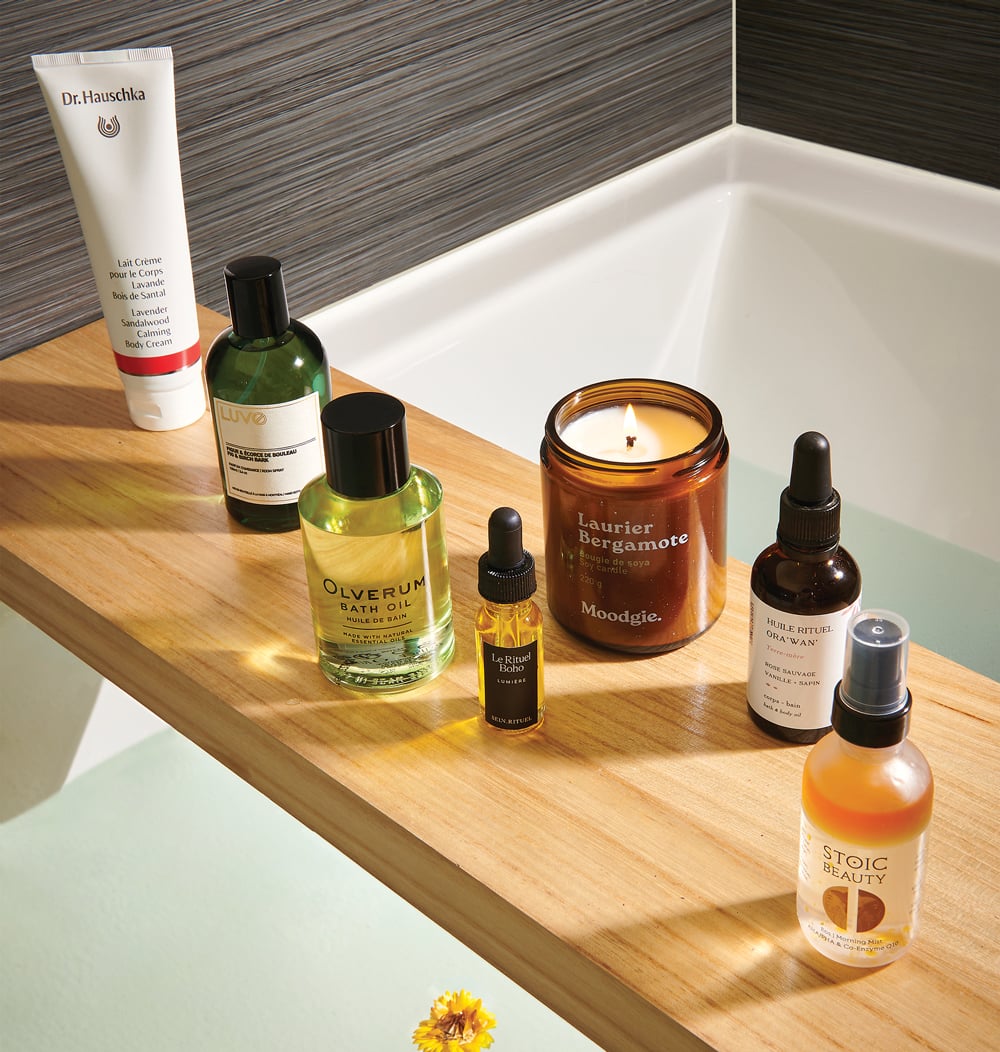 Photography, © Bruno Petrozza
► Whether incorporating it into your morning or nighttime ritual, you'll enjoy the relaxing scent and skin-soothing benefits of this luxe moisturizer.
DR. HAUSCHKA Lavender Sandalwood Calming Body Cream, $50, drhauschka.ca.
► Reminiscent of a serene nature walk, this room spray scents your home with earthy and woody notes for ultimate relaxation.
LUVO Fig & Birch Bark Room Spray, $22, luvocandles.com.
► All you need is a capful of this concentrated oil blend in your tub to relax tension and relieve stress, with the added benefit of leaving your skin silky smooth.
OLVERUM Bath Oil, $74, thedetoxmarket.ca.
► For a boost of energy and invigoration, apply this oil with clementine, lime and lemon to your wrists and enjoy the aromatherapeutic properties.
SELV RITUEL Le Rituel Boho Lumière Botanical Bath and Body Oil, $36, selvrituel.com.
► With a comforting fragrance that combines bergamot and bay leaf with notes of cedar, dried flowers and sandalwood, this candle sets the scene for any self-care routine.
MOODGIE Bay Leaf + Bergamot Soy Candle, $30, moodgie.ca.
► Thanks to its soothing, softening and nourishing properties, this oil made with sunflower and jojoba oil is perfect for daily self-massages.
YAWINONH Mother Earth Ora'wan' Ritual Oil, $39, yawinonh.com.
► For a moment of refreshment and mindfulness during a busy morning, spritz your face with this tangerine and lavender mist and get ready to seize the day.
STOIC BEAUTY Eos Morning Mist, $30, stoic-beauty.ca.
Scents of comfort
Different aromas are believed to evoke specific moods and frames of mind. Whether you need more relaxation in your life or a burst of energy, there's a fragrance for you.
For energy
Lemongrass, peppermint, sweet orange, lemon
WILDCRAFT Awaken Candle, $39, wildcraftcare.ca.
For stress-relief
Eucalyptus, frankincense, bergamot, ylang-ylang
BATH & BODY WORKS Eucalyptus Spearmint Candle, $15, bathandbodyworks.ca.

For focus
Rosemary, balsam fir, cypress, basil
MOONDAY Book Club Candle, $30, moonday.ca.
For winding down
Lavender, chamomile, clary sage, vetiver
DANS UN JARDIN Sweet Dreamzzz Candle, $29, dansunjardin.com.