Medical aesthetic treatments are becoming more popular every day, and have given rise to tools and devices designed to be used in the comfort of your own home. But do they actually work? Can you use them without being wary of the outcome? Here's what you need to know.
For the past few years, beauty tools and gadgets displayed on drug store shelves have multiplied: face rollers, face brushes with sonic vibrations, LED light devices and those designed to reduce cellulite or slow the regrowth of hair, in-home microdermabrasion systems...it's enough to make your head spin. Some of these products and devices refine daily skin-care routines, while others replicate the treatments offered at professional beauty institutes or clinics. Read on for a breakdown of the five most popular spa services, and our verdict on their at-home matches.
Chemical Peel
Photography: iStockPhoto
WHAT IS IT: Exfoliation through the application of a chemical mixture, often containing alpha-hydroxy acids like lactic or glycolic, to the skin. The aim is to improve the look of skin and eliminate dead cells on the surface. Suitable for all skin types with the exception of those with hypersensitivity, chemical peels help brighten the complexion, offering a healthier and more radiant look, while tightening pores and evening out skin tone.
CLINIC VS HOME: "Topical peeling products made for home use have a concentration of glycolic acid that varies from five to 10 percent," says Catherine Paradis, coordinator and technical training expert for Dermapure clinics. "An expert application at our clinic will have a concentration of 40 percent." Even if professional chemical peels work much harder, "I'm all for using peels at home to maintain the complexion," says Dr. Chloe Sylvestre, a general practitioner who specializes in aesthetic medicine.
PRECAUTIONS TO TAKE: Before applying a chemical peel to your face, test it on your forearm to see how your skin reacts. Integrate this treatment gradually into your routine, and respect the recommended recovery time between treatments. After a professional or home chemical peel, be sure to protect your skin from the sun, as it will be much more sensitive to those harmful rays.
WE TESTED: This new product focuses on retinol, the ultimate anti-aging ingredient. Packaged in individually wrapped pads, it's easy to apply and integrate into a nightly routine. After a couple of uses, a brighter complexion is evident.
Image Courtesy of Neostrata
NEOSTRATA Retinol 0.3% Overnight Peel, $80, shoppersdrugmart.ca.
Permanent Hair Removal
WHAT IS IT: An intense laser or pulsating light treatment that, over time, destroys the hair follicle so that hair does not grow back. "Both laser and pulsating light options stop the hair's melanin production," says Dermapure's Catherine Paradis.
CLINIC VS HOME: Several sessions are required for success, whether the treatment is done in a clinic or at home. "In a clinic, it will probably take about seven to 10 treatments over a six- to eight- week period," says Paradis. It's important to note that this type of treatment is not for everyone. "Best results are achieved when the hair is dark and the skin is light," she adds. The pros advise considering whether or not this type of treatment is worth investing in. There are devices with pulsating lights that are made for home use, but the intensity of the beams is weaker than those available in a clinic, so more sessions will be needed. According to Dr. Sylvestre, at-home hair-removal systems can reduce the speed at which the hair grows back, but if your aim is to stop hair regrowth for good, results are better in a clinical setting.
PRECAUTIONS TO TAKE: "When you undergo a professional hair removal procedure, avoid sun exposure for four to six weeks, both before and after the treatment. You don't want to darken the skin before your session, and afterward the skin is extremely photosensitive," cautions Paradis. At home, carefully read and understand your appliance's instructions before you start— burning the skin is a risk.
WE TESTED: Although this device is easy to use, take the time to properly read the instructions provided and follow them diligently, as there are several sessions and steps involved. After the first treatment, hair regrowth was noticeably slower. The results are encouraging without being drastic, but this process definitely requires patience!
Image Courtesy of Silk'n
SILK'N Infinity Hair Removal Device, $450, silkn.ca.
Microneedling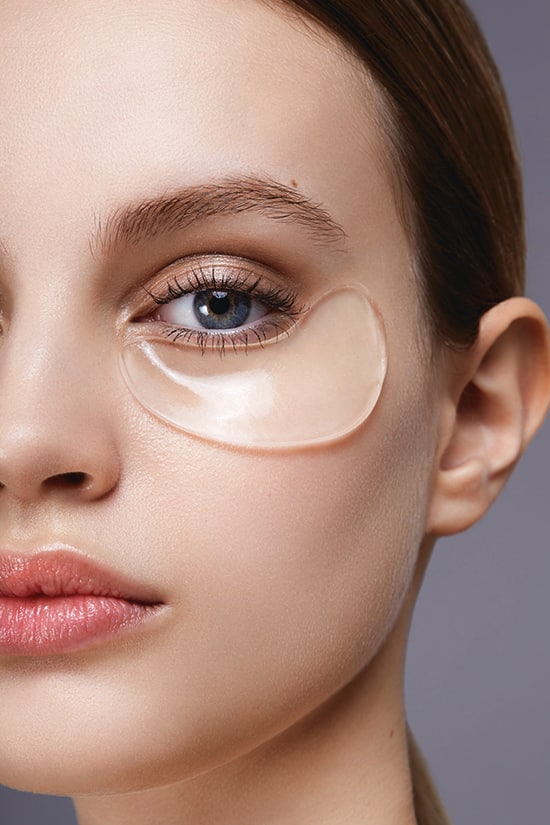 Photography: iStockPhoto
WHAT IS IT: A treatment derived from the prac­tice of acupuncture that consists of perforating the skin with micro­ needles in the form of a roller, pen or pad. "The goal is to create an inflammatory response in the dermis that stimulates the healing process of the skin," says Dr. Sylvestre. In a clinical setting, the results can achieve a reduction in wrinkles and scars or simply more luminous skin. A bonus is that, by creating small holes in the skin, any products applied afterward will penetrate more deeply.
CLINIC VS HOME: The main difference is in the nee­dles. Clinicians use needles from 0.5 to 3 millimetres in length, which they use to penetrate the dermal layer and stimulate the production of collagen, which in turn improves the skin's texture. At home treat­ments offer needles that are 0.3 mil­limetres long or less, so they can only give the dermal layer a light exfoliation. Patches inspired by this treatment are another option for home use. They offer tiny needles containing a hydrating ingredient that is gradually infused into the skin, though these results may not be comparable to the look you get from microneedling.
PRECAUTIONS TO TAKE: To try microneedling at home, obtain the proper tools at a clinic, from a trusted aesthetician or off the website only of a reputable brand. "The needles need to be sterilized and sharp, and the size, down to the millimetre, needs to be properly calculated," cautions Dr. Sylvestre. There are lots of microneedling products for sale online that are not necessarily safe, so it's important to be careful.
WE TESTED: These patches are dotted with small drops of hyaluronic acid that penetrate the skin to plump and smooth. Apply before bedtime and see a faint difference in lines on the area that was treated the next morning. They can be slightly uncomfortable to put on, but they do get results!
Image Courtesy of Neostrata
NEOSTRATA Hyaluronic Acid Micro-Infusion Patches, $25, well.ca.
Facial Massage
Photography: iStockPhoto
Place your roller in the fridge for a few minutes before use for an added cooling effect on tired skin.
WHAT IS IT: Similar to getting a facial from an aesthetician, this is a way to stimu­late the skin by adopting precise movements with tools such as roll­ers, eye or face massagers or vibrat­ing cleaning brushes. By intention­ally and deliberately manipulating the skin, blood flow is revived. The results are meant to be a luminous glow and skin that has better oxy­gen circulation and is more recep­tive to care products.
CLINIC VS HOME: In an institute, an aesthetician uses the hands to manipulate the client's face with specific movements and pressure to get optimal results. You can learn to do these moves your­self, and master a tool that will help stimulate the skin. "By simply manipulating the skin with creams, massagers or lymphatic drainers with the help of a professional, or with the use of vibrating brushes, the skin is energized, which makes it look and feel more radiant," says Dr. Sylvestre.
PRECAUTIONS TO TAKE: A lot of people make the mistake of never cleaning their tools, which means you run the risk of spread­ing bacteria over the skin. It's also important not to be too aggressive with a facial massage—you want to invigorate skin, not irritate it.
WE TESTED: This roller is studded with small stones that help stim­ulate the skin by creating a relaxing, rhythmic motion. Although any significant changes in skin's firmness can take a long time to be evident, we like this tool for its de­puffing effects around the eyes, and the overall invigorating sensa­ tion it offers. Small and portable, it's also great for use on tired legs and arms.
Image Courtesy of Sephora
NURSE JAMIE Uplift Massaging Beauty Roller, $89, sephora.ca.
Cellulite Reduction and Body Contouring
Photography: iStockPhoto
These days, there are a number of clinical procedures that address celulite.
WHAT IS IT: Any treatment that reduces cellulite and sculpts the body. "Even though cellulite is hard to get rid of, there are technologies to treat this con­dition, as well as topical products, nutricosmetics and beauty vitamins that can help by addressing how our bodies break down fat," says Paradis.
CLINIC VS HOME: There are several types of possible clinical treatments, including those that use radiofrequency, lasers or injections to reenergize collagen production in the skin. "Radiofre­quency is a technique that sends heat deep into the tissue," explains Dr. Sylvestre. Depending on the intensity and duration of the treat­ment, the fat melts, which then leads to smoother skin. By com­bining radiofrequency with a suc­tion that aids in breaking up fatty deposits, you can actually treat cellulite. To smooth and firm skin at home, you can purchase radio­ frequency devices, but the inten­sity is much lower and the results less certain.
PRECAUTIONS TO TAKE: "It all depends on the technology used in the clinic, as there can be restrictions linked to the health of the client—if they take certain medications or metallic supple­ments, for example," say Paradis. Speak to your doctor before you attempt to use a radiofrequency device at home in order to put any health concerns to rest. Take the time to read and follow your device's instructions carefully. "Take extra care when using a radiofrequency machine on your own, as it can be easy to burn yourself," cautions Dr. Sylvestre.
WE TESTED: This device combines three sources of energy, but is pretty easy to master. After a few sessions, slightly firmer skin is visible. Using this appliance for the recommended time (twice a week for the first 10 weeks) on several parts of the body takes a lot of commitment.
Image Courtesy of Silk'n
SILK'N Silhouette Body Contouring and Cellulite Reduction Device, $289, silkn.ca.