Beauty
The best multi-use makeup and hair products
Beauty
The best multi-use makeup and hair products
Time-saving, space-saving and money-saving, these innovative double- and triple-duty products deserve a spot in your beauty routine. Handy all-in-one makeup and hair products are easy to use and great for travelling. Check out our favourite beauty duos and trios:
Hair
1. Tired of washing your hair colour down the shower drain? Try Herbal Essences cleansing conditioner. This creamy formula acts like shampoo by getting rid of dirt and oil, sans soapy suds. To keep hair moisturized and colour vibrant, sub out shampoo for this shampoo-conditioner combo a few times a week.
Herbal Essences Color Me Happy Cleansing Conditioner for Color-Treated Hair, $5, herbalessences.com.
2. Dip your tresses into the
pastel hair
trend with temporary colour. Dippity-Do double-ended colorsticks give you two colours without the mess or commitment of permanent dye. Depending on how much you apply, you can go subtle or all out.
Dippity-Do Colorstick in High Voltage, $7, dippity-do.ca.
3. Why stick with one curl option when you can have three? This wand from T3 allows you to master every coiled style from ringlets to waves with three interchangeable barrel sizes. Ionic technology featured in the wand is less damaging to hair and self-regulating temperature prevents over-heating. Although it may be pricier than your average styling tool, keep in mind the quantity of barrels and the fact that you'll have healthier, more manageable hair in the long run.
T3 Whirl Trio Interchangeable Styling Wand, $255, murale.ca.
Face
1. Contouring is all the rage right now, but making room in your makeup bag for multiple bronzers and illuminators can be a hassle. Get everything you need with Lancôme's slim contour-and-highlighter stick. One end contours while the other highlights. Just blend and you're done.
Lancôme Le Duo Contour & Highlighter Stick in Ivoire, $38, sephora.ca.
2. Double-ended brushes are perfect for makeup lovers. No need to rummage through your kit with its hordes of brushes—just upend a brush and sweep on your powders. This CoverFX brush is great for blush, bronzer and highlighter.
CoverFX Contour Brush, $38, coverfx.com.
3. Cleansing and exfoliating is a skin-care must. Electric face brushes are a great way to get a deep clean, but they can be pricey. This non-battery powered face brush by Sephora does double-duty for an affordable price. Use the bristled side to scrub away dirt and makeup, and then switch to the silicone brush for a gentle exfoliation.
Sephora Collection Dynamic Duo Face Brush, $19, sephora.ca.
Lips
1. Add a natural-looking wash of colour to your lips and cheeks with Nudestix Lip + Cheek Pencil. These pencils are perfect for on-the-go touch-ups.
Nudestix Lip + Cheek Pencil in Love, $28, sephora.ca.
2. Whether you love to switch it up or are just plain indecisive, this mini lipstick duo by Bite Beauty has your back. Go for a tangerine smooch by day and berry by night, or try layering the two for your own custom look.
Bite Beauty Luminous Crème Lipstick Duo in Tangerine/Lingonberry, $15, sephora.ca.
3. Illuminate your features with a multipurpose tinted shimmer stick. Sweep some colour on your lips, add some to the apples of your cheeks or try both.
Smashbox L.A. Lights Blendable Lip & Cheek Color in Beverly Hills Blush, $36, murale.ca.
Eyes

1. Need a little help with your
smoky eye
? The Smoky Eyes Trio by Bourjois Paris includes three harmonizing hues to help you perfect your technique. On the back of each compact is a map of the eye showing where to place each shade for the perfect smoky look. Don't worry about extra brushes; this trio comes with a double-tipped applicator.
Bourjois Paris Smoky Eyes Trio in Gris Dandy, $27, bourjois.ca.
2. Leave no lash behind and keep smudges at bay with this innovative double-brush mascara. Use the larger brush on centre lashes to lengthen and volumize, then the smaller, angled brush on inner and outer lashes to separate.
Guerlain Le 2 de Guerlain Mascara in Black, $42, thebay.com.
3. This double-ended eyeliner by Urban Decay is great for all-day wear and offers a deep hue plus a brighter one for highlighting the inner corners. These pencils top off any neutral look.
Urban Decay 24/7 Glide-On Doubled Ended Eye Pencil in Naked Basics, $19, sephora.ca.
Learn how to apply eyeliner for your eye shape.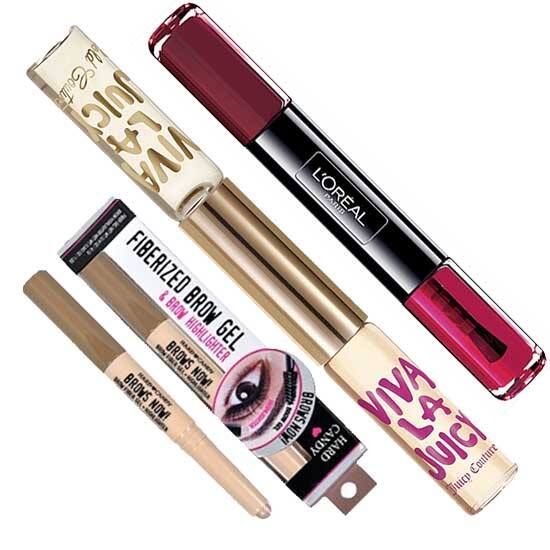 More
1. Define and highlight your arches with this two-in-one brow styler by Hard Candy. The fiberized gel thickens brows and creates volume. Once you've achieved your desired shape, take the shimmery illuminator and highlight below your arches.
Hard Candy Brows Now! Fiberized Brow Gel and Brow Highlighter in Light Medium, $6, walmart.ca.
2. Juicy Couture's dual fragrance rollerball is the perfect size to fit right inside your clutch. Go fruity and tantalizing with the Viva La Juicy fragrance or musky and decadent with the Viva La Juicy Gold Couture. Take your scent from day to night with just a flick of the wrist.
Juicy Couture Viva La Juicy and Viva La Juicy Gold Couture Dual Rollerball, $30, sephora.ca.
3. Get your tips in top shape with L'Oréal Paris Infallible nail polishes. The cap of this nail combo pops off to reveal a mini polish bottle along with a tint-matching top coat. Keep this handy stick in your purse for anytime-anywhere touch ups. L'Oreal Paris Infallible Nail Polish in Keep Magenta, $10,
walmart.ca
.
Read more:

Your 6 essential makeup brushes