Beauty
The Body Shop celebrates 10 years of hemp beauty
Image courtesy of The Body Shop
Beauty
The Body Shop celebrates 10 years of hemp beauty
On the cusp of cannabis laws changing in Canada, Julia McEwen heads to France to celebrate The Body Shop's 20th anniversary of its hero hemp body-care range.
One of my earliest skin-care memories is of visiting The Body Shop in Ottawa's Rideau Centre to purchase its soon-to-be-iconic hand cream made with hemp. Besides cola-flavoured lip balm and coloured hair mascara, as a 12-year-old, I saw this as a very grown-up purchase—and with the graphic hemp leaf stamped on the metallic tube, I had a hunch there was something rebellious about that salve.
Fashion & Beauty director Julia McEwen toured La Chanvrière's hemp fields.
In 1998, Anita Roddick—the late crusading entrepreneur who founded The Body Shop—debuted the British brand's hemp range, and the controversial ingredient garnered a reception that surprised even Roddick herself: When the company began the rollout, French police seized products containing hemp-seed oil (the part of the plant used in the line), claiming it encouraged drug use; in the United States, the launch piqued the interest of the Drug Enforcement Administration; and here at home, Health Canada threatened to raid warehouses holding the hemp products that were destined to be delivered to a store near you.
We've come a long way, baby! As cannabis is about to be legalized across Canada on Oct. 17, it's difficult to believe that this provocative beauty range is already celebrating its 20th anniversary. Mindsets have changed regarding hemp, though there's still plenty of mystery shrouding the link between hemp and marijuana. "The same cannabis plant creates both," says Jennifer Hirsch, renowned botanist and consultant for The Body Shop. "The difference comes down to the chemistry within the plant." Industrial hemp is cultivated to ensure the lowest amount (less than 0.2 percent) of tetrahydrocannabinol (THC), which is the psychoactive chemical compound in marijuana that imparts the high.
The Body Shop World Bio-Bridge Mission will receive $1.60 from the sale of each hemp hand cream. These bridges connect habitats helping endangered species mate, survive and thrive.
Today, the hemp range is one of The Body Shop's most profitable, with a tube
of Hemp Hard-Working Hand Protector being sold every nine seconds worldwide. During wintertime, it's the brand's bestselling product in Canada. Why so popular? Because it works, says Hirsch. Hemp oil is rich in essential fatty acids, like omegas. "Your skin produces sebum and natural moisturizing factors, and hemp has that perfect balance of omega-3, -6 and -9," says Hirsch. She likens hemp oil's structure to your own sebum. "It enhances your skin's barrier function, which means you'll retain more moisture and your skin will be able to do its job in protecting you."
Since 1987, Roddick's pioneering community trade initiatives have become
an essential part of The Body Shop's DNA, and the company is proud to source its hemp oil from La Chanvrière, a hemp co-op in the heart of France. There's nothing seedy—except the hemp oil—about the success of this iconic beauty range. It was popular long before cannabis was a buzz-worthy skin-care ingredient, and it will be beloved long after.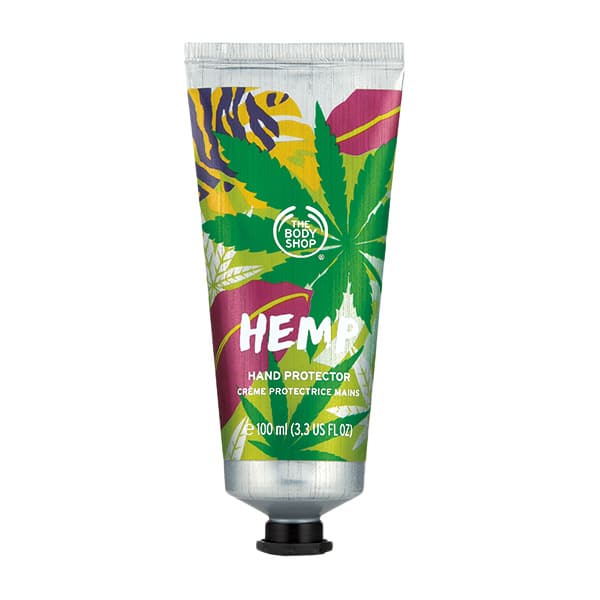 The Body Shop Limited-Edition Hemp Hand Protector, $21, thebodyshop.ca.