Beauty
The latest in anti-aging skin care
Photography by Troels Graugaard/Getty Images Image by: Photography by Troels Graugaard/Getty Images
Beauty
The latest in anti-aging skin care
Ideally, we'd all have eight glasses of water a day, eight hours of sleep and amazing genetics. Since this isn't the reality for most of us, we've found the latest anti-aging skin-care products that can help counter tired, dull, sagging skin. Check them out!
1. For tired skin
Fatigue affects the skin's ability to regenerate, which can result in premature aging. Garnier's refreshing night cream—inspired by "sleeping packs" in Asia—works while you snooze (when skin repair is at its peak) to boost radiance, hydration and microcirculation. Bonus: It's formulated with lavender essential oil to promote restful sleep.
Garnier Ultra-Lift Miracle Sleeping Cream Night Cream, $25,
garnier.ca.
2. For dullness
Skip the chemical peel that leaves your skin raw for days; instead, try Olay's new at-home night treatment. The lightweight gel, packed with glycolic, lactic and citric acids to gently exfoliate lacklustre skin, also hydrates with pro-vitamin B5 to encourage new cell production.
Olay Pro-X Nightly Purifying Micro-Peel, $40,
olay.ca.
3. For daily aging
According to Vichy, most women notice a change in their skin by the end of the day, such as sagging and deeper fine lines and wrinkles. Vichy's new day cream fights the effects of through-the-day aging with ingredients including adenosine to combat expression lines, caffeine to energize, rhamnose to thicken the epidermis and neohesperidin to strengthen the skin's barrier against environmental aggressors.
Vichy LiftActiv Supreme, $50,
vichy.ca.
4. For eyes
Deepening wrinkles, puffiness, dark circles under the eyes and slackening of the eyelids are all clinical signs of aging. Until now, most eye creams were formulated for use only on the orbital bone above and below your eyelid. Enter Clarins' new concentrate, safe to apply anywhere around your eyes, including the lids and between the eyebrows. With key ingredients extracted from tropical plants such as harungana (to encourage the synthesis of collagen) and guarana (to reduce puffiness), this concentrate targets the entire eye area for a more youthful look.
Clarins Super Restorative Total Eye Concentrate, $84,
clarins.ca.
Check out our ultimate guide to eye creams!
5. For large pores
On mature faces, the breakdown of epidermal layers can cause enlarged pores, leaving the surface of the skin rough and dull. Kiehl's concentrate containing microfiltered yeast extract and geranium essential oil preserves and stimulates collagen and elastin, essentially giving your skin a lift by building up the structures that support your pores.
Kiehl's Dermatologist Solutions Precision Lifting & Pore Tightening Concentrate, $68,
kiehls.ca.
6. For sagging
This firming overnight mask is full of natural ingredients that inhibit free radicals caused by pollution, UV radiation and smoking. Black-tea ferment softens and smooths skin, blackberry-leaf extract firms and lichee-seed extract helps skin maintain its elasticity.
Fresh Black Tea Firming Overnight Mask, $103,
sephora.ca.
Worried about pollution's effect on your skin? Read this.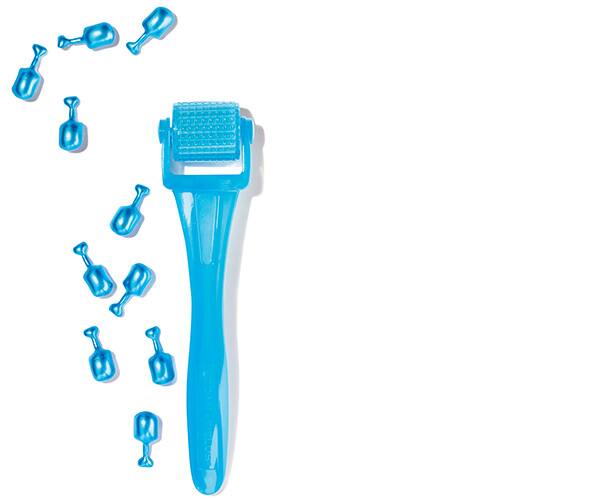 7. For texture
Anti-aging products need to be properly absorbed in order to be effective. That's where Rodan + Fields' skin roller comes in. Inspired by much pricier (and painful) laser treatments, the roller's microneedles safely exfoliate the skin for better serum absorption, contributing to improved skin tone and texture. The set comes with a roller, a cleansing vial and a two-months' supply of serum.
Rodan + Fields AMP MD four-piece system, $237,
rodanandfields.ca.

This story was originally published in the April 2015 issue.


Subscribe to Canadian Living today
and never miss an issue!