Beauty
We tried it: Microneedling
Beauty
We tried it: Microneedling
One editor—who's game to try anything in the name of beauty—tests out micro needling at North Medical Spa in Toronto. Here's what she thought.
Let me be frank, needles don't scare me and some (my husband) would label me a beauty extravert. I'm willing to try almost anything in the name of beauty, especially if there's science that proves it has the power to bestow me with an improved appearance. Vain? Sure, but I blame that on my profession (beauty editor) and star sign (Scorpio).
Next on my ever-growing list of beautifying procedures to sample is one that sounds creepier than what it is: microneedling. It dates back to 1995, though it's gained significant traction thanks to new technology—and celeb endorsements. The procedure was really put on the map in 2014 thanks to a selfie of a freshly bloodied Kim Kardashian-West post-treatment. Kim's version was coined the Vampire facial, for obvious reason, but it was essentially the after effects of microneedling combined platelet-rich plasma which is taken from the patient's own blood. The platelets further stimulate collagen and elastin growth.
Courtesy of Instagram
To try this prickly treatment I made my way to a new MediSpa in Toronto's East end called North Medical Spa. Moments after stepping inside I knew this was different than the sterile medi-spas and dermatologist offices I've frequented in the past. The rich green space had a wash of California style met with Scandi design elements. I was greeted by owner, Amanda Mizen, along with her brilliant smile and a pout stained in the most perfect fuchsia hue—the ideal colour to contrast against the moody green walls. In other words, she had me at fuchsia.
Mizen has been working in the industry for over a decade and wanted to offer a fresh take on skin care services. Let's be real, medi-spas and derm offices can be extremely intimidating. Rather than offering many different kinds of treatments the company focused on doing a select few such as Botox, Coolsculpting, dermal fillers, chemical peels, plasma skin tightening, Belkyra and microneedling. Another thing that sets them apart is a comprehensive (and free) consultation to all new clients which uses a cutting-edge machine that analyses all aspects of your skin. I was shocked by the amount of data it spat out with just a few snaps of my skin. Mizen sat me down and explained what it all meant, "we take pride on putting the clients first," she says. I felt that. Pushing procedures on clients is against their ethos, instead, they take a conservative approach while still focusing on the end results.
So what is microneedling?
For those looking to improve the look of acne scars, boost collagen and smooth texture, microneedling might offer a minimally invasive solution. This process works to rejuvenate your skin by boosting collagen production, which in turn reduces the appearance of wrinkles, fine lines, and elevates the overall texture of your skin. "We use an Innopen for our treatment, which is a stamp technology instead of sliding the needles across the skin surface," says Mizen. "This option allows for controlled microchannels with no unnecessary damage to the surface."
What happens during the treatment?
After cleansing, my medical aesthetician, Nikki Anderson, applied a numbing cream to my face and let it take effect— about 15 minutes. Anderson then started the Innopen on a low setting (its penetration depth can be adjusted from 0.25mm to 2.50mm depending on the area of the body and the skin condition) to gauge my pain tolerance and to see how my skin was going to react. She would stop when she was done each section and rubbed serum (which she chose according to my skin type and my desired results) into the recently punctured skin and mixed it with my platelet-rich blood. Including the wait time for the numbing cream, the whole process took around 40 minutes.
Not much of a bleeder but this is how I looked before Anderson wiped off my blood.
Does it hurt?
In all honesty, no. The numbing cream worked like a dream. In some areas—around my nose and jaw line—it felt uncomfortable but I wouldn't describe it as painful. On a scale of 1-10 I would say 4.
Post-Treatment Care
Your skin can appear red for up to 24 hours. I have super reactive skin and it wasn't very red, even immediately after. It went back to normal within 6 hours. However, you shouldn't apply makeup, get sweaty or wash your face for us to 24 hours. You also should wear a mineral sunscreen for two weeks, though you should already be wearing sunscreen, every day.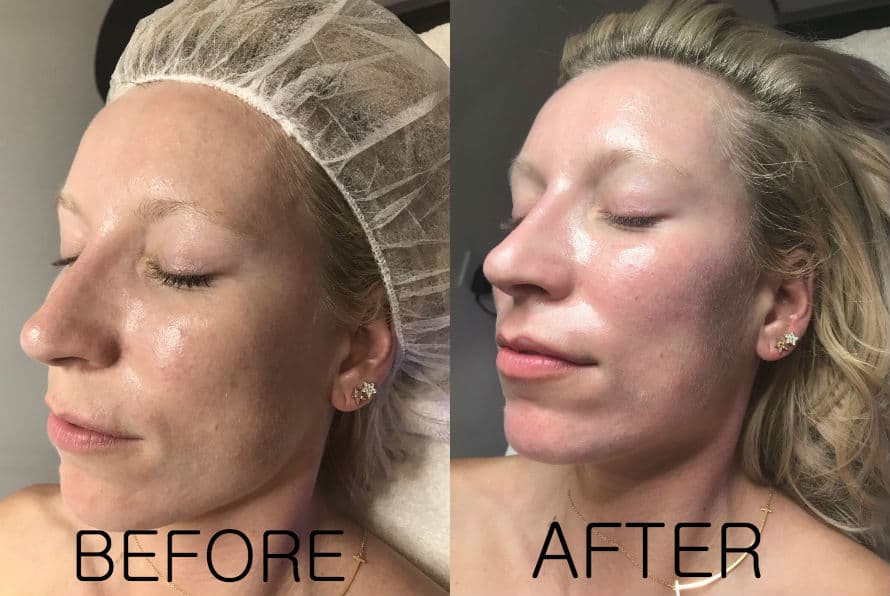 When do you see results?
My skin looked plumped up immediately after, and I would say it looked its best a few weeks after the treatment. "Best results are provided to those who can commit to three to four consecutive treatments," says Mizen. Ideally doing those over the course of a month, then a few times throughout the year for a top up.
Cost
"The cost of microneedling depends upon the area treated," says Mizen. It can range from $200 to $700 per session, but she recommends that you go in for a consolation because the number of sessions can really vary. northmedicalspa.com.