Fashion
10 plus-size dresses for summer under $160
Photo courtesy of Addition Elle Image by: Photo courtesy of Addition Elle
Fashion
10 plus-size dresses for summer under $160
Spring is here and it's time to show off your figure with a new dress that won't cost a week's pay. We've selected 10 frocks that we love, each for different reasons.

Will one of these scene-stealers be making its way into your closet this summer?




1. Seeing dots

What we love: The square neckline, cinched waist and oversized spots

Debutante dress in large spot print, $89, asos.com.




2. Shot through the heart

What we love: The punchy colours on black and white, and the giant hearts

Dress, $95, additionelle.com at end of April.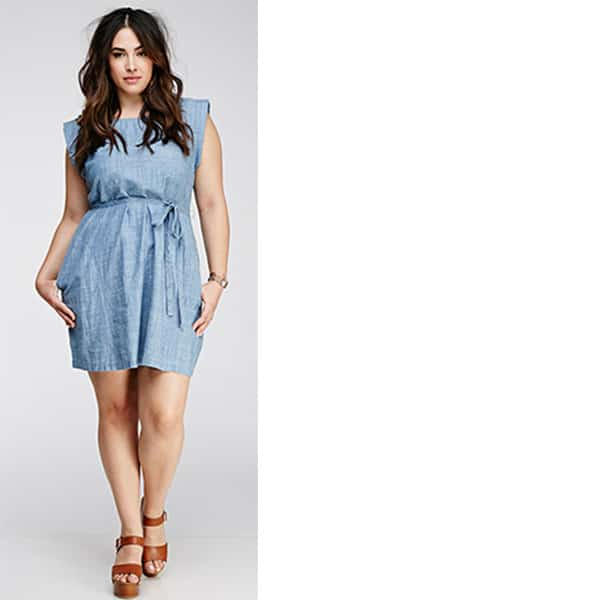 3. Blue collar

What we love: The fabric, naturally

Belted chambray dress, $28, forever21.com.




4. Strawberry cream

What we love: The drapey chiffon and feminine hue

Sleeveless chiffon dress, $60, reitmans.com.




5. Major pleat

What we love: The pleats and slimming colour-blocking

Dress, $110, modcloth.com.




6. Taste of lace

What we love: The lace details and icy blue colour (Does it remind anyone else of Cinderella?)

'Elsa' dress, $125, chichiclothing.com.




7. To the maxi

What we love: The long length, diagonal stripes and tie at the waist

Striped maxi dress, $89, torrid.com.




8. Petal pusher

What we love: The fresh colour palette and full skirt

Bea & Dot dress, $130, modcloth.com.




9. After midnight

What we love: The thick belt and the deep navy hue (especially with white accessories)

Belted prom dress, $159, asos.com.




10. Quite white

What we love: The sheer lace overlay, illusion sweetheart neckline and high-low hemline

High-low maxi dress, $89, torrid.com.

Read more:

3 ways to restyle a long bridesmaid dress
5 high heel trends for spring 2015