Fashion
Accessories to up your outfit game this summer
Hair and Makeup: Jukka/Design.Me/Charlotte Tilbury/Plutino Group

Image by: Carlyle Routh
Fashion
Accessories to up your outfit game this summer
Summer's best accessories are a toss-up of eye-popping brights, delicate flourishes and luscious textures.
Haute Hat
This chic chapeau adds cool-girl style to your look while helping protect your visage from harmful UV rays—a total win-win scenario.
Dress, $211, anntaylor.com. Hat, $20, winners.ca. Ring, $55, ilovebiko.com.
Party Pouch
When most people think of a purse that's destined for a fête, they imagine a clutch; however, it's nowhere near as functional as a wristlet. This grab-and-go bag is making a comeback; we like it best in pouch form adorned with embellishments—it is a party bag, after all.
Skirt, $131, and shoes, $185, anntaylor.com. Alice + Olivia pouch, $388, shopbop.com.
Extra Baggage
The multibag look is trending. If you commute via public transit, you know the struggle is real. Phone, wallet and keys go in the smaller one while laptop and heels live in the biggie.
T-shirt, $50, and tote bag, $124, bananarepublic.ca. Jeans, $80, gapcanada.ca. Earrings and bracelet, $264 each, thomassabo.com. Belt, $40, uniqlo.ca. Baggu cross-body bag, $59, shopbop.com. Sneakers, $60, callitspring.com.
Petal Pushers
Full-on floral prints and bling not your thing? If you're craving a little flourish, try embracing a slide-on sandal with leather floral appliqués—nothing says summer like big, bold blooms.
Michael Michael Kors dress, $795, and shoes, $168, michaelkors.ca. Gold earrings, $3,500, and gold bracelet, $2,450, tiffany.ca. Belt, $40, uniqlo.ca.
Most Valuable Layers
While statement-making jewellery can be fun, delicate or more refined pieces that you can wear every day are a refreshing change of pace.
Michael Michael Kors Top, $165, michaelkors.ca. Jeans, $90, rw-co.com. Gold Earrings, $215, and long gold necklace, $375, linksoflondon.com. Mid-length gold necklace, $595, birks.com. Short rose-gold necklace, $699, carnabys.ca. Sterling-silver bracelet, $180, gold bracelet, $1,060, and gold ring, $220, foeanddear.com. Belt, $40, uniqlo.ca.
The Big Top
This season, when it comes to hats, bigger is definitely better. We saw super-size brims on Spring 2018 runways, including Missoni (in Milan) and Elie Saab (in Paris). Besides looking very chic, a jumbo hat helps disguise a bad hair day.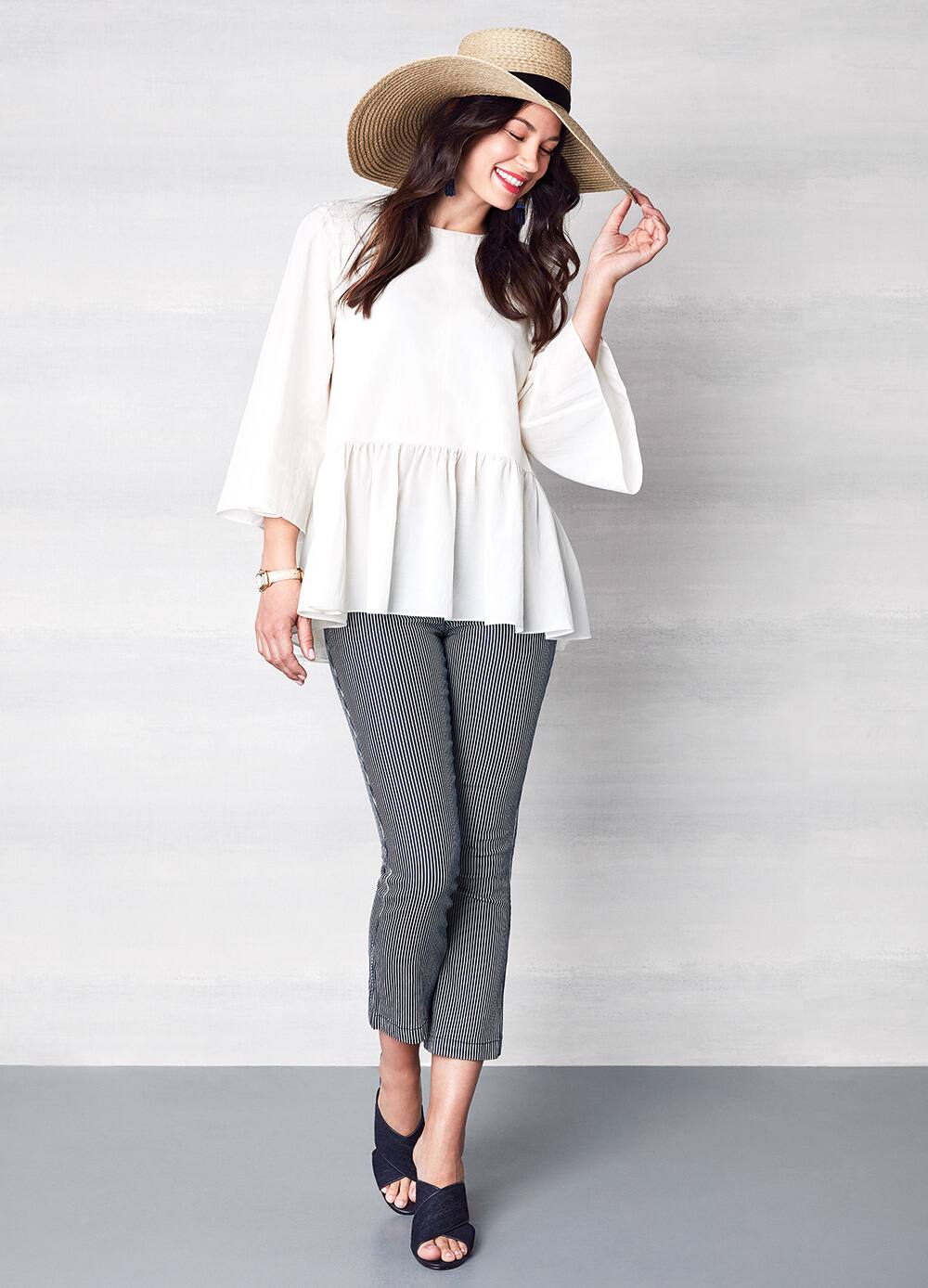 Top, $70, and hat, $20, hm.com/ca. Pants, $29, joe-fresh.com. Earrings, $80, and shoes, $185, ann-taylor.com. Watch, $775, links-of-london.com.
Block It To Me
Your feet will be thanking you this summer because block heels are one of the biggest trends in footwear. Skip basic neutral suede; instead, take it to the next step with bright colour.
Michael Michael Kors Skirt, $295, michaelkors.ca. Shoes, $40, hm.com/ca.
Pom-Pom Wow
Tassels are still going strong, but pom-poms are making a case for becoming one of the most coveted earring details this season.
Top, $107, anntaylor.com. Earrings, $13, hm.com/ca.
Fringe Benefits
Statement earrings have been riding high for several seasons, and one of the most notable trends has been tassels. If you want a lightweight version, try fringe.
Top, $35, hm.com/ca. Jeans, $90, rw-co.com. Earrings, $10, joefresh.com. Bracelet, $215, linksoflondon.com. Gold Rings, $499/set of 3, carnabys.ca.
Mix And Match
Sure, there's strength in numbers, but we admire the fearless independent single. Deliberately combining a dangling earring with a simple stud or shorter drop earrings creates intrigue.
Re:named dress, $82, shopbop.com. Earrings, $70, jenny-bird.ca.
Bucket List
If you're looking to invest in a bag, make it an au courant bucket bag, a style that has proven in the past few seasons to have staying power.
Top, $30, hm.com/ca. Alice + Olivia pants, $384, shopbop.com. Michael Michael Kors Bag, $458, michaelkors.ca.