Fashion
How to wear a midi skirt
instagram.com/thestylograph
Fashion
How to wear a midi skirt
The good news? It's an easy closet staple to style.
If there's one piece in your wardrobe you can trust to be comfortable, pulled together and stylish, it's the midi skirt. It's a piece that's flattering on all body types, and comes in so many colours, fabrics and prints everybody can find one they love. Wear it with bargain t-shirts or cashmere sweaters, feminine flats or heeled booties. The style lesson here? Your midi skirt goes with just about anything.
Here are some of our favourite ways to wear a midi skirt.
Pick a bold pattern and wear it with your favourite graphic t-shirt. Simple, easy and statement-making.
instagram.com/girlwithcurves
Tulle is an eye-catching fabric—so pair this dramatic midi skirt with more utilitarian pieces like cotton button downs or khaki-style shirts.
instagram.com/whowhatwear
Keep your look sporty by wearing a light, printed midi skirt with simple t-shirts and sneakers.
instagram.com/thestylograph
A pleated skirt is a great way to add texture and movement to any outfit. Try wearing the piece with a bomber jacket and some statement jewellery.
instagram.com/gorgeousingrey
Don't be afraid of colour or embellishment! This bright and ruffled midi skirt pairs well with all your summer style picks.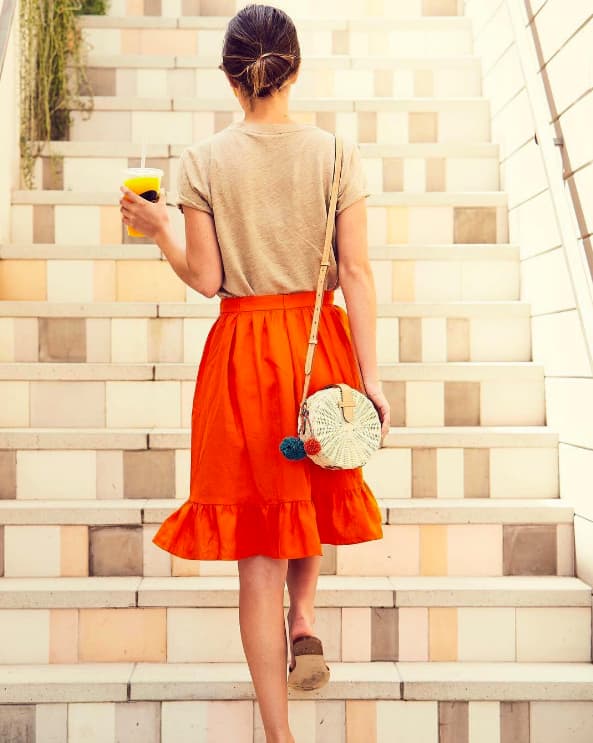 instagram.com/jcrew
Sticking to a single hue can make a bold impact. This all-blue look—with bright pops of —works equally well for garden parties, brunch and a casual office.
instagram.com/graciecarroll
You can't go wrong with a summer white midi skirt. Pair with a summer tank and your go-to summer shoes.
instagram.com/thestylograph
Black is a safe bet when it comes to picking up a midi skirt—and it goes well with your other wardrobe favourites like a leather jacket and go-to booties.
instagram.com/nicolettemason
This is a bit longer than a midi skirt—but the styling would work just as well on a shorter hem. A bold button-down and barely-there sandals make for a great outfit.
instagram.com/thesartorialist
On cooler days, your midi skirt will go great with a simple sweater. Oversized, fitted, sweat or cashmere, you can rock the midi skirt with all of them.
instagram.com/calliethorpe
Black, white and red always go together.
instagram.com/girlwithcurves
Don't be afraid to layer when the weather turns cool. A denim jacket, midi skirt and sweater can be work with sneakers, pumps or flats for a casual take on the piece.
instagram.com/itsmekellieb
Made for the office, wear the midi skirt with a feminine blouse and pumps.
instagram.com/pinklip
Pink—one of THE colours of the season—is given the midi skirt treatment in this head-to-toe bold look. Too much for you? Swap out the pink t-shirt for a white or grey one and pick a pair of slides for your feet.
instagram.com/thestylograph
When in doubt, throw on your leather jacket and a pair of sleek heels.
Recommended