Fashion
How to wear culottes like a style star
Fashion
How to wear culottes like a style star
Ready or not, culottes are the shape of things to come in trousers. The voluminous pants flooded the Spring 2015 runways, and now major celebs (think Rihanna, Kendall Jenner and Jennifer Lopez) are embracing this season's essential pant.
Feeling nervous about stepping into a pair of knee-length trousers? We don't blame you. At first glance, these super-wide-legged cropped pants look tricky to pull off, but they're surprisingly wearable. The best styling trick we've learned about these wide pants: Think of them as as a midi skirt when you're creating an outfit around them.
Here are three more styling tips that will help you master culottes:
Tailor-made
If the pants aren't hitting you at the sweet spot—where your calf starts to thin out—get them hemmed to the appropriate length. It will make all the difference!

Linen culottes, $47, asos.com. Vince Camuto pleated-front cropped pants, $71, nordstrom.com. Loose-fit trousers with pleats, $46, zara.com.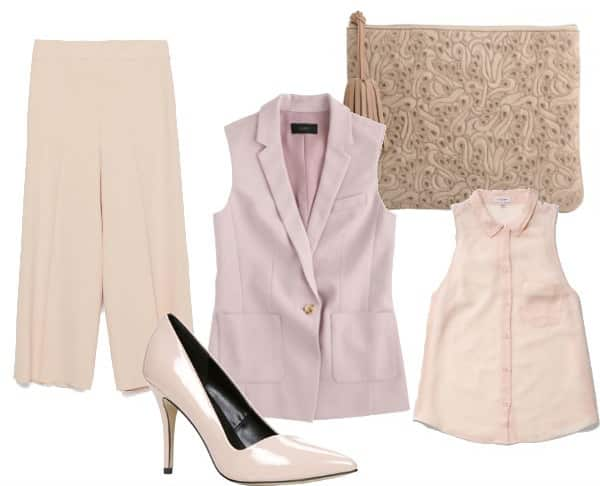 Standing tall
If you're of average height or shorter, your footwear options become limited. A well-heeled pair of shoes is a must. To further lengthen your frame in these shapely trousers, stick with one colour or tone.
Cropped high-waisted trousers, $80, zara.com. Ocaria synthetic-leather pumps, $35, aldoshoes.com. Single-button draped vest, approximately $270, jcrew.com. Bag with tassel, $248, elabyela.com. Sunday Best Murakami blouse, $50, aritzia.com.

Perfect pairings
Because these pants give your bottom half some serious volume, keep your choice of top simple and tailored. If you're up for showing a bit of skin, try pairing it with another heavy-hitting trend this season: the crop top.

Babaton Lazarus culottes, $110, aritzia.com. Striped crop top, $6, hm.com. Faux-leather double-band mules, $60, lechateau.com. Touch by Alyssa Milano cat-eye sunglasses, $59, clearly.ca.
Read more:

How to wear overalls like a grown-up
Easy tips for mixing prints like a fashion editor