Fashion
Minimalist style: Fashion tips to embrace the trend
Fashion
Minimalist style: Fashion tips to embrace the trend
Fashion stylist Skye Kelton explains how to take the "less is more" approach to your wardrobe.
If you've come to the point where your closets are bursting with clothes, but you still have no idea what to wear, a minimalist overhaul might be for you. Minimalism helps weed out the unwanted and unflattering items you've been hanging on to so you're left with a chic, satisfying wardrobe. Plutino Group fashion stylist and minimalist expert Skye Kelton breaks down how to attain an easy, modern style that you'll feel great in.
Shop with purpose
Before you hit "add to cart" on an online store or visit the plentiful racks at the mall, make sure you're shopping with focus and not buying haphazardly. Your minimalist attitude should start at the point of purchase. Try to visualize your current wardrobe as you browse and mentally create outfits. "Choose fewer pieces of higher quality," says Kelton. "If you're building a new wardrobe, start with seasonless items. The same cream culottes can be worn in spring with sling-back pumps or flats, and in fall, with an ankle- or knee-high boot."
Minimalist must-have: Flat-front culottes, $50, express.com.
Make it fit
A common quality among minimalists is fit; their entire outfit is perfectly structured, almost as if the clothing was customized. Never compromise on fit. "Tailoring can drastically elevate an outfit," says Kelton. "Alter your trousers to hit at the perfect spot on your ankle to better complement your pump." Think of Claire Underwood (Robin Wright) from
House of Cards
as minimalist inspiration for fit and tailoring.
Choose natural fibres
Because this look hinges on simplicity, any item, whether a jacket or a blouse, needs to exude excellence. "Opt for natural fibres, such as 100 percent cotton, silk, linen, wool, cashmere and leather," says Kelton. "A simple item in these fabrics automatically feels more luxurious and intentional." With fewer pieces in your wardrobe, you'll be able to spend a little extra on essentials. A classic white cotton button-down is a necessity for the less-is-more approach.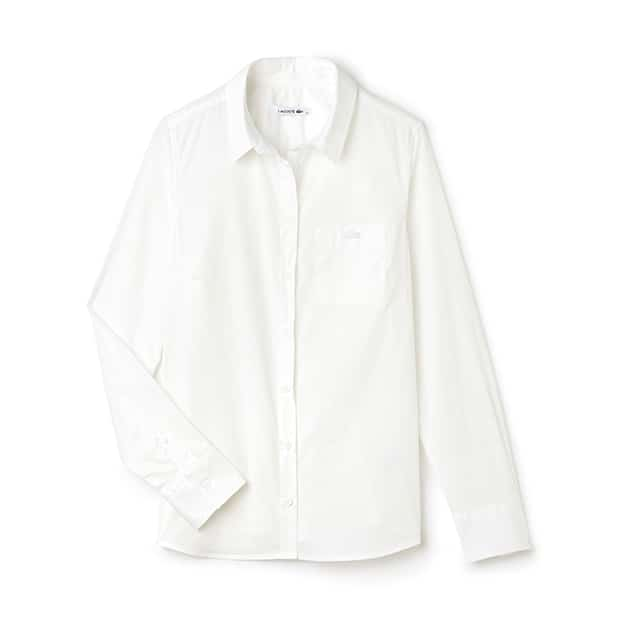 Minimalist must-have: Stretch-poplin slim-fit shirt, $135, lacoste.com.
Exercise restraint
In order to really perfect this style, it's important to exercise restraint when it comes to accessorizing and wearing prints. There's no reason why you can't enjoy a good pattern, just don't overdo it—and definitely don't mix motifs. "Large graphic prints work better than minuscule prints, so try geometric patterns or stripes," says Kelton. As for jewellery, she recommends wearing one standout piece, such as a cuff or a statement ring. "Experiment with proportion and form rather than pattern and colour."
Minimalist must-have: Cuff, $13, hm.com/ca.
Add interest to your outfit
The last thing you want is for your outfits to appear boring. The goal should be to look sleek, which is effortless if your items have interesting elements. Kelton suggests choosing clothes with cutouts or asymmetrical lines to add modern flair to your minimalist ensemble. Another way to step it up is by layering with various textures and fabrics. "If you layer a crisp cotton shirt under a cashmere sweater under a sharp blazer, then top it off with a wool duster coat—all in white and cream—the effect is still minimal," says Kelton. This helps create depth, and it expresses that your selections are mindful.
Assess your current wardrobe
Before you run out and purchase a whole new wardrobe, raid your closets to see what you have in your current inventory—you'll be able to achieve your minimalist goals even faster and do a spring cleaning at the same time. You might be surprised at what you find. Remove any clothing you haven't worn in ages or that don't suit your needs. Consider getting some alterations on what you do have before purchasing anything new. What you thought was just a plain jacket might turn out to be a key item for your less-is-more style. Oh, and if you come across a trench, definitely hang on to it.
Minimalist must-have: Classic trench coat, $138, gapcanada.ca.
Read more:
Sophie Grégoire Trudeau's best looks
Makeover: A new mom refocuses on herself
Fashion apps to help you save money