Fashion
Personalized jewellery you'll love that's tied to your zodiac sign
Fashion
Personalized jewellery you'll love that's tied to your zodiac sign
Tap into you zodiac sign to find your next "treat yourself" piece of jewellery. Or better yet, with Valentine's Day around the corner and wedding season here before you know it these personalized pieces will take your gift to the next level.
Thanks to Sex and the City's Carry Bradshaw—and lets give some credit where credit is due, iconic stylist Patricia Field—personalized jewellery, specifically namesake necklaces, turned from tacky to coveted in the early 00s. Sure, that was 20 years ago, but personalized jewelry (signet rings, monogramed pendents and purposefully mix and matching earrings) have continued to gain in popularity.
The newest iteration of the trend that's forecasted for 2019 is zodiac jewellery. With 12 unique zodiac signs that are personal to your birth date why not leave your look to the stars when the pieces look this good.
Even if you don't keep up with your weekly horoscope or know what a rising sign is, consider getting inspired by your your astrologic personality.
Aquarius (January 20 - February 18)
Aquarius folk tend to be original, open-minded fair and inviting. Tap into the futuristic energy of this air sign with one of these pieces with real Aquarian flavour.
(From left to right)
Aquarius ring, $88, mejuri.com. Wanderlust + Co Crescent Aquarius Gold Necklace, $48, wanderlustandco.com. Lilu Studio Constellation Aquarius bracelet, $14, etsy.ca.

Pisces (February 19 - March 20)
The fish is a dreamer and a healer of the zodiac family. Their energy is intoxicating and their compassion, imagination and artistry are some of their strongest traits.
(From left to right)
Off To Paris Pisces script necklace, $26, etsy.ca. Givenchy Paris Pisces earrings, $730, givenchy.com. Something Gold Pisces ring, $42, etsy.ca.
Aries (March 21 - April 19)
This is the trailblazer of the signs, Aries fight for their beliefs and fearlessly put themselves out there. This unstoppable sign is bold and driven and willing to take risk—in both life and with their style.
(From left to right)
18K yellow gold vermeil aries zodiac charm, $60, linksoflondon.com. Sophie Jane ram aries ring, $995, sophoejanejewels.com. Scout Curated Wears Aries cuff, $28, scoutcuratedwears.com.
Taurus (April 20 - May 20)
This sign is ruled by Venus so it's notoriously perceived as a sensual sign. Romance, great food and beautiful things are what make Taurus' happiest. It's also a very decisive sign, they know what they like or dislike at a drop of a hat.
(From left to right)
Wolf & Badger gold Taurus zodiac constellation bracelet with diamonds, $375, wolfandbanger.com. Taurus necklace, $156, karenwalker.com. Taurus gold plated studs, $19.50, etsy.ca.
Gemini (May 21 to June 20)
The most versatile of the signs is Gemini. Ruled by the dual sign of the twins, Gemini energy circulates in a quick and frenetic way. Geminis adore going on adventures, trendy clothes and learning new things.
(From left to right)
Agents Vivo Zodiac Pendant Necklace, $109, shop.nordstrom.com. Arajera Gemini Zofiac Constellation Sterling Silver Ear Climber, $24, etsey.ca. Elsa Peretti Gemini cuff, $950, tiffany.com.
(From left to right)
Aimee Art Cancer zodiac hoops, $43, etsy.ca. DearMia large chain Cancer bracelet, $24, etsy.ca. Kate Spade Celestial Charm Cancer pendant, $58, katespade.com.
Cancer (June 21 - July 22)
The most naturally nurturing of the signs is undoubtably Cancers. They're also known to be homebodies but that doesn't mean they're not social. They love hosting their own parties and they also have their finger on the pulse of the latest trend is in food, fashion, music and culture.
Leo (July 23 to July 22)
Leo's are entertainers at heart, they also happen to be the drama queens of the zodiac world. Their energy shines and they wear their heart on their sleeves. Leo's are authentic and they're don't back off in hectic situations, instead the tackle obstacles straight on.
(From left to right)
Yvonne Henderson ring, $158, etsy.ca. Lion statment earrings, $300, apm.mc/en. Zodiac necklace set, $178, revolve.com.

Vigro (August 23 to September 22)
Virgo are intellectual, passionate and helpful. They get stuff done—and done right. However, they do tend to be perfectionists. Between a Virgo's devoted friendships, impeccable taste, and thriving personality for businesses, they're not the type to let things get messy or mess around.
(From left to right)
Satya Jewelry Virgo zodiac necklace, $98, stayajewelry.com. Gypsy Moonchild Virgo spinning ring, $58, etsy.ca. Luulla Virgo earrings, $7, luulla.com.

Libra (September 23 to October 22)
Known as the sign that keeps peace and balance, Libra's epitomize fairness. They like the finer things in life, good food, expensive jewelry and designer clothes and they hate bullies, practical people and hearing the word maybe.
(From left to right)
Lucksmith Jewelry Libra ring, $93, etsy.ca.Soul and Little Rose Libra constellation necklace, $47, etsy.ca. Gypsy Moonchild Libra sign earrings, $65, etsy.ca.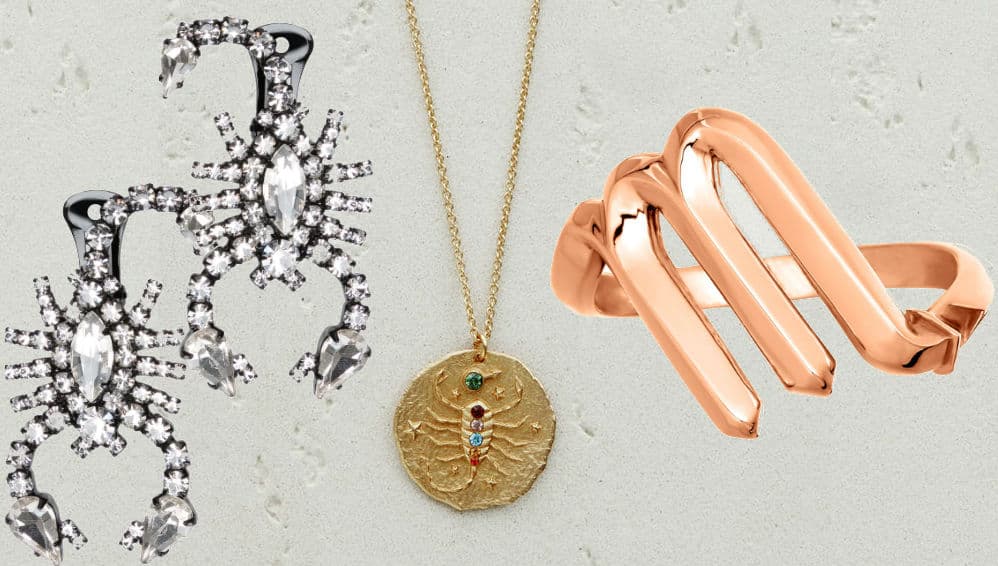 Scorpio (October 23 to November 21)
Intense, focused and seductive, Scorpios are often the most misunderstood and mysterious of the zodiac signs. This water sign is a master at reinvention and loves fashion—they're effortless trendsetters. They don't give up their loyalty or trust easily, but once they do, they'll be an ultimate friend.
(from left to right)
Ashley Williams Scorpio earrings, $280, influenceu.com/ca. Maje Scorpio Zodiac Necklace, $75, maje.com. MXBX Jewellery Scorpio Zodiac ring, $212, etsy.ca.
Sagittarius (November 22 - December 21)
The big dreamer and adventurer, Sagittarius, gives off an infectious energy that helps to inspire all of us. This fire sign is enthusiastic, encouraging, honest and has a gift of comedy.
(From left to right)
Arion Vienna Sagittarius star earrings, $45, etsy.ca. Off to Paris Sagittarius script necklace, $27, etsy.ca. Sagittarius zodiac bracelet, $46, etsy.ca.
Capricorn (December 22 - January 19)
This family-minded, devoted and hardworking earth sign loves to be in charge. Capricorns like to mix business with pleasure and are known to work obsessively, especially if they're up for a new role. They love a do-to list and thrive when they break there big plans into small measurable actions.
(From left to right)
Ahuva Capricorn sign zodiac eye necklace, $193, ahuva.com. Zodiac ring, $24, bearfruitjewelry.com. Muskoka Nord Capricorn earrings, $60, whiteelephantshop.ca.