Fashion
Stylish Size-Inclusive Workout Wear
Image: Penningtons, penningtons.com
Fashion
Stylish Size-Inclusive Workout Wear
No excuses—shop the best fitness-wear brands that embrace women of all shapes and sizes before you hit the gym.
By now, we all know that your body shape or size is no indication of your fitness level or strength. Anyone who elevates their heart rate on a consistent basis and makes health a priority in their life deserves a slow clap. But, looking out into athletic apparel on the market and eyeing the dejected corner relegated for plus-size women can be seriously disheartening. Comparison can happen to the best of us when advertisements exclusively display models with perfectly chiseled-abs (and perfectly re-touched photos to match). Not exactly a good motivator.
For too long, the fitness-industry presented only one "ideal" body type, but it's 2022 and inclusivity is the message. Brands are acknowledging that women of all sizes want the same level of choice and flexibility when breaking a sweat. No more cotton leggings or over-sized shirts designed to cover and hide; there is a sea of high-performing options that do not compromise on style.
So unleash your inner athlete and run­­—don't walk—to build your fitness closet with our favourite brands that endorse body-positivity. If that isn't motivation enough, just remember: a new sports bra never hurt anyone.
►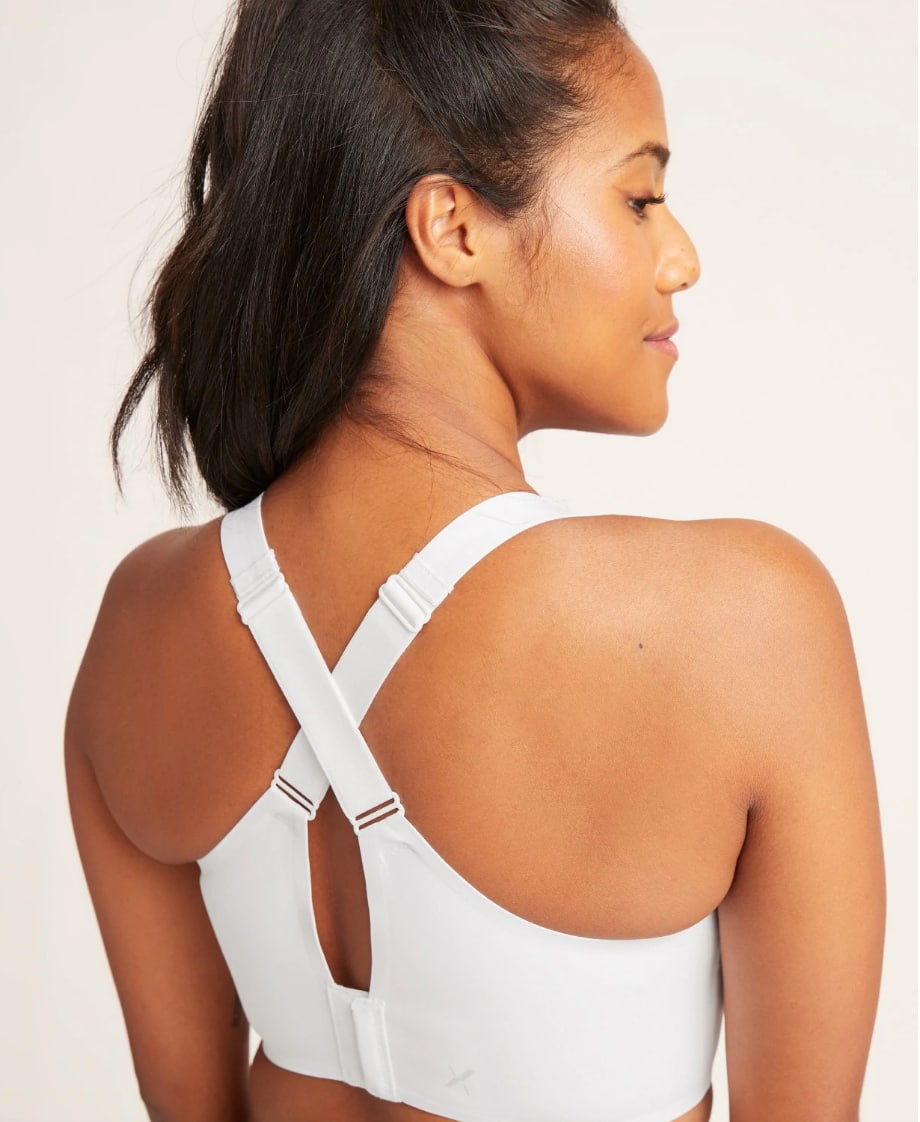 Catalyst Front Zip Sports Bra, Knix, knix.ca
A front zip, well-designed supportive sport bra that's easy to put on and take off. A new take on the original game-changing Catalyst Bra, this front closure, cross-back high-impact sports bra gives you the wireless support, comfort and adjustability you want.
►
ActiveZone Responsible Crop Top With Multi-Strap Back, Style: 453634; Responsible Leggings With Side Pockets,Style: 453631; Penningtons, Penningtons.com

This ActiveZone crop top with a colourblock design and multi-strap cross back will become your go-to for practicing all of your favourite activities, whether indoors or outdoors. Also available, is the matching pair of leggings. You'll love their elastic waistband, along with their figure-flattering seams. The stretchy material and cool design make this outfit an ideal pick.
►
LIVI Soft Low-Impact No-Wire Sport Bra - Strappy Back; Lane Bryant, lanebryant.com
This LIVI no-wire sport bra in a buttery-soft and comfy fabric is the perfect foundation for lounging or yoga -- with a strappy back you'll want to show off. Features adjustable straps, no closure, pull-on style. Available in several prints and designs. Best for low-impact activities (i.e., yoga and weight training).
►
Old Navy High-Waisted PowerSoft Slim Flare Compression Pants for Women; Old Navy, OldNavy.com
Power up your workout with these Old Navy PowerSoft yoga pants, style #665723. These elasticized, four-way stretch, high-rise waistband, with light-reflecting Old Navy Active logo at back, offer a great fit and soft to the touch.
►
Athleta Elation V-Neck Velvet Crop; Athleta, athleta.gapcanada.ca
This soft, plush velvet crop stretches with every move. Best for yoga + barre + pilates and other light-impact workouts. This fashion piece is available in Black, Blu Scuro (pictured above) and Class (a soft blend of reds and pinks).
►
Reitmans Scoop Neck Sports Bra Pulse Hyba; Reitmans, reitmans.com

Looking for a bra that can do it all? This scoop-neck sports bra will take you comfortably from a sweaty workout session to a break on the couch with ease. You'll stay cool and comfortable thanks to its moisture-wicking and quick dry properties.
►
Popover Hoodie With Pocket, Style: 453642; ActiveZone; Penningtons, Penningtons.com
Available in Black or Blue Horizon, this warm and practical hoodie features a drawstring hood, elasticized cuffs and front kangaroo pocket, making it a truly versatile choice for a season of fun.
►
►
Torrid's Boot Cut Pant - Performance Core Black offer a bottom flare to your leggings. Their signature knit fabric smooths, lifts and supports whether you're working out or hanging out. Offers maximum coverage and never see-through.
►
Need more pizzazz in your outfit, try Just Cozy All Season Leggings. They feature a wide selection of comfortable and breathable leggings and are a lot of fun to wear.
►
'
Responsible Bottle Bag Holder With Mini Pouch - ActiveZone; Penningtons, Penningtons.com
Stay well hydrated on the go with this smart bottle bag holder that can be worn over the shoulder to easily follow you on your hikes or workout sessions. Available in Nocturne (pictured above) or Black.