Image Courtesy of Modern Match Lingerie
Whether it's using quality sustainable fabrics, supporting local economies and ethical working conditions, reducing greenhouse gas emissions and the carbon footprint, or all of the above, these Canadian-born fashion companies are making a difference.
Smash + Tess
Vancouver — Women's, Men's and Children's Loungewear
Image Courtesy of Smash + Tess
The mother-daughter-bestie trio that founded clothing company Smash + Tess believes that what people wear matters, not only for style, but also for function—self-expression, physical comfort and confidence—as well as for our environment. In order to slow the fashion cycle, the company deliberately makes small batches of clothing on demand, so they're not overproducing and contributing to clothing waste, which is a shocking global issue. Known for its extremely comfortable rompers, Smash + Tess ensures the pieces are made locally. Plus, the majority of them are fabricated with a long-lasting sustainable rayon made from a blend of bamboo and cotton produced by skilled seamsters who experience the best working conditions. One of our favourite things about the Canadian brand is its focus on being size and shape inclusive, with all items ranging from XXS Petite to 3XL (4XL coming this fall!) and a flexible size guide. Follow Smash + Tess on social media, or check its website seasonally for product launches in new styles and patterns for the whole family.
OUR PRODUCT PICK: The Friday ROMPER in Midnight Black, $119, smashtess.ca.
Encircled
Toronto — Women's Apparel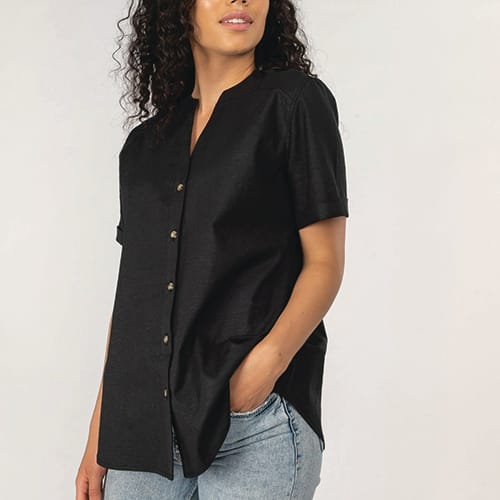 Image Courtesy of Encircled
Clothing that's made to last forever is what Toronto-based slow fashion brand Encircled does so well—but that's not all the company stands for. With factories located close to the head office, the quality of production is easy to oversee, as well as the quality of life of the people who make the clothing. Every person employed by Encircled makes a fair wage and works in a safe, respectful environment. When it comes to fabrics, the brand is on point as well, using only sustainably sourced, all-natural materials such as Tencel, Modal, rayon from bamboo, organic cotton and linen—which all feel amazing on the skin. With the clothing from this company, you can build a capsule wardrobe with timeless pieces that will stand the test of time, and—bonus!—often look even better as they age.
OUR PRODUCT PICK: The Comfy Linen BUTTON-UP in Black, $158, encircled.ca.
SophieGrace
Calgary — Women's Workwear
Image Courtesy of SophieGrace
As a busy working mom herself, Emma May, the founder of clothing company SophieGrace, wanted to help women rid themselves of the mental weight of figuring out what to wear to work. If you've ever wished it was as easy for women to get dressed in the morning as it is for men to throw on a suit and tie, May offers the solution with SophieGrace clothing. Each item in the collection is designed with simplicity, timelessness, comfort and quality in mind; plus, all the pieces can be mixed and matched to create a new look each day. The brand uses sustainable Cupro satin, a plant-based, biodegradable cellulose fibre, and 75 percent of the line is manufactured in the company's Vancouver factory. To top it off, a percentage of the proceeds from SophieGrace's graphic tee collection goes to support local organizations— recent recipients include Downtown Eastside Women's Centre in Vancouver, The Marine Mammal Rescue Centre and Momentum.
OUR PRODUCT PICK: The Short Sleeve Ashley DRESS in Navy, $210, sophiegrace.ca.
Indi City
Calgary — Jewellery
Images Courtesy of Indi City
Authenticity and mindfulness are at the heart of Indi City. Co-founders Angel Aubichon and Alexandra Manitopyes design and create contemporary Indigenous accessories and jewellery. Each piece offers an acknowledgement of their ancestry and connection to this land. The stunning pieces are crafted 100 percent by Indigenous people: Show-stopping earrings like those shown here offer up the perfect opportunity to express yourself and support Indigenous artists and designers
at the same time.
OUR PRODUCT PICK: Arrowheads EARRINGS in Pink Mirror & Purple Sparkle, $50, Moon Phases EARRINGS in Pink Sparkle, $60, indicity.ca.
Yoga Jeans
Montreal — Women's Denim and Leisurewear
Image Courtesy of Yoga Jeans
Brothers Jacob and Eric Wazana founded their denim company Yoga Jeans because of Eric's love for jeans—he'd even distress his own pairs as a teenager. Fast forward to present day, where the brand is crafting some of the most comfortable and flexible—hence the company name—jeans money can buy. But comfort isn't the only thing Yoga Jeans has going on; the brand works with suppliers that are carefully screened for their commitment to social responsibility, traceability, sustainability and quality. Plus, the company also believes in doing everything it can to reduce its carbon footprint, lower water consumption, use fewer chemicals and less energy. All Yoga Jeans clothing is made with durable, quality fabrics that make you feel great, no matter how good your downward dog is.
OUR PRODUCT PICK: Classic Rise Straight Chloe JEANS in Dk Indie, $158, yogajeans.ca.
Ecologyst
Victoria — Women's, Men's and Gender-Neutral Apparel, Outerwear and Accessories
Image Courtesy of Ecologyst
This West Coast company puts an emphasis on sustainability and eco-consciousness into everything it does. Ecologyst's mandate is For Nature, aiming to create fewer, better-made clothing items that stand the test of time. All-natural materials that are sustainably sourced are at the heart of production. The brand uses ZQ-certified merino wool, which is a certification only given to farmers who meet strict sustainability, animal welfare and traceability standards. In addition, Ecologyst uses Donegal wool, organic cotton, waxed organic cotton and Ventile. For this brand, it's all about respecting the environment. You won't find any materials like polyester, acrylic or nylon, which are known to be produced with petroleum and can create microplastics. This definitely makes Mother Nature happy, don't you think?
OUR PRODUCT PICK: The Merino Gender Neutral SWEATER in Plum, $345, ecologyst.com.
Tentree
Regina - Vancouver — Women's and Men's Comfort Apparel and Accessories
Image Courtesy of Tentree
Known for taking pride in finding eco- progressive solutions for its customers, Tentree has a mandate to plant 10 trees for every item sold, helping to reforest land in Canada and around the world. To date Tentree has planted more than 50 million trees! The company's clothing is made from sustainable materials such as Tencel, recycled polyester, organic cotton and hemp, and is all thoughtfully produced with the smallest environmental footprint possible. This Canadian brand even boasts an Eco-Log—which you can see on its website— that calculates the environmental footprint of each of their items and compares it to similar items from other clothing companies.
OUR PRODUCT PICK: Juniper HOODIE, $78, tentree.ca.
Modern Match Lingerie
Prince George, B.C. — Women's Lingerie
Image Courtesy of Modern Match Lingerie
This company is all about self-confidence, self-acceptance, self-love and feeling amazing in your underthings—which have all been purposefully designed in Canada by women and for women. Based in Prince George B.C., Modern Match Lingerie's products are manufactured at a woman-owned factory in Hong Kong that ensures ethical practices are in place for workers. The brand recently increased its sizing to include up to 3XL in underwear and wireless bras, so that everybody can feel supported and sexy no matter their size. Modern Match Lingerie's founder Shauna Allan also heads up the Bra Bra Sisterhood, an online community that aims to empower women, boost their confidence, and enhance their lives and well-being. Allan believes that empowerment can be found in lingerie—when it fits right, feels good and offers support, you can take charge of your day.
OUR PRODUCT PICK: Longline BRA, $90, Wire-Free Lace BRA, $69, modernmatchlingerie.com.
Lambert
Montreal — Backpacks, Handbags and Travel Accessories
Image Courtesy of Lambert
Started in 2017 by a mom of three, Lambert is a luxe accessory company that designs and produces its goods with durable vegan leather. It all started when founder Melissa Lambert wanted a diaper bag that was practical, sustainable, comfortable and chic. She collaborated with local Montreal designers and Lambert was born. All bags from the collection are made with polyurethane vegan leather, which is less harmful to the environment than PVC (a material used for many other vegan leathers)—Lambert is very proud to be PETA-certified. The bags are produced in Guangzhou, China, in a socially responsible factory that ensures a safe and ethical environment for its workers.
OUR PRODUCT PICK: The Jade Sage Vegan Leather BACKPACK, $140, designlambert.com.