Decor & Renovation
Karl Lohnes' chic patio makeover
Photography: Angus Fergusson
Decor & Renovation
Karl Lohnes' chic patio makeover
Designer Karl Lohnes took on the challenge of drastically updating his third-floor patio at his Toronto townhouse. His budget-savvy strategies serve as the ultimate guide for updating your own porch, patio or balcony.
The third-floor patio at designer Karl Lohnes' Victorian townhouse wasn't living up to its potential as a relaxing urban oasis. Exposed to full sun throughout the year, the unsheltered patio was bone-dry—"like driftwood on a hot beach," says Lohnes. The upper patio, which would have been difficult to renovate due to its height, was salvaged with a weekend's worth of sweat equity making it the perfect space for elegant, intimate dinners, served hot off the grill.

Full-sun foliage
Potted palms were a natural choice for the sun-soaked upper deck, and they were affordably priced at just $30 a pop. "I buy two or three each spring, and they're good for the whole summer," says Lohnes.

Coat of armour
Though the upper deck looked the worse for wear after baking under the sun of some 40 summers, Lohnes determined the boards were still structurally sound. After fixing a few loose planks, he treated the wood to two coats of TimberCare, an oil-based deck stain designed to weather the elements. An opaque off-white finish, it evened the wood's mottled tone and helped turn back the clock in terms of texture. "You can run your hand over the old painted planks now and not worry about getting a splinter. It's almost like they're plastic-coated," says Lohnes.

Frame to please
Before staining began, Lohnes considered demolishing the deck's pergola, knowing it would require hours of tedious brushwork to rehabilitate. He's glad he decided against it. "It gives me the option to hang plants and lanterns, and it adds architectural interest to a space that's really just a basic box shape," he says. The welcome bit of shade provided by the wooden frame gets an added boost from the freestanding patio umbrella that's securely mounted in a weighted base.

TimberCare Solid Deck Wood Stain in Concrete, para.com.
Mood lighting
Installing the all-season fireplace was as easy as plugging a cord into a conventional outdoor electrical socket. "I don't have a lot of lighting on the deck, so it's nice to have the faux fire going when I'm entertaining in the evening," says Lohnes. "It creates instant ambience." Even when it's not switched on, the fireplace serves an important role as the patio's focal point and anchors the arrangement of furniture.


Outdoor fireplace, dimplex.com.
Character building
Quirky mix-and-match decorative hooks infuse the space with a sense of humour. From a regal stag's head to a nautical cleat, no two designs are the same.


Cold cases
To save himself the hassle of racing up and down two flights of stairs whenever a guest's glass needs topping up, Lohnes invested in an outdoor refrigerator. An ice-filled cooler provides ample backup for chilled bevvies.

Tough textiles
The outdoor furniture's striped upholstery drives home the deck's Cape Cod–inspired palette, but it was also chosen with durability in mind. "Using an outdoor fabric like Sunbrella is super-important," says Lohnes, noting its resistance to fading, mould and mildew. "It really saves you on that day when you accidentally leave the cushions out in the rain!"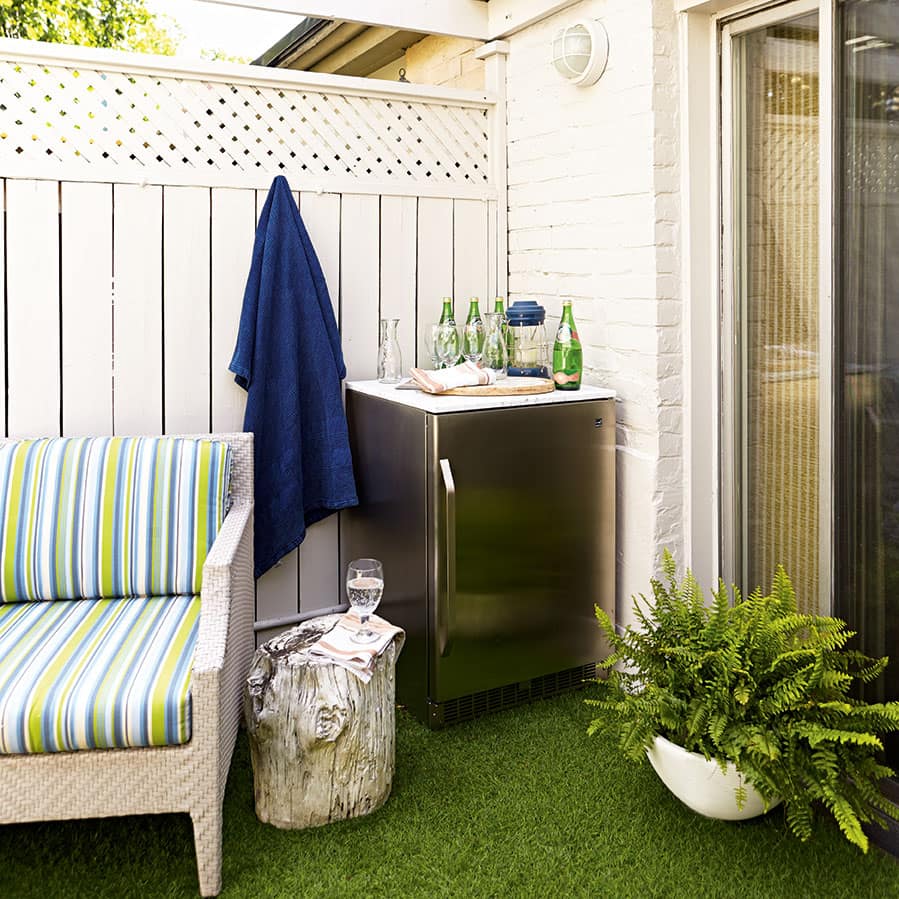 Outdoor settee and armchair, and white planter, andrewricharddesigns.com. Refrigerator, silhouetteappliances.com.
Instant lawn
Lohnes doesn't need a mower to maintain this patch of grass—just a plastic rake or, if he really wants to get the neighbours talking, a wet/dry vacuum. "The artificial turf came in one big sheet, and I just rolled it out and pinned it down to the deck," says Lohnes. "Because it's got little drainage holes punched all over, rainwater filters right through." The price—$350 for full coverage in the 15- by 12-foot space—was right, too. "Very cost effective considering the impact that it makes."


Uz-ite grass shag carpet, homedepot.ca. Cooler, costco.ca.