Gardening
5 ways to decorate your home with plants
Gardening
5 ways to decorate your home with plants
We've got five fun ways to add some greenery to your home.
1. In a corner
Convention dictates that hanging baskets are for ferns, but these modular wall-mounted planters are reason enough to break the rules. The stackable column of containers—customizable to any height—is a striking way to bring life to a dead corner.
Minigarden corner set (column of three stackable planters), $35, minigardening.com.
2. From the ceiling
Free up precious floor space with this mod mobile, which transforms any six-inch-diameter pot into a hanging basket.
Hanging wire pot bracket, $29, westelm.com.

3. Up the wall
Sometimes, there's nowhere to go but up! Tap the growing potential of your walls with these innovative vertical planters.

Are you tired of fussing with plant markers? A chalkboard frame makes it easy to keep tabs on what's about to sprout.

Chalkboard wall planter, $227, williams-sonoma.com.

Rearrange these basketlike planters on a whim. They're attached to the modular panels with powerful magnets.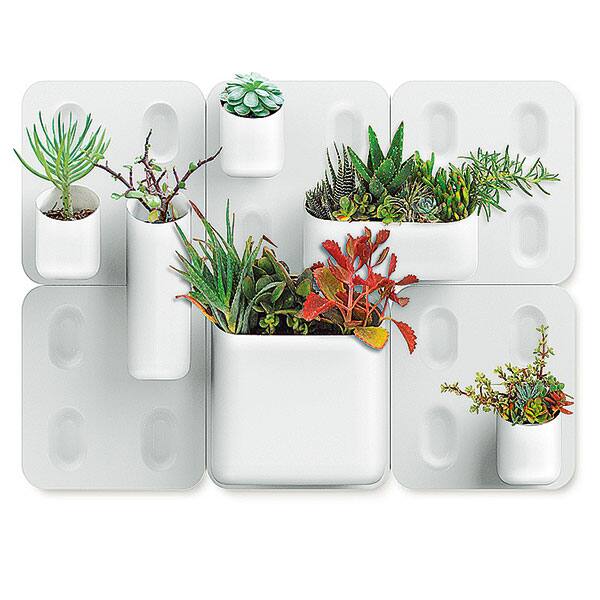 Urbio Big Happy Family Kit, $175, eq3.com.

Go ahead and enjoy that extended vacation. With its built-in reservoir, this self-watering planter can look after itself.
Minigarden small basic with pots, $30, minigardening.com.

4. Inside a table
A chic hybrid of accent table and terrarium, this double-duty piece certainly earns its footprint.
Object Interface Everything table, $799, oniprojects.com.

5. Along a room divider
When it comes to carving an open-concept space into separate zones, a folding screen is an old decorating standby. What makes this room divider revolutionary is its capacity: 13 built-in brackets to hold a baker's dozen of your go-to blooms.
Socker indoor/outdoor plant stand, $50, ikea.ca.