Knitting & Crochet
Salta Bag knitting pattern
Image courtesy of Americo Original Image by: Image courtesy of Americo Original
Knitting & Crochet
Salta Bag knitting pattern
Make a statement this season by knitting your own beautiful handbag with this free and simple pattern. There are endless combinations of colour and leather to personalize your perfect bag!
A knit bag is the perfect accessory—unique, practical, and stylish. The Salta Bag's design begins with a simple rectangle that is folded and seamed to create a classic tote. The simplicity of the style and the thickness of the yarn make this pattern perfect for the beginner who wants to create a beautiful knit accessory on the first try.

The beauty of this bag is in the texture of the chunky yarn and its contrast to the smoothness of the leather handle. We chose to make the bag in Merino Copito, a 100% merino wool, thick-and-thin, roving-style yarn that makes for a light tote you can take anywhere. The leather handle adds style and practicality, while the artisanal quality guarantees your bag will look beautiful for years to come.

Knitting tips:
To ensure that the bag is sturdy, we used a felting technique that creates a dense fabric. When felting your bag, remember to do it in stages so you don't end up accidentally felting it too much and losing the texture of the yarn. To sew on the handle, use a darning needle and sport or fingering weight yarn in a matching or contrasting colour.

Adding a liner to your bag is optional—the fabric becomes dense enough that the contents of your bag will stay inside. If you wish to add a liner, a simple trick is to use an old pillow case cut to size and sewed in place by hand after your bag has been felted.

Materials:
- 5 Skeins Americo Merino Copito (100% Wool) 100 g / 43 yards (40 m)
- 12mm (US 17) size straight and 24-inch (60 cm) circular needles
- Darning Needle
- 1 Cannes Handle Set—(contains 2 leather/nylon pieces)
- Small amount of sport/fingering weight yarn (for sewing the leather)

Note about the yarn: Merino Copito is available through Americo Original online and in store. You can substitute any bulky weight 100% wool yarn from your stash. If substituting yarn, make sure to use 100% wool. Plant based and synthetic fibres will not felt.

Note about the leather: Americo leather accessories are available exclusively through Americo Original online and in select yarn stores. Americo leather accessories are designed and made in Toronto out of genuine, vegetable-tanned leather. All leather pieces are pre-punched for an easy, fool-proof application. You can choose between many different styles of leather, whatever suits your preferences! Alternatively, you could be creative and use any trimmings or ribbon—or recycle the handles from an old bag.






Measurements:
| | | |
| --- | --- | --- |
| Approximate Values | Pre-felting | Post-felting |
| Length | 20 inches (50 cm) | 16 inches (40 cm) |
| Width | 22 inches (55 cm) | 18 inches (45 cm) |

Gauge:
6.5 stitches = 4 inches in pattern with 12 mm (US 17) size needles or size needed to achieve gauge

Pattern:
With 12 mm (US 17) size straight needles cast on 35 stitches. Knit every row for 20 inches (50 cm). Cast off.

Finishing :
Fold the bag in half from cast-on edge to cast-off edge and sew the side seams. Along the bag opening, pick up and purl 48 stitches with 12 mm (US 17) 24-inch (60 cm) circular needles. Purl 6 inches (15 cm). Cast off.

Schematics: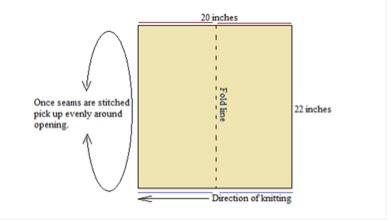 Felting instructions:
Put piece in top-loading washing machine. You do not need to add soap or detergent. Using a low water level, run a cold cycle for 15 minutes. Put in a pair of jeans (in non-interfering colour) for extra agitation. After one cycle, check for size. Repeat as necessary. Run through the rinse and dry spin cycle. Lay felted piece onto a dry towel, away from direct heat or sunlight. Shape piece to correct measurements. Allow to dry thoroughly. Do not use a clothes dryer.

If an edge ripples, baste a thread through the edge and gather in. Remove the thread after the felting is dry.

Note: All washing machines will felt at different rates. It is always best to try felting a small swatch just to see how your machine will work. If it does not felt enough try putting it through twice. Front loaders are not generally appropriate for felting, as the cycle cannot be interrupted once started.

Sewing:
Sew the 2 leather/nylon handles in place on either side of the bag. The top of the Cannes leather piece will be approximately 1/2 inch from the top of the bag and centred while the bag is laying flat. Sew in loose ends.

Aftercare instructions:
You have spent a lot of time and care completing these items through their knitting and felting stages. A little thought to its aftercare will ensure that you will have these beautiful felted items for many years to come.

After you have subjected your item to the felting process, you may think that it has gone through the most vigorous and tortured wash that yarn could ever endure. Now you assume that you can throw that felted item into the hot wash cycle along with your sheets. Do not do it! Treat your newly felted item with caution and care in order to avoid further distortion or shrinkage.

Felted handmade items can always be improved with brushing if desired.

Even a slight pressing will give a smoother appearance to felted fabric. Always press lightly using a steam iron and a damp cloth. Never press down on the fabric but hold the iron just above the fabric.

Americo Original is a Canadian yarn company and online knitting shop with its own line of quality yarns, knitwear patterns and accessories. Americo's yarns are made exclusively in the Andean highlands of South America, using only natural fibres, including luxurious wool, llama, alpaca, cotton, linen, silk and cashmere. Americo and its in-house design lab are based in Toronto, offering international shipping from its online store: americo.ca/shop.

Follow Americo Orignal Inc. on Facebook, Instagram @americooriginal and Pinterest for daily knitting inspiration.
Recommended