Community & Current Events
4 highlights from Canadian Living's third day in Rio
Community & Current Events
4 highlights from Canadian Living's third day in Rio
A trip up Corcovado mountain, an interview with Brianne Theisen-Eaton and a little beach time makes for a pretty perfect day.
We originally planned to catch the canoe and kayaking finals today, but since our Olympians weren't competing, we thought we'd play hooky and take the opportunity to see a bit more of Rio. However! That doesn't mean we weren't paying close attention to how Team Canada was doing: Andre De Grasse ran an amazing 200m race, easily qualifying for tomorrow's semi-finals with the fastest time of the heats, the women's soccer team lost to Germany and will be playing Brazil for bronze and Adam van Koeverden competed in his last Olympic race, ever, winning with a time of three minutes, 31.87 seconds. (This was the also-ran race, so it doesn't earn him a medal—but tragically, if that was his time in yesterday's competition, he'd have won silver.) Here are my favourite non-sport moments of the day.
1. Interviewing Brianne Theisen-Eaton
For my second Facebook Live, I got to sit down with heptathlete and bronze medalist Brianne Theisen-Eaton (pictured, above), who was so nice and friendly—and candid about what it was like to earn a bronze medal when she'd been hoping for gold, how she overcomes self-doubt and how she took what I think is the best selfie ever at Sunday's men's 100m race. Check out the interview here.
2. Driving through Rio de Janeiro's urban jungle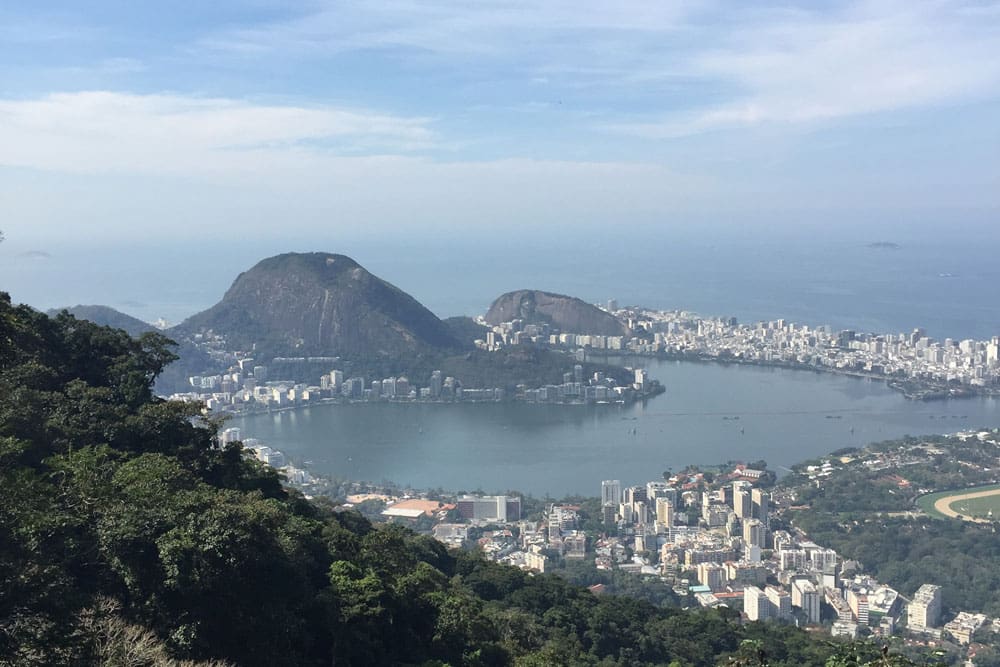 Rio has the world's largest natural urban jungle. Literally a few minute's drive from busy city streets, there are towering trees, vines, even monkeys. We were headed to Corcovado, the mountain where the famous Christ the Redeemer statue stands, and our driver took us through the jungle instead of through the city. Pro tip: if you're ever in Rio, you too should take the jungle route to Corcovado. There's no traffic, and you get amazing, amazing views of the city.
3. Hitting up the beach in Rio's Barra neighbourhood
My hotel room overlooks a gorgeous beach, and I've been hoping to dip my toe in Rio's ocean since I got here. So I was definitely pumped when we got to hit the beach in the nearby neighborhood of Barra for lunch, a quick dip and—of course—the obligatory coconut.
4. Dinner!
We ended the day at CT Boucherie, a French bistro in Leblon, a posh but friendly neighbourhood in the south zone of Rio. It was so good—you order different types of grilled meat to share (we had a T-bone steak and a ribeye), then waiters bring around sides, including the best mashed potatoes I've ever eaten in my life, plus ratatouille, polenta, veggies and more.
Read More:
3 cool things that happened on Canadian Living's first day in Rio
4 awesome moments from Canadian Living's second day at the Olympics