Travel
10 National Parks to Explore Across Quebec
Photographer: Chok Images
Travel
10 National Parks to Explore Across Quebec
Looking for a memorable getaway amid breathtaking landscapes? With its wide array of national parks, Quebec, has it all.
Bic National Park
Photographer: Mathieu Dupui
Head to the St. Lawrence Estuary to take a deep breath of the sea air and remain speechless in front of the amazing natural sights and sounds drawn by the sea. Between its mountains, its coves and its islets, Bic National Park is an enchanting place. It is also one of the best places in Quebec, to come and observe grey seals. For those more adventurous, try kayaking through the islands. sepaq.com/pq/bic
Grands-Jardins National Park
Photographer: Charlevoix Tourism
To immerse yourself in this park of 318.9 km2 is to buy a ticket to discover beautiful landscapes located in the Far North of Quebec. With its flora composed of lichens, this park located near Baie-Saint-Paul presents a landscape typical of the tundra. It is one of the central areas of the Charlevoix World Biosphere Reserve. The place dreamed to plan a getaway and admire the astrobleme of Charlevoix from the top of the famous Swan Lake Mountain. sepaq.com/pq/grj
Jacques-Cartier National Park
Photographer: Jeff Frenette
One of the most beautiful glacial valleys of the province is just 30 minutes away from Quebec City. It's a wonderful playground for outdoor activity lovers. You can explore the park by canoe, kayak, bike or on foot. Among the 100 km of hiking trails, the Trail of the Wolves offers a view spectacular on the valley and on the river which meanders at its bottom. sepaq.com/pq/jac
Mont-Mégantic National Park
Photographer: Rene Boucher
It is a corner of paradise for astronomy enthusiasts. Planted at the top of the Mont Mégantic, the ASTROLab allows you to observe the stars in the heart of nature. To limit the surrounding light pollution, the park located one hour from Sherbrooke has been declared an International Reserve of starry sky. In the observatory, trails also give access to exceptional viewpoints on the region. sepaq.com/pq/mme
Mont-Tremblant National Park
Photo: LAURENTIDES/C TOURISM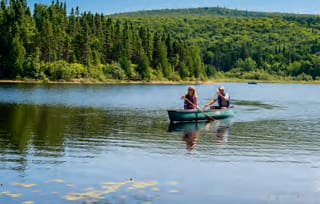 Photographer: Tourism Laurentians
Celebrating its 125th anniversary in 2020, this historical park is one of the largest in the Sépaq network. It has an area of 1510 km2 in the heart of the Laurentian Forest. It features 6 large rivers, as well as 400 lakes and streams. It is the perfect spot to come and recharge your batteries, any time of year. In the summer, try swimming, fishing, hiking, kayaking or, for the more adventurous, climb The Via Ferrata Du Diable, a path that leads its way along the Vache Noire rock at the entrance to the La Diable sector. In the winter, try cross-country skiing, sledding, or a winter hike. sepaq.com/pq/mon
Saguenay Fjord National Park
Photographer: Charles-David Robitaille
Photographer: Charles-David Robitaille
Photo: PARC NATIONAL DU FJORD-DU-SAGUENAY/C.
Its spectacular landscapes have been shaped by the passage of glaciers several million years ago. One of the most beautiful views of the fjord, found at Anse-de-Tabatière, accessible by car. On the way, you may even spot some Beluga whales. With its 85 m long footbridge, the Via Ferrata des Géants also allows you to fill up on thrills and memorable memories. sepaq.com/ pq/sag
Aiguebelle National Park
Photo: GAËLLE LEROYER/C
Photographer: Mathieu Dupuis
45 minutes from Rouyn-Noranda, this park has an Area of 268.3 km2. It's home to spectacular views of a variety of geological phenomenon, from volcanic cushions to giant pots. Interpretive trails tell us about rock formations some are more than 2.7 billion old years, and on the fauna of this vast territory that is home to the largest concentration of moose from all of Abitibi. sepaq.com/pq/aig
Mauricie National Park
Photographer: Parks Canada
Photographer: Parks Canada
Located 15 km northwest of the city of Shawinigan, this park is characterized by its rounded hills covered with conifers and deciduous trees, and by a multitude of lakes, streams, and rivers. The park has 104 km of easy hiking trails, intermediate or difficult, that it is breathtaking to travel on foot or by bike. Take a dip in the waterfalls or a magical canoe ride under the spell of the Wapizagonke Lake. pc.gc.ca/fr/pn-np/qc/mauricie
Gaspésie National Park
Photographer: Chok Images
This hiking hotspot in Quebec is close by 200 km east of Rimouski. There is no shortage of trails or landscapes of mountains, with 25 peaks culminating more than 1000 m away, including the famous Albert Mountains and Jacques-Cartier. There are courses of levels of difficulty in climbing the wild nature, while always enjoying fabulous panoramas views. sepaq.com/pq/gas
Tursujuq National Park.
Photographer: A. Poulin
With its area of more than 26,000km2 is one of the largest Canadian provincial parks. This vast wild territory has exceptional naturals attractions, such as Hudsonian cuestas that recall the rock formations of the reliefs of the American West. Another jewel of the park, Lake Wiyâshâkimî, formed by a double meteorite impact, those waters are havens for seals and belugas, is very popular adventure for kayakers. sepaq.com/pq/tur
Recommended
From beautiful tranquil lakes to flowing rivers, Saint-Laurent, the Belle Province is full of beaches. Here's our top 10.
Read More