Travel
A refined approach to a bachelorette weekend
Travel
A refined approach to a bachelorette weekend
Forget the pink sashes, tequila shots and Magic Mike moments. Chicago, with its old-school bars and hip theatre scene, makes the perfect getaway for ladies looking for a posh escape.
Booze and bad behaviour may have been fine when you were 23, but now it's time to class things up. When planning a bachelorette or getaway with your girls (or, if it's more your style, a cross-generational bonding experience), consider immersing yourself in the magical world of Chicago's theatre scene.
Though the "Second City" has long been known as the little sister to New York, Mayor Rahm Emanuel has declared 2019 the "Year of Chicago Theatre" and plans to bring his diverse, thriving city out of its big sister's shadow. Expect activations, public programming and major support for the more than 250 theatre companies that add colour and character to the local arts scene. With so much excitement on the horizon, there's never been a better time to throw yourself into everything Chicago has to offer—and a four-day ladies' weekend is the perfect way to do it.
Start with a blockbuster
CIBC Theatre | Photography: Andrea Karr
There's a reason the original Broadway production of Hamilton won a Grammy, a Pulitzer and almost a dozen Tonys; the writing and music are that astoundingly good. Though it doesn't have the original cast, the Chicago production at the CIBC Theatre will have you careening between tears and laughter, and you'll love the funny quirks that each actor brings to the stage. (Especially the comic genius who plays King George III. Trust us on this one.) If you do just one thing during your stay in Chicago, splurge on tickets to this show—or enter the digital lottery and see if you can snag one of 44 tickets that sell for just $10 at each performance.
Awaken your inner child
Photo courtesy of Chicago Magic Lounge
It looks like a laundromat at first glance, but if you can follow the clues and figure out how to enter, you'll find yourself in a dimly-lit world of music, magic and frothy cocktails. The Chicago Magic Lounge is an homage to magic bars of the '50s and '60s, and every detail, from the black paint to the retro posters, will make you feel like you've been transported to another place and time. Sit in the bar and watch your bartender mix drinks like a Darks Arts and a Sleight of Hand between card tricks, or stay for a show on the main stage with close-up magicians rotating around tables in between sets.
Head backstage
Lyric Opera of Chicago | Photography: Andrew Cioffi
Housed in a glam 90-year-old building complete with ornate ceilings and plush ruby carpets, Lyric Opera of Chicago seems the likely home of ghosts. Want to find out where they lurk? Take a backstage tour, which is open to the public two days each month, and explore the 3,500-seat theatre, from the costume, wig and props rooms, to the orchestra pit and 12-storey fly space (the largest of any opera in the world) where all of the lights, curtains and scenery are rigged. Stay for an epic performance of La Bohème, Elektra or West Side Story—all playing in 2019.
Spend a night at the ballet
Auditorium Theatre | Photography: James Steinkamp
Another stunning space worth a visit is National Historic Landmark the Auditorium Theatre of Roosevelt University. The grand old space, which was completed in 1889 and was one of the first projects that Frank Lloyd Wright took on as an assistant, employs a technique called compression and release, where you enter the theatre through a low-ceilinged hallway and are filled with a sense of wonder upon being "released" into the giant auditorium. It has a storied past, from hosting a 1,200-person dinner for Teddy Roosevelt to acting as a serviceman centre for WWII soldiers to relax (and bowl on stage!). Currently, it's home to the Joffrey Ballet (which will be taking on Anna Karenina and Across the Pond in early 2019) and also hosts musical acts, theatrical performances and guest speakers.
Take a chance
The Yard at Chicago Shakespeare Theatre | Photography: Roberto Ricciuti
Some of the smaller theatres showcase the most innovative pieces, so break away from the big stages to more intimate spaces. For musicals, try Porchlight Music Theatre; for plays with greater diversity (from the playwrights and actors to the types of stories told), visit Victory Gardens Theatre; if you're a Michael Shannon fan, he's a member of A Red Orchid Theatre and sometimes performs; for creative use of projection and puppetry, the Manual Cinema should be your go-to; and The Yard at Chicago Shakespeare Theatre features an interesting space with mobile towers that allow for an almost endless variety of seating options and experiences. In April, a circus dinner theatre will also be opening on the 14th floor of the Cambria Hotel, where guests will eat and be entertained in an indoor tent.
Rest your head
Photo courtesy of Loews Hotels & Co.
Loews Chicago Hotel is central (just a short walk to Millennium Park and Chicago Architecture Centre) and so well-equipped you could practically spend your entire trip within its walls. The robes in each of its rooms are ultra-cozy and the hotel features a spa, 75-foot lap pool, Starbucks and huge, beautifully designed lobby with plenty of seating and a roaring fire. Eat breakfast (and maybe a few of your dinners, too) just off the lobby at ETA Restaurant + Bar, which has hyper-local cuisine and lovingly crafted desserts.
Eat and drink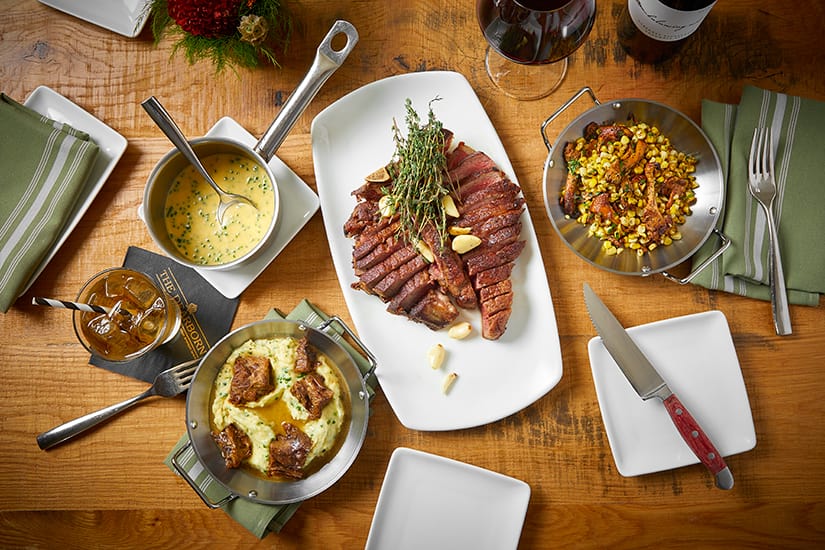 Photo courtesy of The Dearborn
For a major crowd-pleaser, make a reso at The Dearborn, an American tavern run by two Irish sisters. Pub classics are given a global twist—think fried chicken with a maple mustard glaze, beef bulgogi fajitas and NY strip steak with glazed Korean sweet potatoes—and are cooked and seasoned to perfection. On another evening, head to the West Loop, Chicago's old meatpacking district, where 'hood staples like Girl & the Goat, Blackbird and Au Cheval bring hungry crowds in droves. For cocktails, try the trendy Logan Square area with haunts such as The Ladies' Room (the speakeasy of Macanese resto, Fat Rice), Lost Lake (a tiki bar) and Scofflaw (a gin joint). And if afterwards you end up scarfing a burger at the 19,000 sq. ft. McDonald's flagship that opened in Chicago in August 2018, who are we to judge?
After four days of theatre, music, magic and delicious eats, Chicago will be the little secret you can't wait to share.