Beauty
How to practice self care this Valentine's Day
Beauty
How to practice self care this Valentine's Day
Taking care of yourself is a year-round job, but in a month all about showing love to others, self-love and care become crucial.
Valentine's Day. The day of the year that people either love or hate—and it often depends on whether you've got plans to celebrate with a partner or friends or whether you'll be alone. Feelings aside, this holiday can be a wonderful time to spend with loved ones, but it can also be used as a reminder to show yourself a little extra love. Spending February 14 alone? Lean into it with a great night of self-love, self-care and much-needed alone time. Here are some ideas to get you started.
1. Clean your space
If Marie Kondo has taught us anything, it's that having a clean space can benefit our overall wellbeing. Whether you just do the dishes, a quick tidy, or completely deep clean your entire home, start your night off right by having a neat place to enjoy your time alone.
2. Set the mood
There's nothing more important before a date than setting the mood, and a self-care date night is no exception. Try lighting a candle, burning some incense, or turning on a diffuser to help fill your space with your favourite scents. They can provide wonderful aromatherapy benefits like relaxation and stress relief.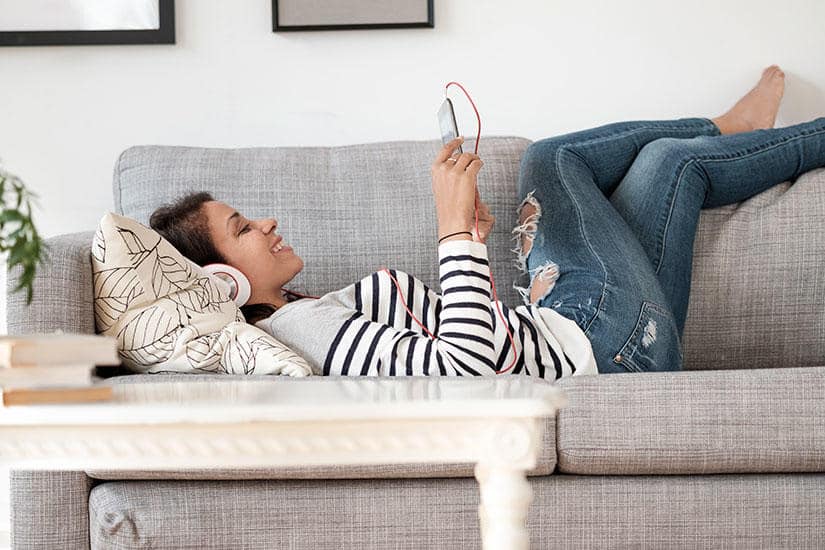 3. Listen to a podcast or get inspired on YouTube
Podcasts are a great way to get inspired. Maybe you have a few that you listen to regularly, or maybe you're looking to try something new. Whatever the case may be, now is the perfect time to catch up on the podcasts you've been meaning to tune in to.
YouTube videos are another great way to get inspired. Whether you're into travel videos, TEDTalks, or even lifestyle vlogging videos, just like podcasts, there's something out there for everyone. If you're looking for a YouTube video that's a little more interactive, you can finally do one of those makeup tutorials you saved on Instagram months ago. Whether you're going out later or just going to wipe it all off in the shower, there's no better time to try something new.
4. Move your body
Exercise provides many health and emotional benefits, and if daily movement isn't already part of your routine, now's the time to give it a try. It could be anything from a full-body workout at the gym, to a dance party for one around your living room. If you're looking for something a little more relaxing, you could even try following along with an instructional yoga video online.
5. Cook yourself a healthy meal
While often cooking can seem like a chore, it can also be a fantastic creative outlet. Try looking for recipes that are easy and get you excited to cook. Set the table as you would for any other date, and maybe even dress up a little if you feel like it. Plus you can make the food preparation process more enjoyable by listening to music (or that podcast!), then sit back and enjoy the fruits of your labour.
6. Create something
If you want more ways to be creative, try picking up an old hobby or starting a new one altogether! Whether you like to write, paint, take pictures, sketch, or make music, there's something out there for everyone. If you're looking for easy at-home ideas to get you started, you can try an adult colouring book or a DIY craft.
7. Curl up with a book
Nothing says self-care like a quiet night on the couch with a fuzzy blanket, a cup of tea, and a good book. Enough said.
8. Have a nice bath
Is there anything in this world better than a relaxing bath? Dust off those rubber duckies, light some candles and play Gregory Alan Isakov's album Empty Northern Hemisphere (you can thank us later). Also, consider adding a variety of different bath products to turn your tub into a truly immersive self-care experience.
9. Turn your beauty routine a luxurious evening
While having a daily beauty routine is essential, it's also important to pamper yourself every now and then. Why not kick it up a notch on a night devoted to self-care? You could start with an exfoliating body scrub, try a moisturizing face or hair mask, give yourself an at-home facial, treat yourself to a manicure and pedicure, or even use teeth whitening products like strips or charcoal toothpaste. However you decide to pamper yourself is up to you.
10. Meditate
Meditation is not just for the enlightened. In fact, meditation has many proven health benefits such as stress reduction, increased happiness, and a better quality of life. Mindfulness is another easy tool that you can use daily to help you focus on the present moment. While both of these are great practices to do every day, everyone has to start somewhere!
11. Journal
There are so many things you can journal about that you could easily spend all night doing it. Journaling gives you time to be creative, and reflect on small moments in your life. You could start a gratitude journal, an art journal, or simply write about your thoughts or your day—the options are endless!
12. Go to bed early
It could be considered the mother-of-all self-care—going to bed early is a rare and sacred treat. It's important to get the proper amount of sleep for our bodies but somehow it often seems impossible. Use tonight to try and go to bed early to get some much-deserved beauty rest.