Canadian Living Books
The Scotiabank Giller Prize longlist has been announced
The Scotiabank Giller Prize Longlist
Canadian Living Books
The Scotiabank Giller Prize longlist has been announced
This prestigious prize, that honours Canadian authors announced the 12 finalists on September 17, 2018.
About five or six years ago, when I wanted to make sure I was reading a good amount of Canadian literature alongside international authors, I turned to past Scotiabank Giller Prize longlists to get me started.
If you don't know, Jack Rabinovitch, who wanted to honour his wife Doris Giller, a literary journalist who had passed away, founded the Scotiabank Giller Prize in 1994. What started as a $25,000 prize initially has now grown to be $140,000 thanks to the co-sponsorship of Scotiabank. In 2018, the Scotiabank Giller prize is recognized as an institution that celebrates and promotes Canadian literature and is an event book lovers look forward to, at least in our offices.
This year, the jury (who picked 12 titles from over 100 submitted titles) includes authors Kamal Al-Solaylee, Heather O'Neill and Philip Hensher alongside Maxine Bailey, TIFF Vice-President of Advancement and John Freeman, founder of the literary biannual Freeman's.
Here's what the jury had to say about this year's list, according to the Scotiabank Giller Prize website:
"We the jury devoted many, many delightful and arduous months of our lives coming up with this longlist. Our sole criteria going into this process was literary excellence. We were looking for books that were written in elevated, idiosyncratic, original prose that exhibited an exquisite command of the art of language, and unparalleled mastery of structure and storytelling. We argued viciously over books, expounding on their merits. But when the battle was over, what remained left us in awe. This list reflects the landscape of the current Canadian imagination: diverse, bold, edgy, exciting, reflective, aware, angry and joyous. Leave it to our literature to speak out beautifully from the far-flung edges of this huge mysterious land, and sing about the erased, the immigrants, the oppressed, the survivors, the entitled. It also reflects the myriad genres that Canadian writers are working in: auto-fiction, science-fiction, epic family sagas, historical novels, coming of age dramas, short-stories, satire. These are stories about and beyond Canada, a list so exciting, exhibiting such pure excellence, it stands up to any list in the world, and it is great, great fun to read."
This year, here are the finalists. We can't wait to see who wins on November 19, 2018—though you can catch the shortlist on October 1, 2018.
French Exit by Patrick DeWitt (House of Anansi)
Read our review of French Exit.
Our Homesick Songs by Emma Hooper (Hamish Hamilton)
Read our review of Our Homesick Songs.
Washington Black by Edi Edugyan (Patrick Crean Editions)
Read our review of Washington Black.
Songs For The Cold Of Heart by Eric Dupont, translated by Peter McCambridge (QC Fiction)
Split Tooth by Tanya Tagaq (Viking Canada)
Something For Everyone by Lisa Moore (Astoria)
Jonny Appleseed by Joshua Whitehead (Arsenal Pulp Press)
Vi by Kim Thuy, translated by Sheila Fischman (Random House Canada)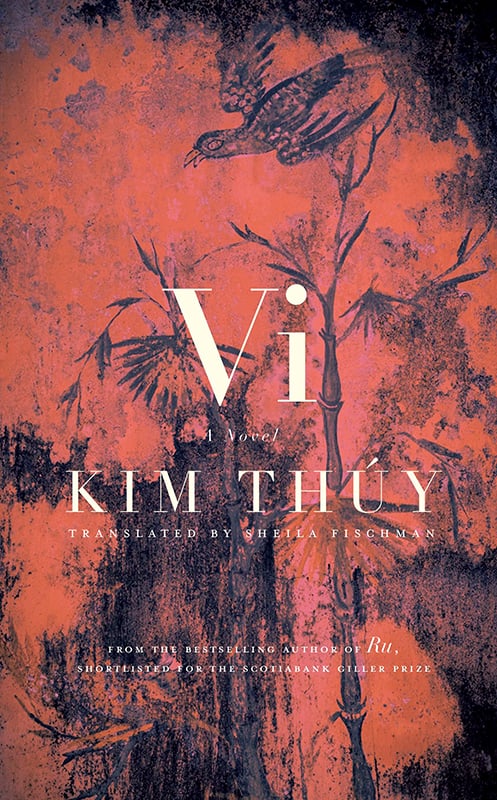 Zolitude by Paige Cooper (A John Metcalf Book)
An Ocean of Minutes by Thea Lim (Viking Canada)
Read our review of An Ocean of Minutes.
Beirut Hellfire Society by Rawi Hage (Knopf Canada)
Motherhood by Sheila Heti (Knopf Canada)
Read our review of Motherhood.
Slideshow
The best Canadian books of all time
1. The Book of Negroes by Lawrence Hill
Coming in at the top spot is the Book of Negroes by Lawrence Hill. The award-winning and national bestseller tells the journey of young Aminata's journey from West Africa to the plantations of South Carolina and then to Nova Scotia as she forges her way to freedom.
Image by: Amazon.ca
The best Canadian books of all time
4. The Orenda by Joseph Boyden
The Orenda by Joseph Boyden has been critically acclaimed for being an enthralling tale of conflict between two native tribes when an Iroquis girl is kidnapped and the Jesuit missionary who seeks to convert the tribe from their "savage" ways to Christianity.

Image by: Amazon.ca
The best Canadian books of all time
9. The Inconvenient Indian by Thomas King
The Inconvenient Indian is a must-read if you're seeking to have a better understanding of the history of Indigenous populations and Western European colonialism—and all of the complexities that go along with them.
Image by: Amazon.ca
The best Canadian books of all time
11. The Girl Who Was Saturday Night by Heather O'Neill
From the author who brought you Lullabies for Little Criminals, O'Neill brings us back to the streets of Quebec for The Girl Who Was Saturday Night. Twin siblings Nicholas and Noushka Tremblay are famous in Quebec, whether they like it or not and that's all thanks to their infamous entertainer father. The pair try to navigate the complications of growing up when your every move and slip-up makes it in the news.
Image by: Amazon.ca
The best Canadian books of all time
14. The Light-Keeper's Daughters by Jean E. Pendziwol
The Light-Keeper's Daughters is a critically-acclaimed novel that follows the story of two sisters who unearth diaries that belonged to their late father. As they dig through the diaries, the pair grow closer together and discover secrets that disrupt everything that they thought they ever knew.
Image by: Amazon.ca
The best Canadian books of all time
16. Alias Grace by Margaret Atwood
Alias Grace is loosely based on the infamous murders of Thomas Kinnear and his housekeeper Nancy Montgomery in 1843. Margaret Atwood tells a story of a fictional doctor, Simon Jordan who researches the case and finds himself getting too involved in the suspects.
Image by: Amazon.ca
The best Canadian books of all time
21. A Complicated Kindness by Miriam Toews
In A Complicated Kindness, all Nomi Nickel dreams of is to hang out with Lou Reed and Marianne Faithfull in NYC's trendy East Village. The tale takes place in a small Mennonite community in Alberta ironically called East Village but bears no resemblance in features or freedoms as the East Village Nomi dreams of. Get drawn into a character praised by critics as a feisty and unforgettable heroine.
Image by: Amazon.ca
The best Canadian books of all time
33. Late Nights on Air by Elizabeth Hay
Described as seductive and spellbinding, Late Nights on Air introduces you to a group of unlikely friends working at a small radio station in Yellowknife, in the summer of 1975. Get wrapped up in their individual stories as the attempt to balance the scales of love in a changing societal landscape.
Image by: Amazon.ca
The best Canadian books of all time
36. The Complete Anne of Green Gables Collection by L.M. Montgomery
A childhood classic, Anne of Green Gables follows the life and adventures of 11-year-old orphan Anne Shirley. No matter how old you get, you'll want to re-read these novels again and again.
Image by: Amazon.ca
The best Canadian books of all time
47. In The Skin of a Lion by Michael Ondaatje
If you love romance, adventure and history, then you're going to love this story that combines all three. Set in new world Toronto in the 1920's, In the Skin of a Lion tells a haunting tale of a rescued nun, a thief, a mistress and a millionaire who has mysteriously vanished.
Image by: Amazon.ca
The best Canadian books of all time
63. Lives of Girls and Women by Alice Munro
Lives of Girls and Women is a series of short stories which all surround a main character named Del Jordan. Each short story chronicles a different element of Jordan's life as she shifts from girl to woman in this coming of age tale.
Image by: Amazon.ca
The best Canadian books of all time
71. Seven Fallen Feathers by Tanya Talaga
Short-listed for the Speakers Book award in 2017, Seven Fallen Feathers is an investigative non-fiction book by award-winning journalist Tanya Talaga, who delves into the lives of students in Thunder Bay, ON and the history of the town that has come to represent Canada's longstanding human rights issues against Indigenous communities.

BUY NOW

Image by: Amazon.ca
The best Canadian books of all time
72. Green Grass, Running Water by Thomas King
A uniquely narrated indigenous novel, Green Grass, Running Water is a four-part tale all relating to the story of the creation of the world. This captivating tale looks at strong modern-day Indigenous women and men as they try to find balance between their Native traditions and modern living.
Image by: Amazon.ca
The best Canadian books of all time
84. Lost in the Barrens by Farley Mowat
It's man V. nature in Lost in the Barrens, a 1956 coming-of-age novel about two boys who head out on a journey to find aid for starving Chipewyan villagers. Their journey takes a detour when they find themselves stuck in the Barren Lands in the winter and must find a way to survive.
Image by: Amazon.ca
The best Canadian books of all time
100. Fifth Business by Robertson Davies
Fifth Business is the first and most popular instalment of the Deptford Trilogy novels. A farewell article about retiring professor Dunstan Ramsay in the school paper paints the teacher as only having been involved in the school and he isn't happy about it. Fifth Business serves as Ramsay's memoir that takes a peculiar route and starts with a snowball fight.
Image by: Amazon.ca