Travel
Where to glamp across Canada
Travel
Where to glamp across Canada
You may not be camping material, but we'd be willing to bet you're up for glamping. Here are some of the coolest places to "rough it"—no pitched tents required.
So you're not big on the idea of camping—sleeping on the forest floor, creepy critters getting into your sleeping bag, weird noises outside the tent. Yeah, it's not for everyone. But no worries—you can still enjoy the great outdoors and s'mores…but in style. Glamping is all about facilities (hello, bathrooms!) more luxe than traditional camping. If you're not super pumped about the tent life, these cross-Canada accommodations are perfect choices to whet your camping appetite and get you feeling connected with nature.

We went to Glampinghub.com to find awesome destinations—from camper vans and cabins to safari tents and treehouses—rated by travellers to give you the best glamping spots across the country up for grabs this summer.
Northwest Territories
Image: Mo's Houseboat B&B
Yellowknife Bay
Ever want to stay on a houseboat? This bed-and-breakfast spot sits on clear waters (though it's usually ice-covered waters) and offers lots of privacy and space to relax. You'll find a queen-size bed, Arctic wolf and muskox furs hanging on the walls and an upper deck outside where you can take in the sites. In the summer, you'll be provided with a canoe to get to and from the houseboat; there's also a ferry service with the host's power boat. (From $141 per night.)
Amenities: Wi-Fi, barbecue, kayaks and canoes, 24-hour management.
Yukon Territory
Image: glampinghub.com
This log cabin is near Whitehorse and has access to the Takhini Rivers. It's tranquil, untouched and super cozy. The cabin sleeps up to six, has a kitchen and dining areas and a pretty, spacious porch (complete with traditional rocking chairs). The main cabin has Wi-Fi, a restaurant and there are lots of adorable dogs who live on the property that you can interact with. (From $186 per night.)
Amenities: Pet-friendly, private bathroom, barbecue and continental breakfast.
British Columbia
Image: Glamping Hub
Mayne Island
This quiet retreat is off the coast of Vancouver Island. It's a 650-square-foot rustic space with one bedroom (romantic!) on beautiful acreage with gardens, an apple orchard and sheep. The walls are curved, the stairs are made of slabs of Douglas firs and there's a pretty outdoor seating area where you'll likely spot bald eagles flying above and blue herons on the pond. (From $153 per night.)
Amenities: Shower, mosquito nets, Wi-Fi, hammock and dining area.

Image: Merridale
Cobble Hill
On a cider orchard on Vancouver Island, this yurt is super comfy for two but can accommodate more (and welcomes pets). There's a queen-size canopy bed, a clawfoot soaker tub, a gas fireplace and a big patio where you can sip cider while taking in the scenery. (From $225 per night.)
Amenities: Pet-friendly, cell service, on-site bistro and bar.
Alberta
Image: Footloose Caboose Lodge
Kingman
Not far from Edmonton, you can stay in a one-time functioning and now preserved railroad caboose. It's in a yard full of old trains and has been remodelled with a modern bedroom and bathroom. Even the tower of the caboose (where the conductor once sat) has been fashioned into a skylight. You'll find authentic railroad decor (old lanterns, original windows and doors, etc.). (From $245 per night.)
Amenities: There are other train carriages on the property—one's a dining car where you can buy meals.
Image: glampinghub.com
Grimshaw
Nestled by the Peace River, this tipi sleeps up to three people (there are three single beds plus linens) and is about as close to camping (when you're glamping) as you can get. There's a campfire area with a firepit and cooking utensils. You can find outboard boat and jet ski launches nearby (about four kilometres away). (From $132 per night.)
Amenities: Barbecue, pet-friendly, dining room.
Saskatchewan
Image: Flora Boro Forest Lodging
Emma Lake
This pretty yurt rivals a hotel room. There's room for four guests, it has a full kitchen, cookware, complimentary fair trade tea and coffee and a full bathroom (complete with handcrafted soap). There's also a barbecue, bathrobes and plush down duvets. This is the place to come if you want to feel disconnected from the world—there's no TV, but you'll have plenty to do if you feel like exploring the area or just chilling on a Muskoka chair on your private deck reading a book under a canopy of trees. (From $210 per night.)
Amenities: Bed linens and towels, hammocks and cell service.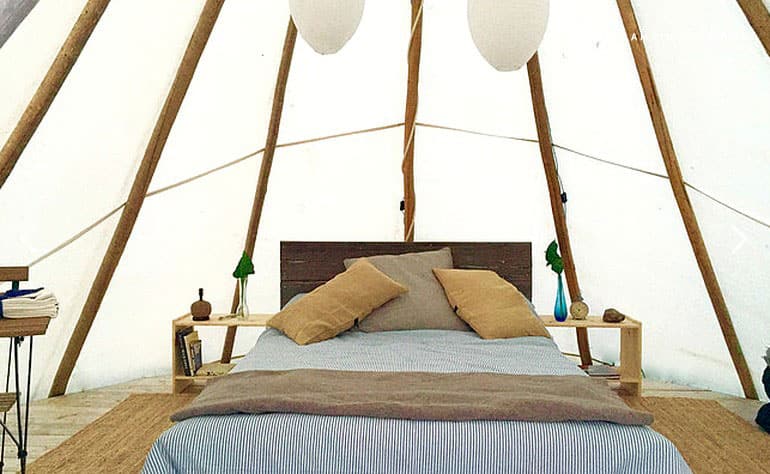 Image: glampinghub.com
Outlook
Sitting atop a cedar deck, the solar-powered tipi has room for two (there's a double bed), shared composting toilets, solar-powered showers and laundry facilities on the property. Outside there's a barbecue and picnic table, and access to Saskatchewan River's sandy shoreline. Oh, and as if you need another reason to try this place, there's a winery next door. (From $106 per night.)
Amenities: Pet-friendly, mosquito nets, fire pit, nearby casino and golf club.
Image: Glamping Hub
West Hawk Lake
This cabin comes decked out with an indoor jacuzzi and a private sauna. It's surrounded by forests and is lakeside, and if you don't feel like napping inside or watching the flat-screen TV, you can sit on the porch or take a stroll through the woodland (it's a super relaxing place). The full kitchen and barbecue let you prep dinner inside or out, and linens, towels and bedding are provided. (From $155 per night.)
Amenities: DVD player, air-conditioning, patio furniture.
Image: Glamping Hub
Onanole
A luxe B&B, the suite is on the upper floor of the guesthouse so you'll be surrounded by stunning views of the trees and property. There are communal areas for guests (two living rooms, one with a fireplace) but you'll have a full private bathroom for yourself. Check out the outdoor deck, where you can sit and sun yourself while getting lost in a good book. (From $133 per night.)
Amenities: Cell service, gas fireplace, fresh linens.
Ontario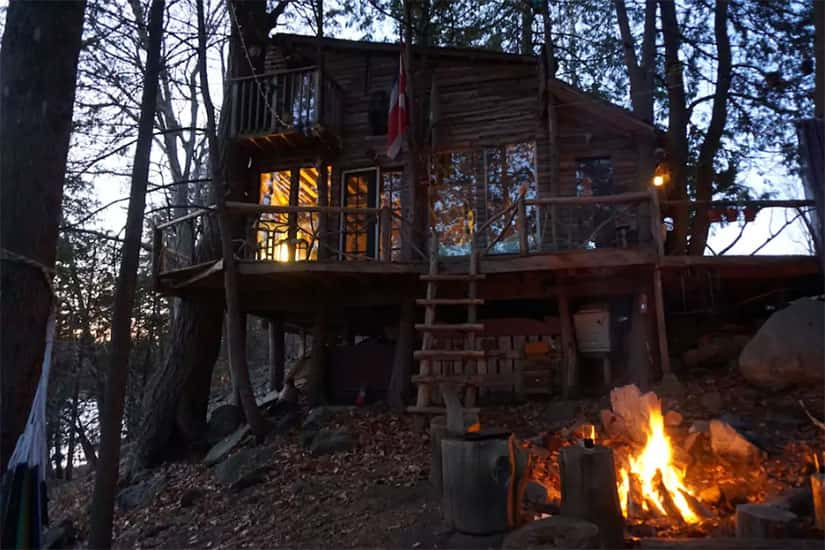 Image: Airbnb
Perth
Tell your kids you're staying in an eight-person treehouse over a river and watch their faces light up. This one is perfect for families or groups of friends (girls' weekend!)—it's a multi-level home with an unreal view of the Mississippi River. You'll have to get used to the decor (it's charming—we're talking stuffed fowl, wild game mounts and fish), and you'll want to spend time by the fire pit. (Take a walk through the bush to get firewood.) Your host, Erik, can show you around. Ask to see the lounge on the property, which has lots of board games and DVDs. (From $274 per night.)
Amenities: Main house has Wi-Fi, pet-friendly, gas fireplace, linens.
Image: Oakwood Escape
Dunnville
Safari tents are all the rage. This one's definitely not your regular tent—it's 12 by 14 feet and built on a raised deck. There's a screen to protect guests from mosquitos and it's furnished with handmade beds with plush hotel-style linens. Outside you can relax and take in the wilderness. (From $220 per night.)
Amenities: Barbecue, fire pit with an authentic tripod for cooking, picnic table, onsite bathhouse with flushing toilets, hot shower.

Quebec
Image: Les Toits du Monde
Nominigue
Hobbit fan? This place has your name written all over it. You can fit up to four guests in this eco-friendly cabin, which has a wood-burning stove to keep it warm in the winter. The host is all about sustainability, so you'll find a composting toilet and solar panels. In the evening, sit around an open fire and roast wieners and marshmallows. (From $197 per night.)
Amenities: Bundles of wood for $5, pet-friendly.

Image: Refuges Perches
Saint-Faustin-Lac-Carré
Walk up to the treehouse and you'll find a sunny terrace, semiprivate dock and an outdoor fire pit. This one sleeps four but there's a reception area on the site, so it makes a pretty location for celebrations. (The covered gazebo on the water can accommodate 80 guests.) (From $265 per night.)
Amenities: Wi-Fi, convenience store (open during summer), laundry facilities, canoes to transport luggage, toboggans in the winter.
Newfoundland & Labrador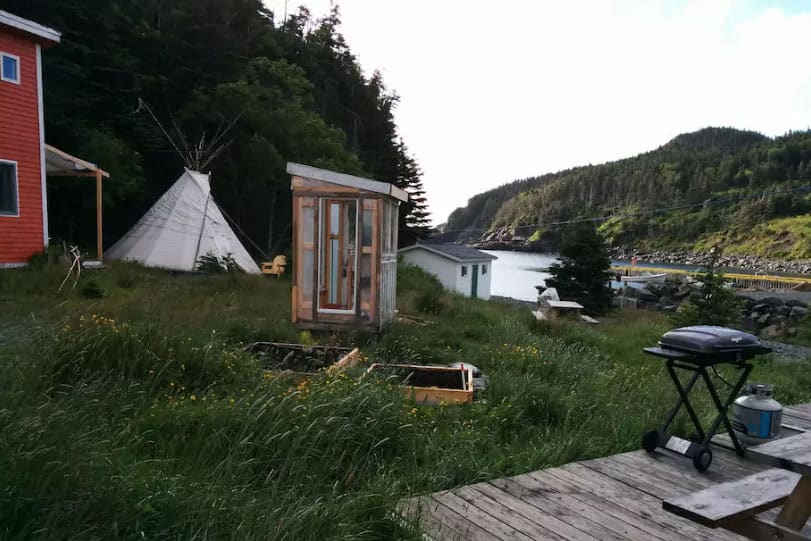 Image: Airbnb
Bauline
This cozy, rustic tipi is perfect for couples or a night away on your own. There's a shared bathroom with hot shower, and you'll find warm linens, chairs and even an electrical socket. Sit outside on the beach, try your hand at fishing and meet the super friendly locals in the area. (From $72 per night.)
Amenities: Barbecue, fire pit, washer and dryer, mosquito netting.
Nova Scotia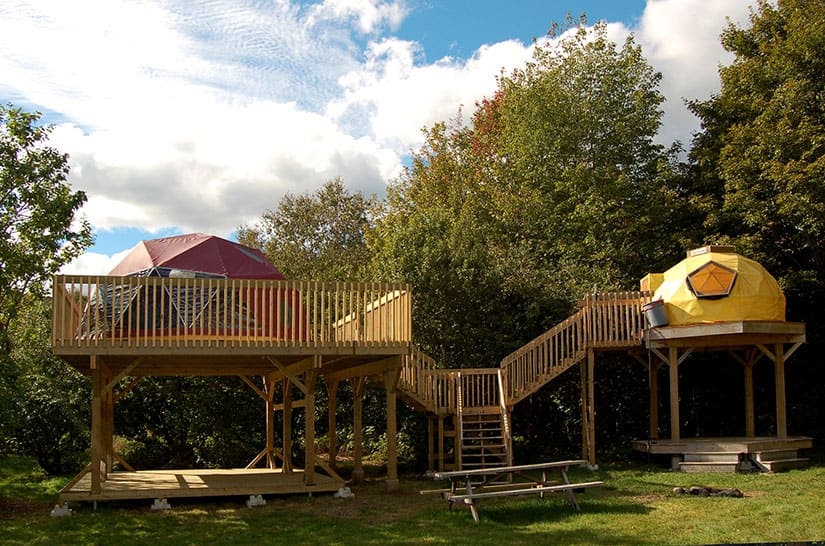 Image: Glamping Hub
Cape Breton Island
You'll see the mountains, water and the night sky and stars when you look up through the geodesic dome, which rests on an elevated deck. The dome is on the property's apple orchard and there's an eco-friendly lodge onsite that has a bistro, hot tub, sauna and even a meditation house to unwind and take in nature. (From $178 per night.)
Amenities: Outdoor pizza oven, Wi-Fi in the main lodge, gardens and trails, water sports, bathrooms and outhouses.
Image: Glamping Hub
Grand River
Sitting on the shores of Saint Esprit Lake, this cabin has room for three, a bathroom with shower, living room with flat-screen TV and a fully equipped kitchen. There's a spacious deck with views of the lake and a private barbecue for dining al fresco. Check out the nearby islands, where you can birdwatch and hike, and have a campfire when the stars come out. (From $208 per night.)
Amenities: Wi-Fi, air-conditioning, patio furniture, garden, fire pit, jacuzzi and hot tub, bicycle rental.
New Brunswick
Image: Cottages in Canada
Bayfield
We bet you've never slept in a renovated church before. You can fit up to 14 guests in the two bedrooms and common living space. (There's even an ensuite bathroom in one of the bedrooms.) There's a covered deck where you'll feel the fresh sea air, a swing set, full kitchen (with dishwasher) and there's a TV in each bedroom. (From $319 per night.)
Amenities: Wi-Fi, pool table, barbecue, fire pit, playground, pet-friendly.
Image: Glamping Hub
Shediac
The top floor of this pretty yellow Victorian villa sleeps four in two bedrooms. There's a lovely communal area, a big kitchen and a quaint parlour with antique furniture. Breakfast—think crumpets, waffles, croissants—is served in the morning for a small fee. (From $123 per night.)
Amenities: Wi-Fi, air-conditioning, lounge.
Prince Edward Island
Image: Glamping Hub
Point DeRoche
This charming octagonal cottage on the north shore of PEI is near Charlottetown, and it's the perfect getaway for couples looking for calm and quiet. Sit on the veranda and take in the sea breeze or prepare a meal in the stocked kitchenette. It's a great location for birdwatching, photography, hiking and canoeing. (From $185 per night.)
Amenities: Hammock, patio furniture facing the beach, television.