Beauty
What is Coolsculpting?
What is Coolsculpting? Image by: Getty Images
Beauty
What is Coolsculpting?
We spoke to Dr. Ryan Austin from The Plastic Surgery Clinic in Toronto to learn more about this body-sculpting treatment.
The rise of non-surgical beauty treatments has led us to research microneedling, Botox, fillers, lasers and even acupuncture. Which makes sense as more and more people are opting for these non-invasive treatments that can have some pretty impressive results—all without having to resort to surgery.
Even though Coolsculpting (also known as cryolipolysis) has been around in Canada since 2012, it's definitely gotten more and more popular in recent years. Not sure what Coolsculpting is? We spoke to Dr. Ryan Austin, a plastic surgeon at The Plastic Surgery Clinic in Toronto to learn more about this non-invasive body treatment.

What is Coolsculpting and what does it do?
"Coolsculpting is non-surgical body contouring," says Dr. Austin. Basically, Coolsculpting can target stubborn pockets of fat that you find are resistant to a healthy diet and regular exercise. What it isn't is a weight loss tool, and it won't help if you have loose skin from previous weight loss. Instead, it targets fat cells so that the area you're treating appears slimmer and more contoured.
How does Coolsculpting work?
"Fat cells are more sensitive to cold than the rest of your cells," says Dr. Austin, "by cooling the area, you can permanently damage and kill fat cells without affecting other areas—so you're not going to get frostbite." After the application of the paddle to the area you want to treat, your technician will massage the area to break up the fat cells. Then, your body produces a natural inflammatory response—basically, it creates swelling in the first 48 hours. Then, your body begins to break down the killed and damaged fat cells, which are swept away through your body's natural process in the next couple of weeks. "Once those fat cells are broken down and your body recognizes the fat cells are dead and have been swept away, your body mountains a response and everything starts to tighten," says Dr. Austin. People usually find an average of 20-30% reduction in the area after the first treatment, though most places where you can get the treatment will recommend getting at least two treatments.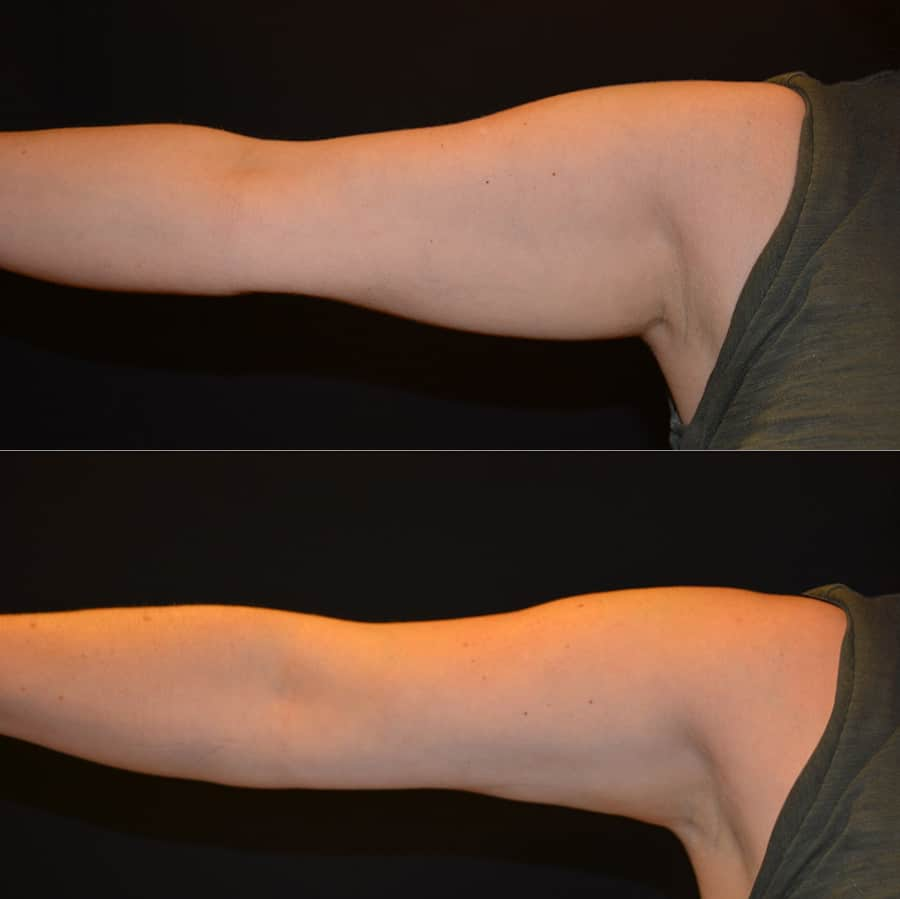 An inner arm that has been treated with Coolsculpting. (Top: before treatment; bottom: after)
What happens if I gain weight after treatment?
"Once those cells have been killed in that area, and been swept away, they're permanently removed," says Dr. Austin. "So if you gain weight after the treatment—which is possible, you can still gain weight in that area—it's always going to be smaller compared to if had you never had the treatments because there are less fat cells."
What areas does it treat?
"You can basically treat from the knee to the chin," says Dr. Austin. The most popular areas to treat include the lower abdomen, hips or flanks and even the lower back, which many men are opting for as well as women. Also, the treatment has become increasingly popular for the chin, as new, smaller applicators make it easier to target this area.
A lower abdomen that has been treated with Coolsculpting (Left: before; right: after)
Who is a good candidate?
"You have to be able to pinch an inch of fat in order to be able to be considered for that area," says Austin. Part of opting for this treatment includes a consultation to determine whether you're a good candidate for Coolsculpting. A major consideration is weight stability. "You want to make sure that someone's weight is stable, and that they're not in a big fluctuation or a period of major weight change," says Dr. Austin. If, even though your weight is stable, and you tend to eat healthy and exercise, but you still have some stubborn areas that aren't responding the way you want them to, you're likely a good candidate.
Does it hurt?
The treatment itself takes about an hour per area. Once the applicators are applied, you'll feel very cold in that area for the first several minutes, but shortly after you'll begin to feel numb which cancels our some of the discomfort you may feel from the cold. Overall, many report this treatment to be not painful at all, just a little uncomfortable for a bit. According to Dr. Austin, the best thing about this treatment is there is no downtime or painful recovery. "People can come in at their lunch hour, have the treatment, and they can go to the gym that night, they can resume all normal activities." While there might be some redness and swelling for a few days, chances are this treatment won't change anything about your day-to-day as you're healing.
Flanks that have been treated with Coolsculpting (Left: before; right: after)
How much does it cost?
Something to remember is that your results will not be as dramatic as surgery—but the pricing reflects that. That being said, it will still set you back a bit. Pricing is based on the number of applicators, so if you're getting both hips treated, you'll be paying for two applicators. Pricing is around $750 per applicator (this, of course, can depend on where you're getting the treatment done both geographically and what area on your body you're treating). Most people will spend an average of $2,000 to treat one area.