Collections
19 awesome Super Bowl snacks to devour on Game Day
Collections
19 awesome Super Bowl snacks to devour on Game Day
Score big this Sunday with these awesome Super Bowl snacks that are perfect for enjoying with friends and family this game day.
Regardless of which team you're rooting for this weekend (or even if you're not a sports fan at all), it's easy to get behind these great Game Day recipes. From sweet to savoury, we have you covered for all different palettes, and the homemade touch is sure to wow your friends and family. With an event like this, finger food is key so that guests can focus on the action rather than their cutlery. Even better, many of the recipes below can be prepared in advance to ensure that you're celebrating the touchdowns rather than fussing in the kitchen.
You'll be the hero of Super Bowl Sunday with this rich and welcoming cheesy dip. Serve with crudités, salami and/or tortilla chips.
Replicate restaurant-quality frites at home for game day with our best-ever ultra-crispy french fries, triple-cooked for the ultimate texture.
Ooey, gooey nachos are everyone's favourite pub snack, even if they're not exactly good for you. But trust us—this healthier version is just as delicious as your local's version, only with much less fat thanks to baked tortilla chips and lean ground turkey.
Instead of giving jalapeños the classic breading-and-deep-frying treatment, baking them, then filling with a lightened-up cheese blend creates an utterly delicious party nibble you'd never suspect is calorie-reduced. Topped with crispy, golden panko bread crumbs, they're full of satisfying spicy flavour.
Grating the squash takes a bit of effort but allows it to cook faster, saving you time in the end; you can speed up prep by using the grater attachment on your food processor. The dip is piping hot when it comes out of the oven, so let it cool slightly before serving. Use the cooling time to slice some fresh baguette and crudités for dipping.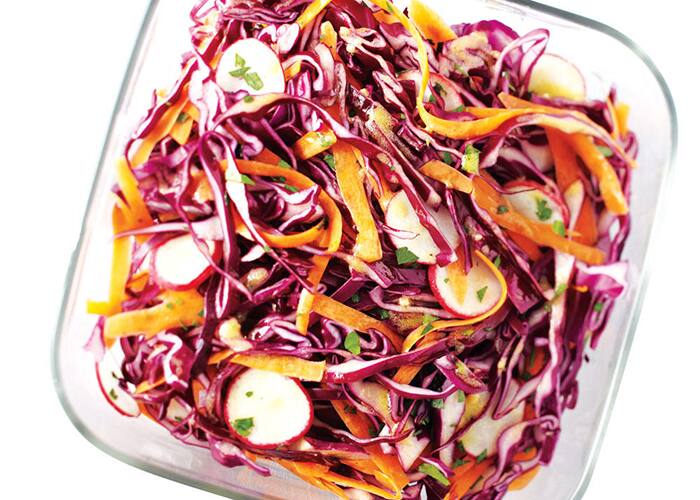 This flavourful slaw is a nice alternative to the more classic green cabbage version. Add the radishes just before serving so they keep their colour and stay crisp.
This easy recipe packs all the flavours of layered nachos into one addictive dip. To keep it warm all evening, hold the dip in a fondue pot set over a flame. For an extra kick, stir in hot sauce.
A handful of fresh herbs and a sprinkling of Parmesan cheese give popcorn a tasty makeover.
Move over, plain old french fries! Here, we've used an array of root vegetables to make the most of our grocery store bounty, but feel free to pick and choose which veggies you want to include. Separate the roots for a colour-blocked effect; or, if you want to mix them, toss them together—just wait until they're cooked, otherwise the beets will stain the other veggies.
You may have seen chocolate-dipped bacon at your local food fair or bacon in chocolate-bar form at your local specialty store, but we promise you that this version surpasses anything else. Dipping the candied bacon only halfway allows guests to grab a piece without getting their hands covered in chocolate.
Bubbly cheese dip with chunks of crab meat is a retro throwback that's bound to be a hit. While not overwhelmingly spicy, this dip has kick; for less heat, seed the chilies or substitute with diced sweet red pepper.
A double dose of chocolate—creamy milk and decadent dark—makes these moist brownies unbelievably gooey and indulgent.
These savoury cheese-filled pastries come together in minutes and can be personalized to suit your tastes. Try cooked bacon and Cheddar, sun-dried tomatoes and mozzarella, or sliced pitted olives and Havarti.
Potato skins, which just happen to be loaded with fibre and nutrients, make for crispy, addictive finger food. Add the leftover potato flesh to pot pies, mashed potatoes or crab cakes. Serve the skins with salsa on the side.
These wings can get sticky as they bake, so line your baking sheet with greased nonstick foil or parchment paper for easy turning.
Bacon gives sweet and savoury flavour to this unexpected spin on nut brittle that's inspired by candied bacon. For an even more indulgent treat, we've also swapped out standard peanuts for salty pistachios and buttery pecans.
Sliders are like any tiny version of a favourite food—they just taste better! And having the pork standing by in the fridge or freezer makes these yummy little mouthfuls come together in no time. Serve with sweet potato fries for a diner-style meal.
The three-cheese blend used in this recipe makes for a highly addictive dip with a perfectly creamy consistency.
Make these mini pizza bites for the ultimate snack to enjoy during touchdown.